Kindred Guardians is an ongoing personal project documenting people around the world who dedicate their lives to helping animals in need. Each chapter explores a new issue and a new bond between humans and animals.
If you have an amazing story that you feel I should tell or if you are interested in publishing any of these stories please email me at justin@justinmott.com
Chapter 1
No Man's Land | The World's Last Remaining Northern White Rhinos | Kenya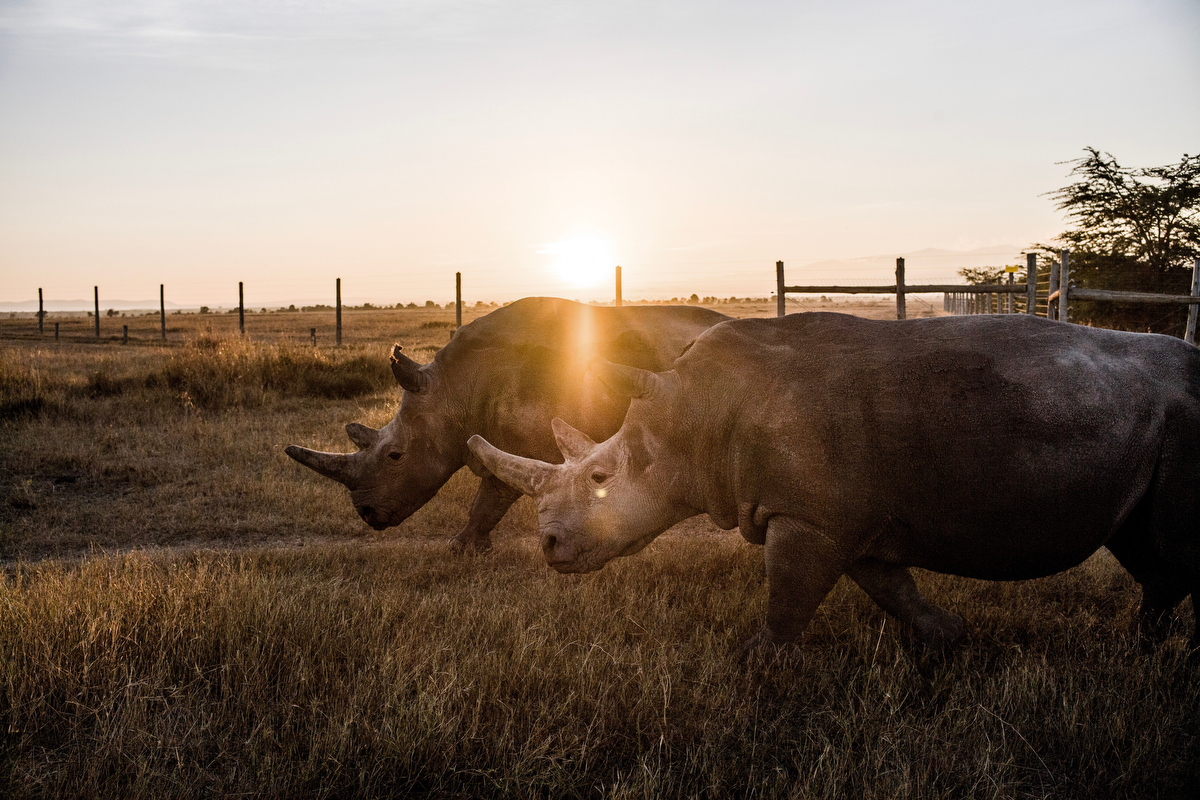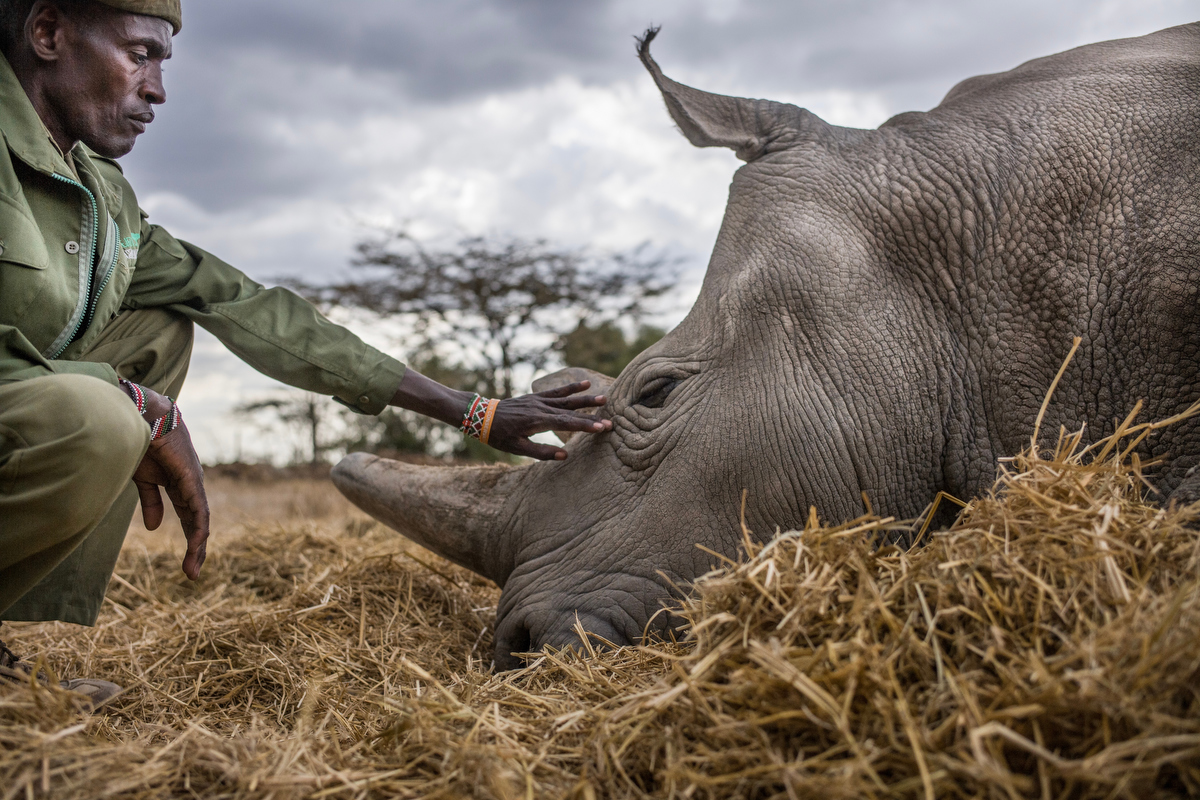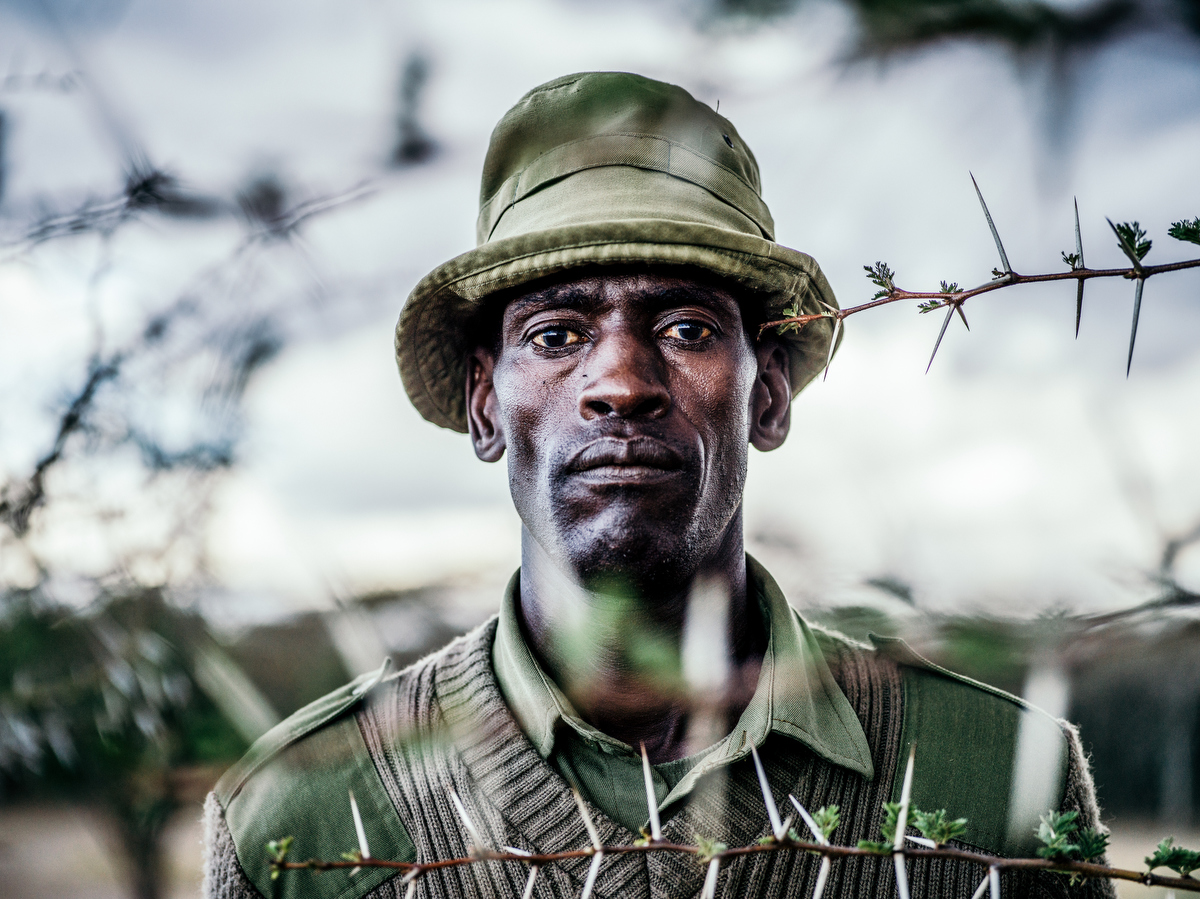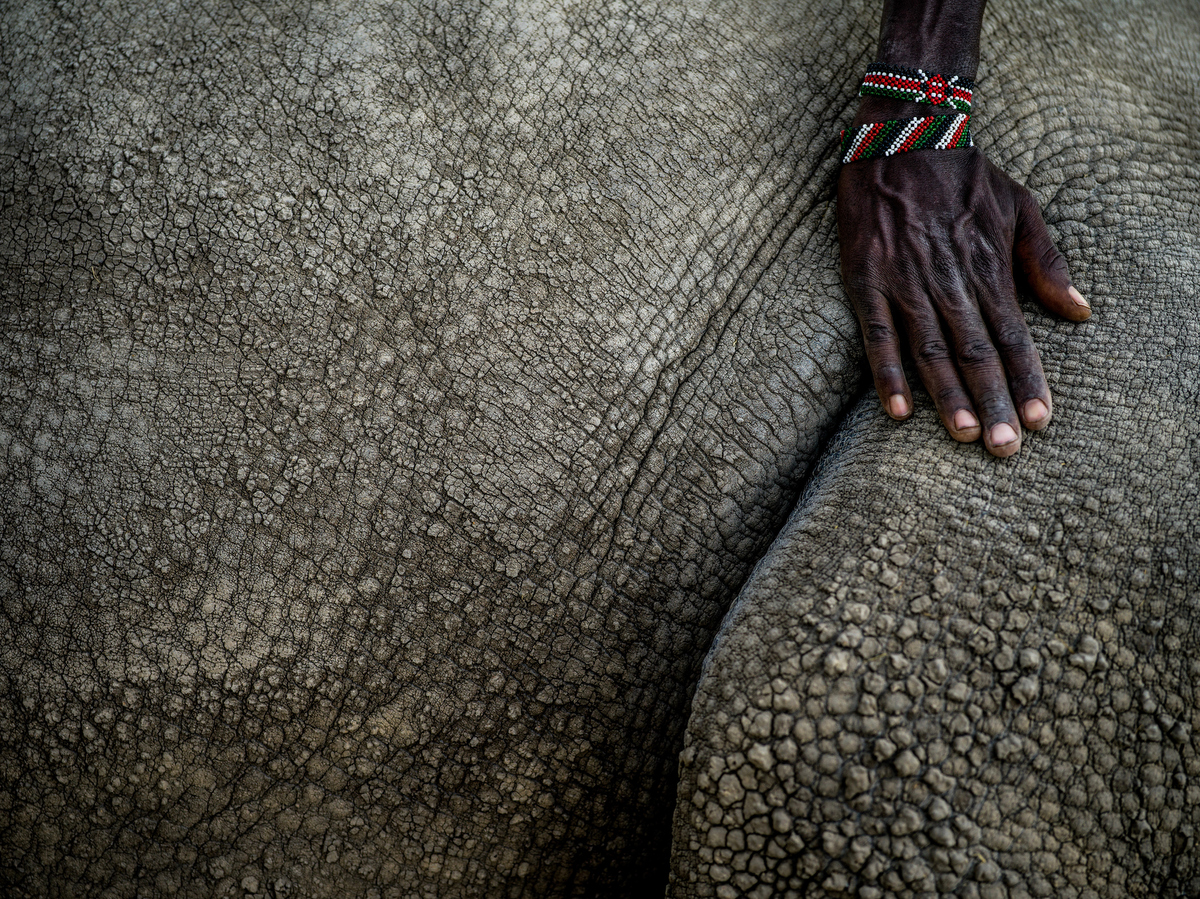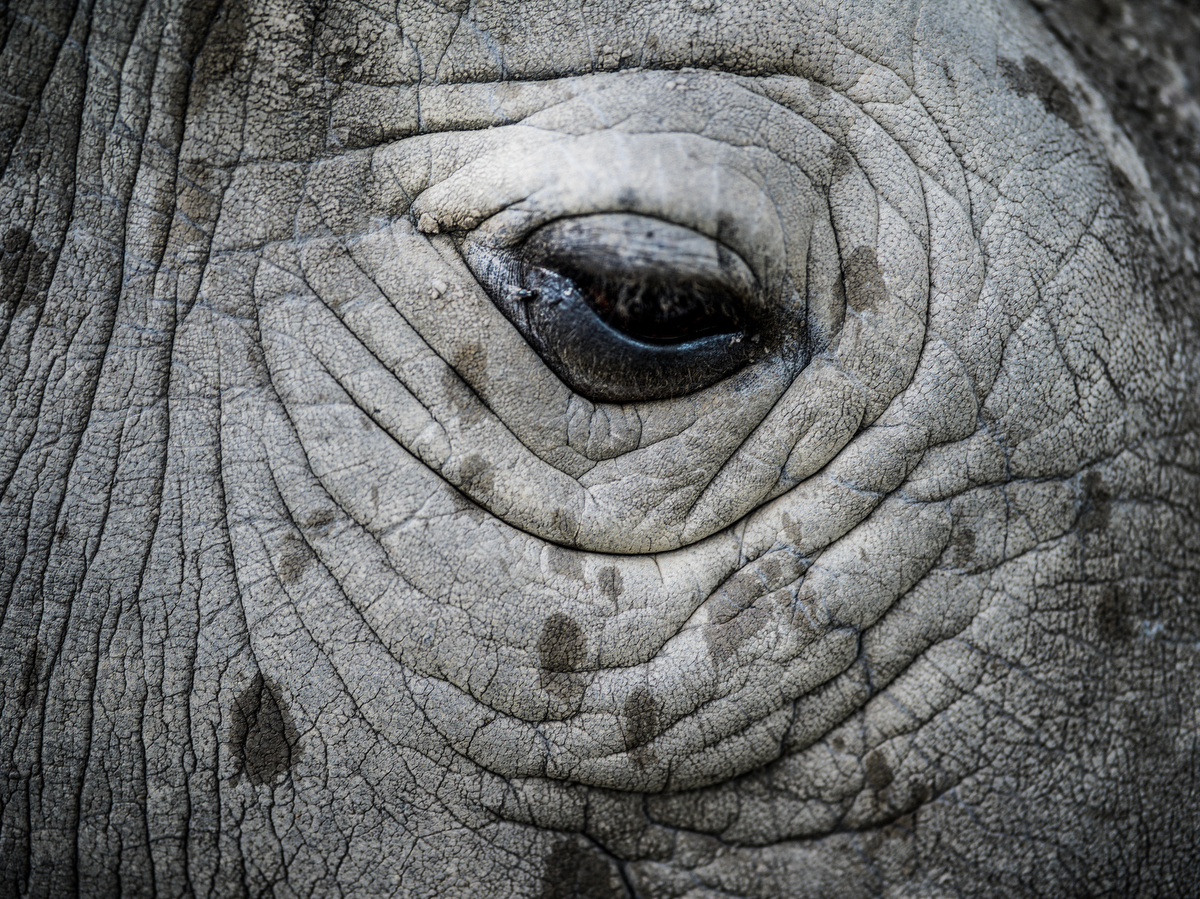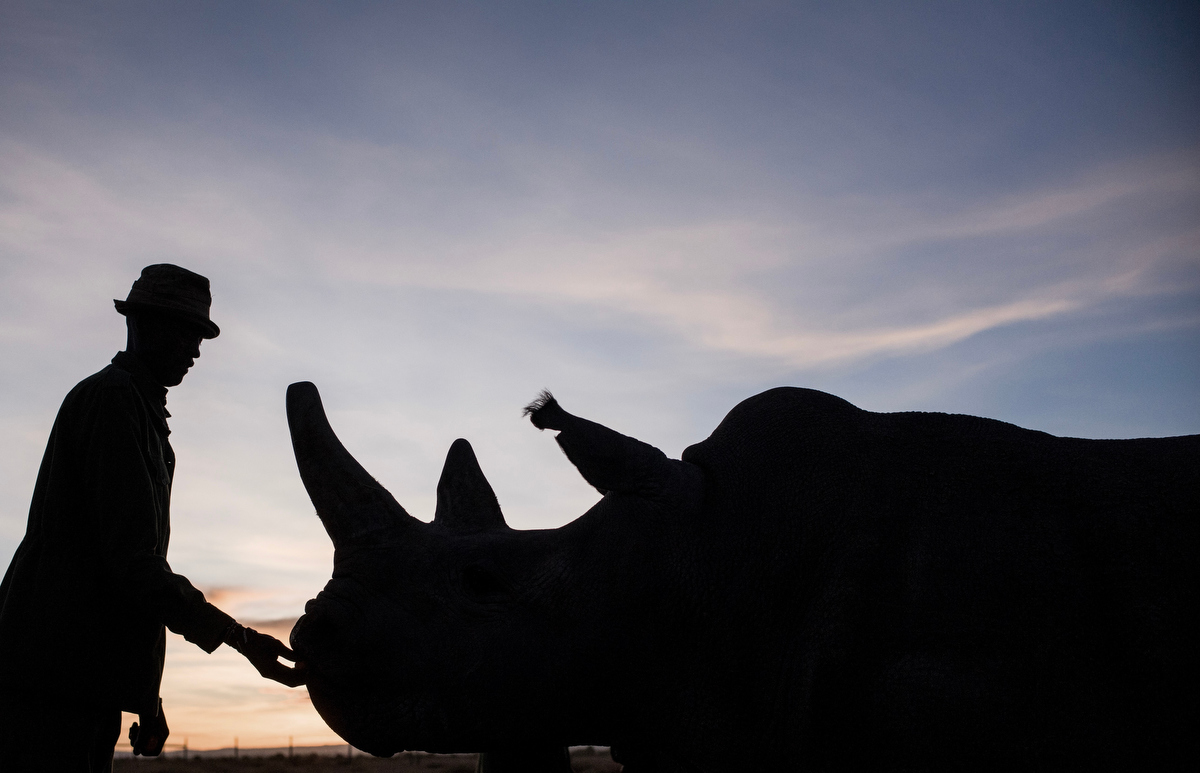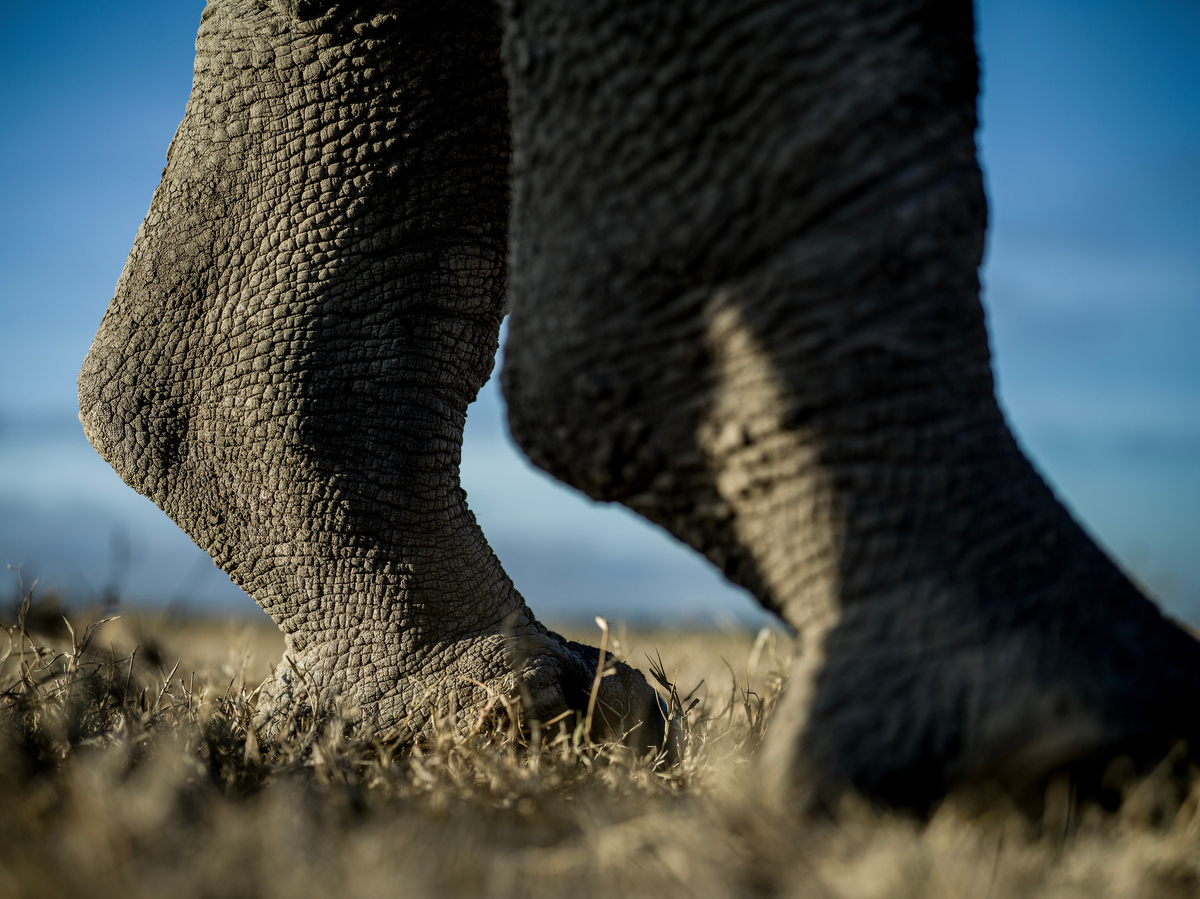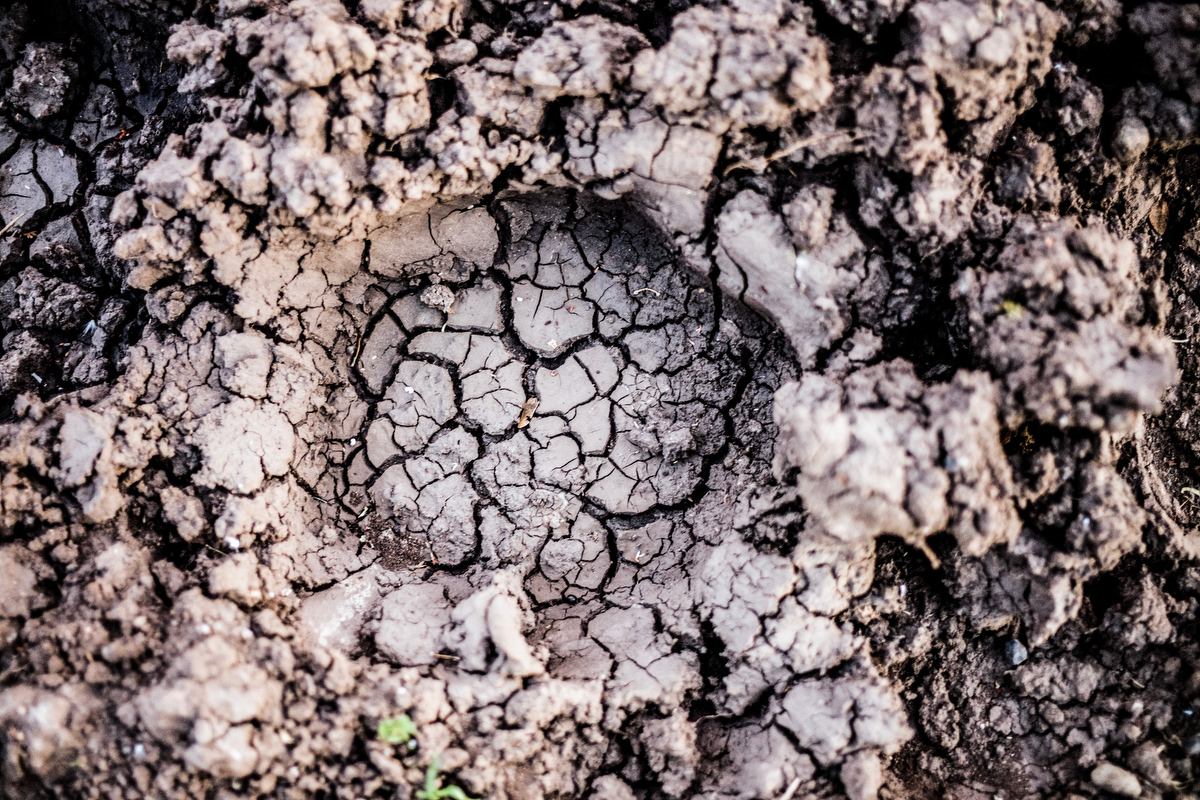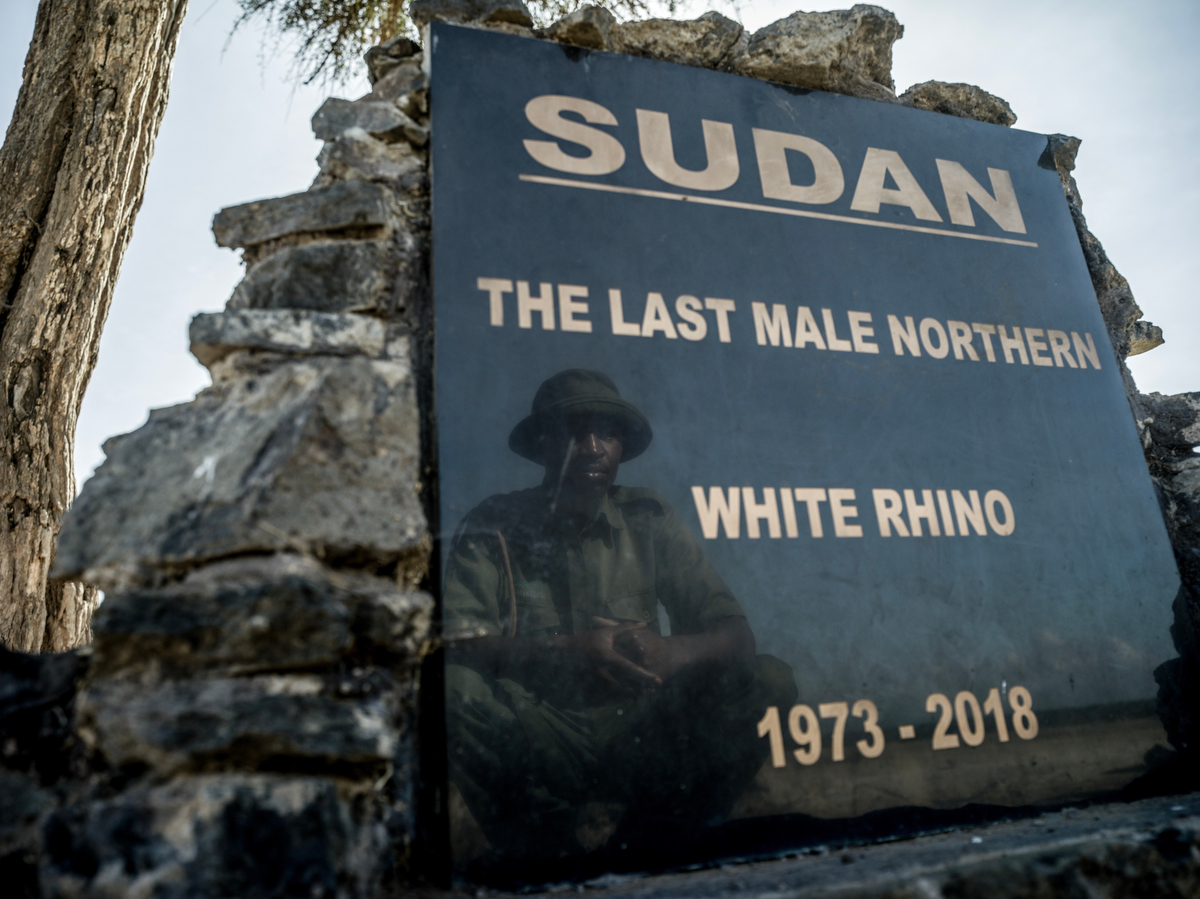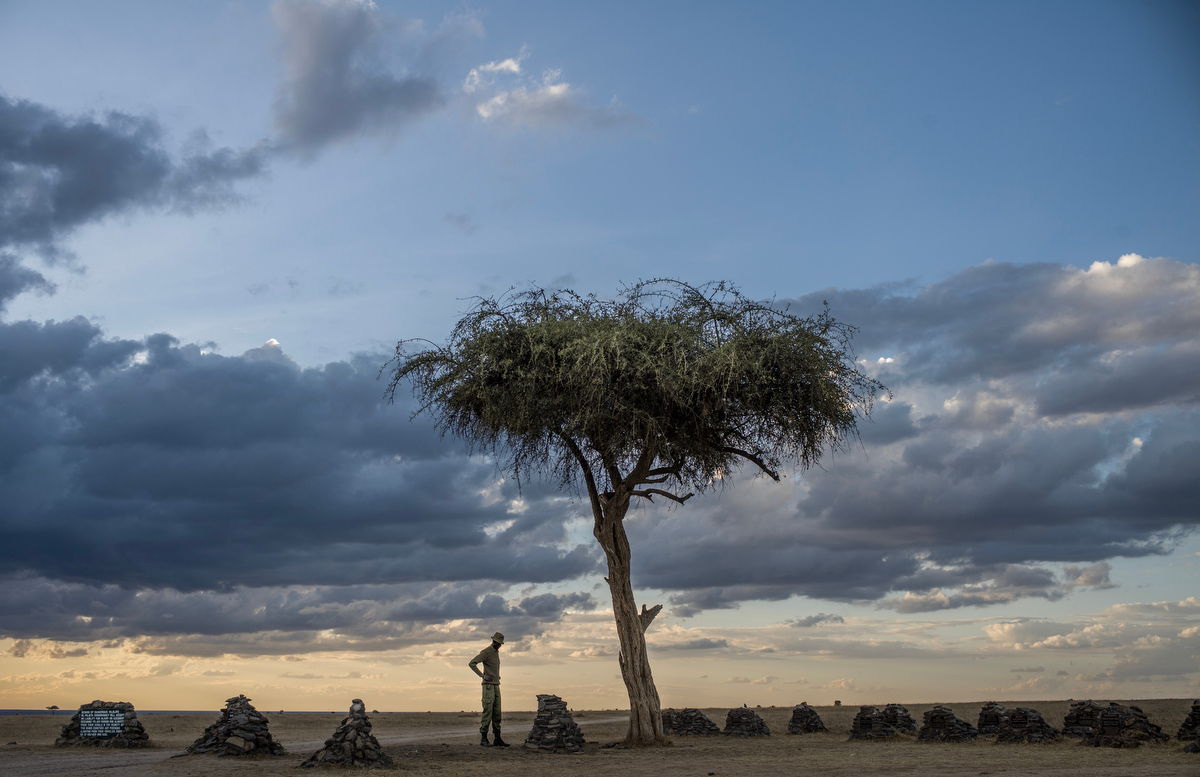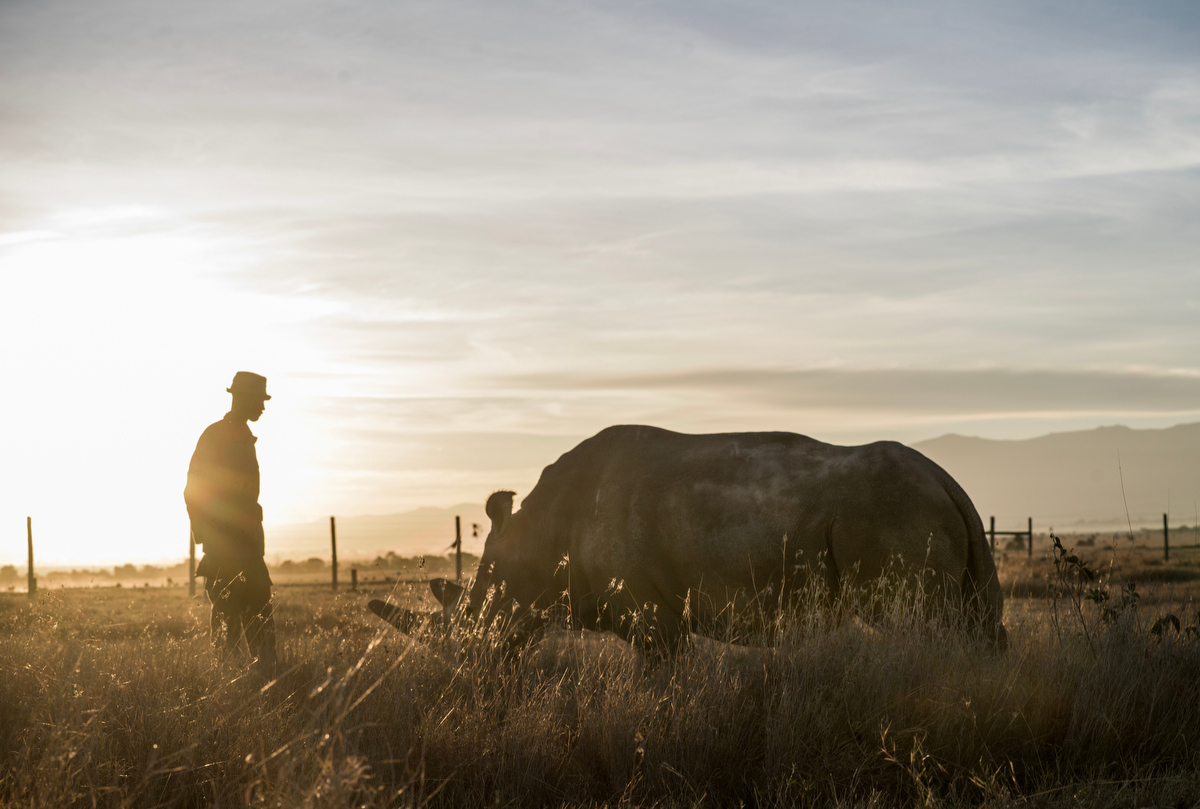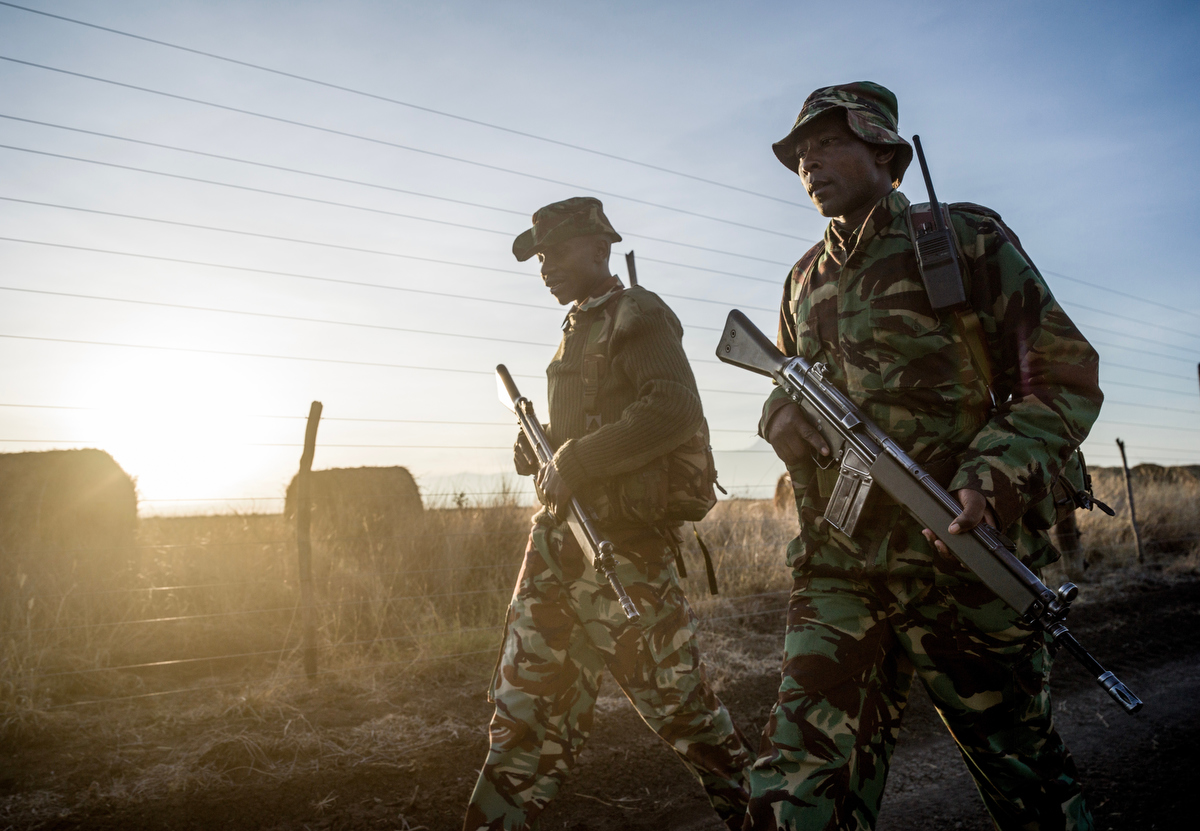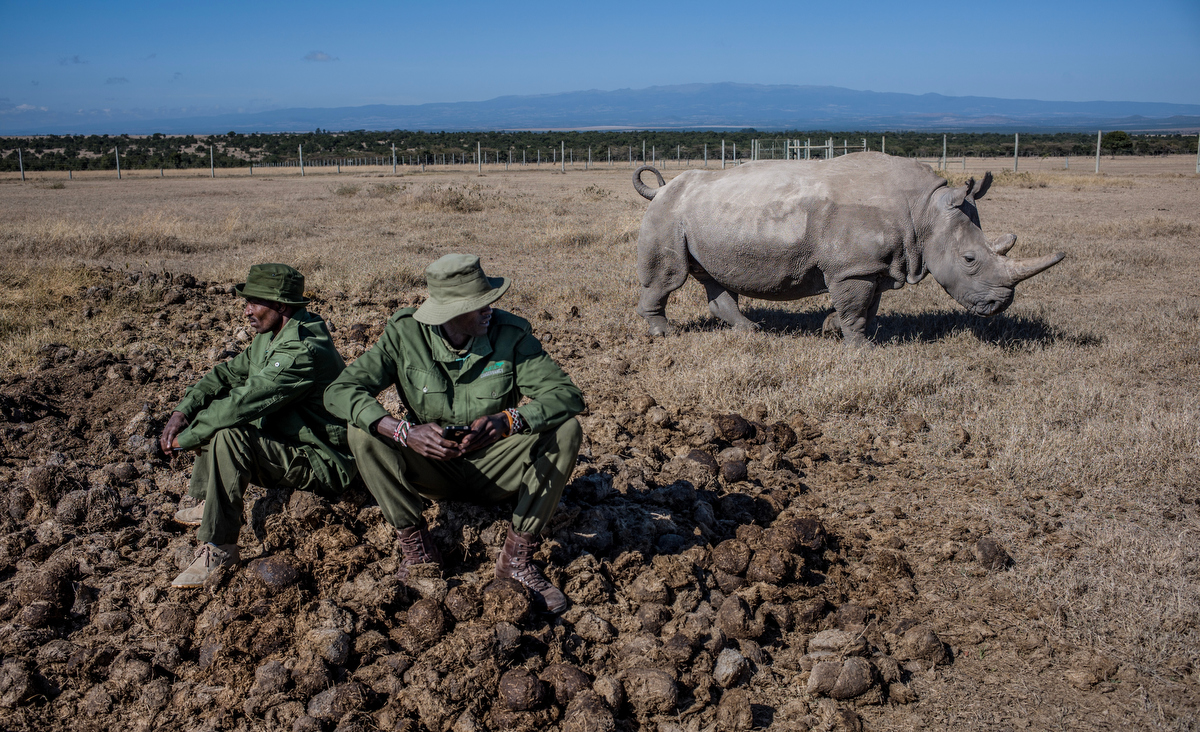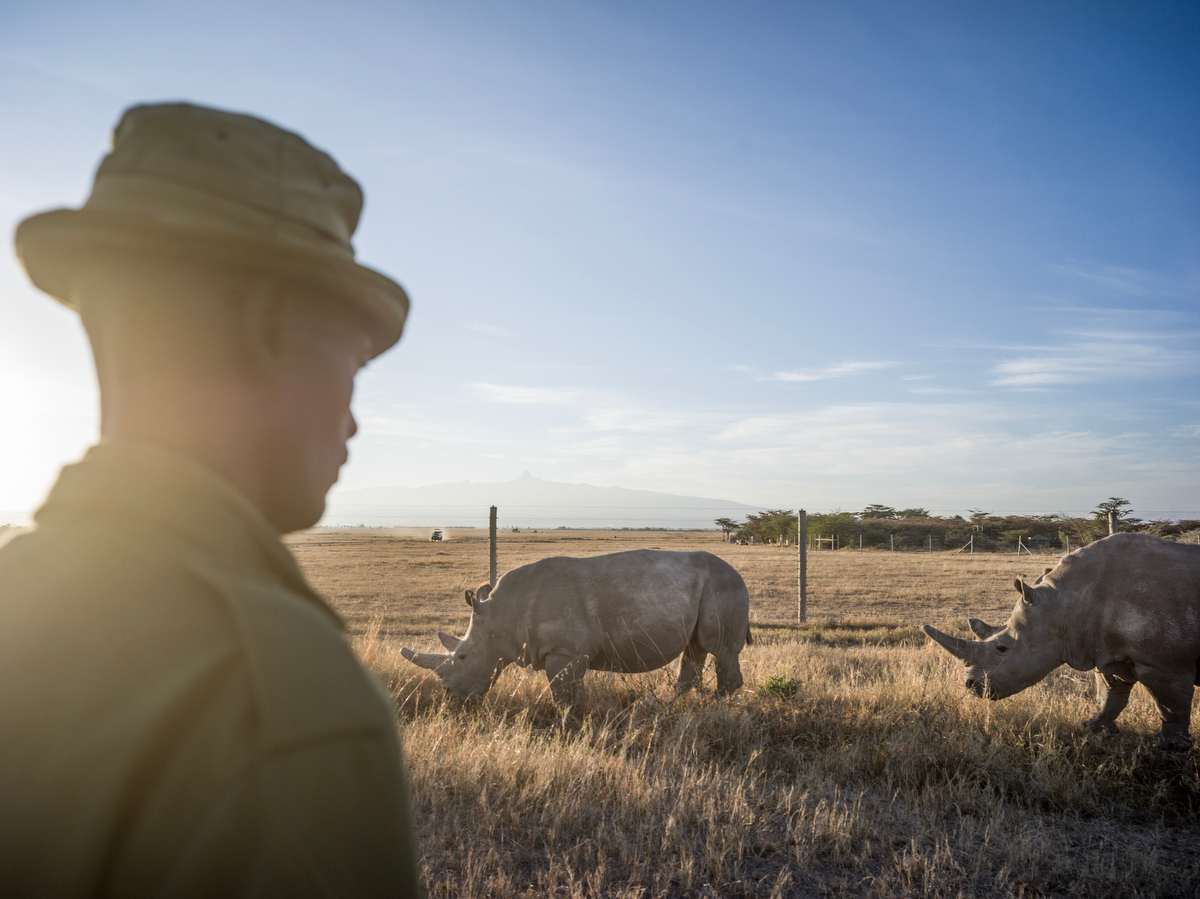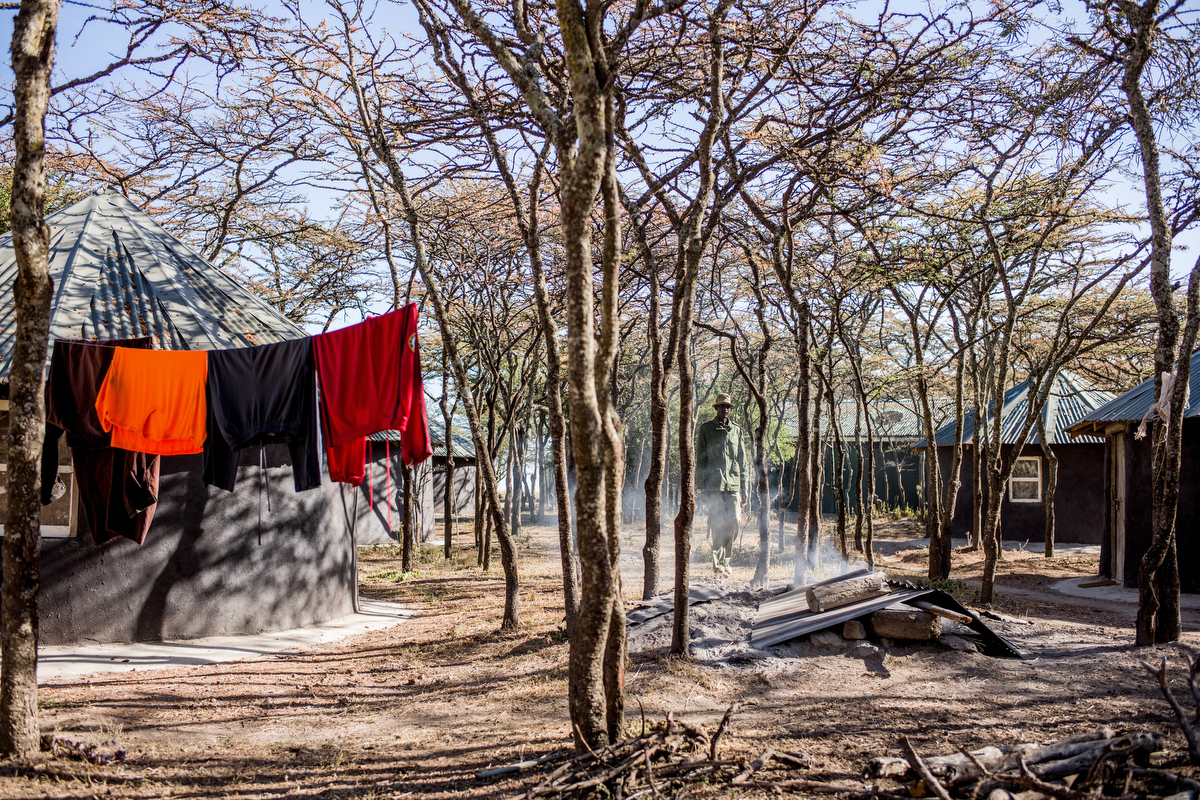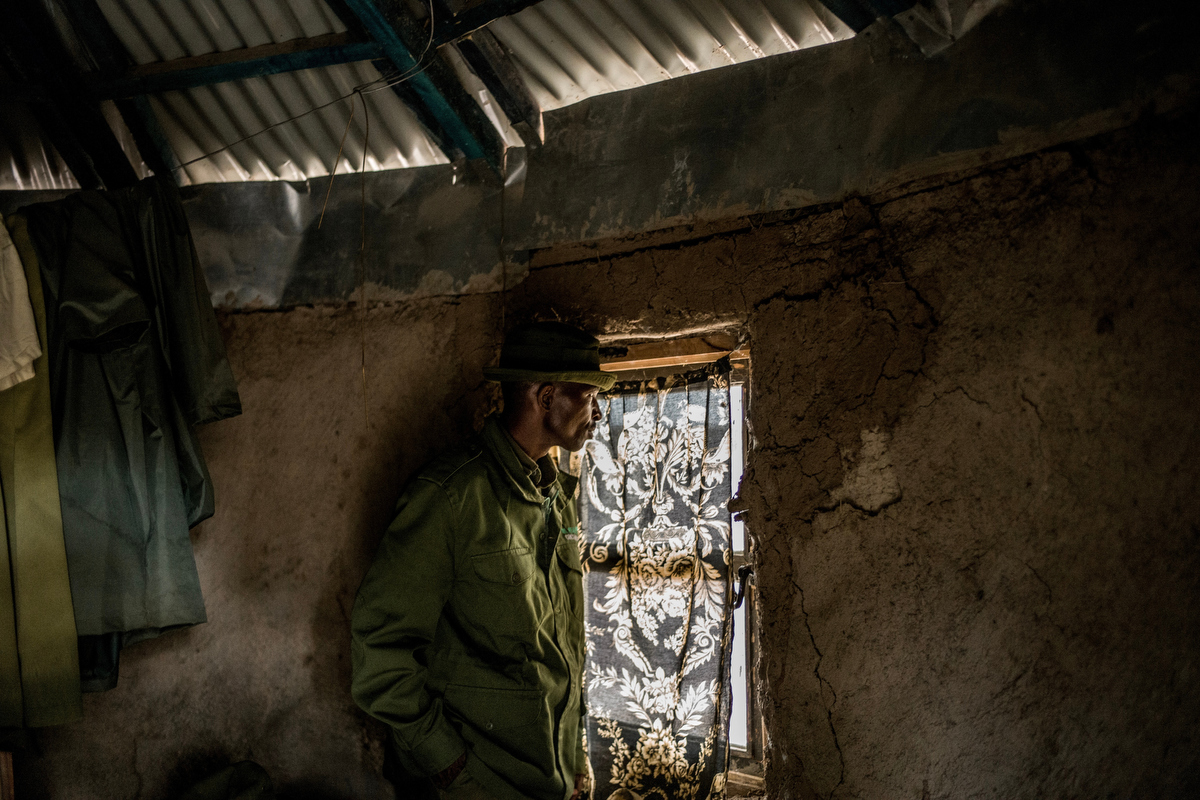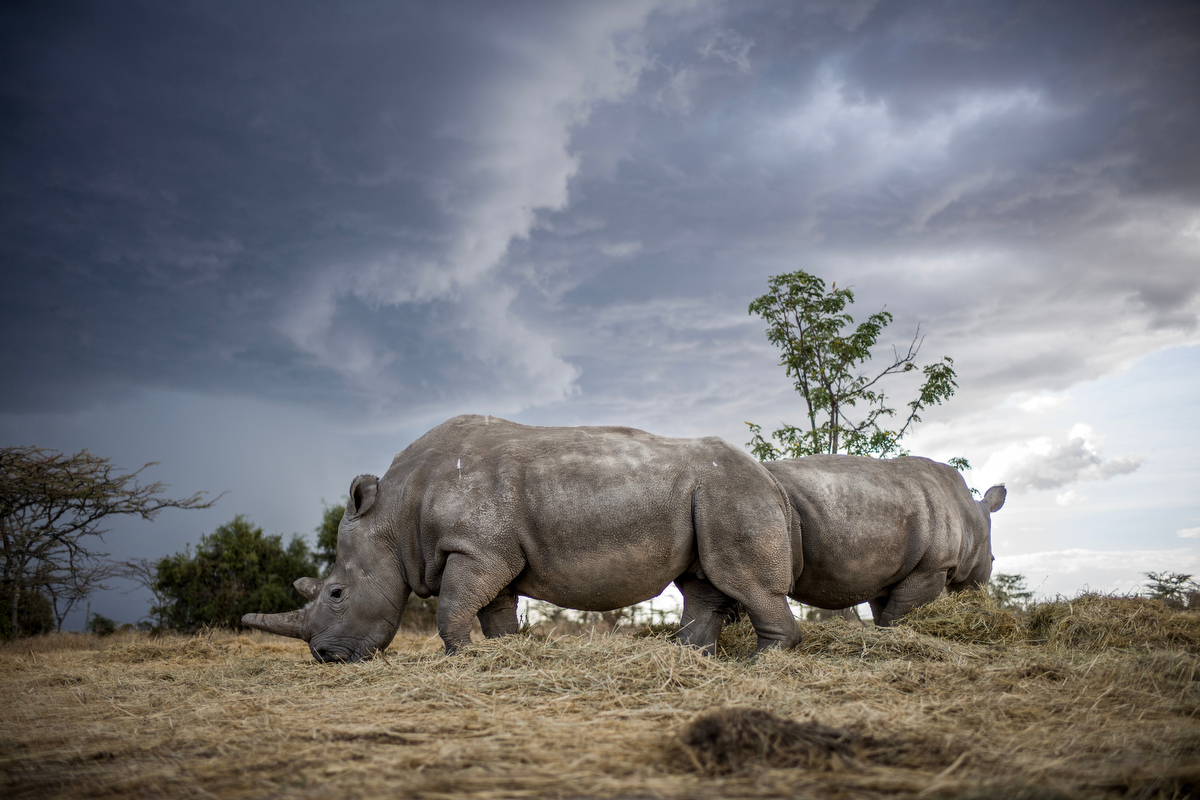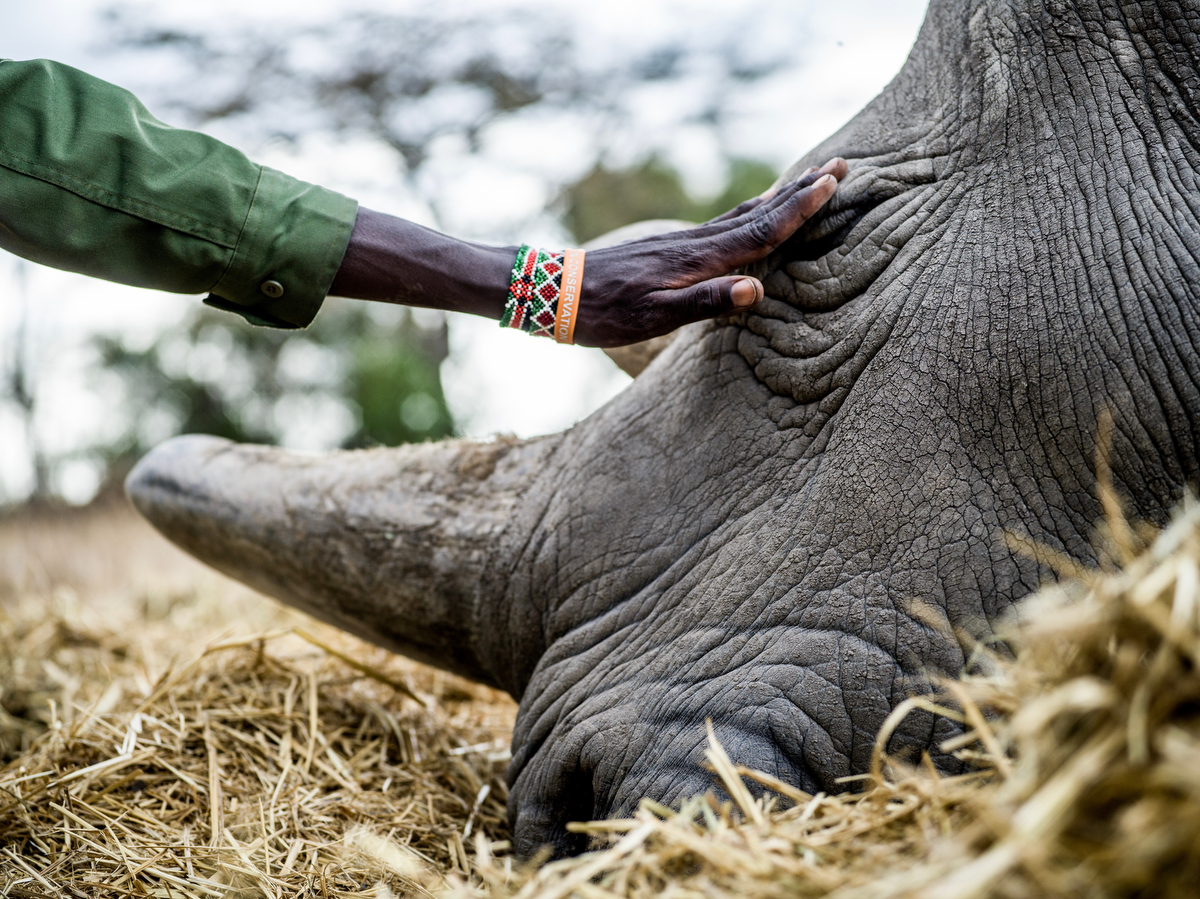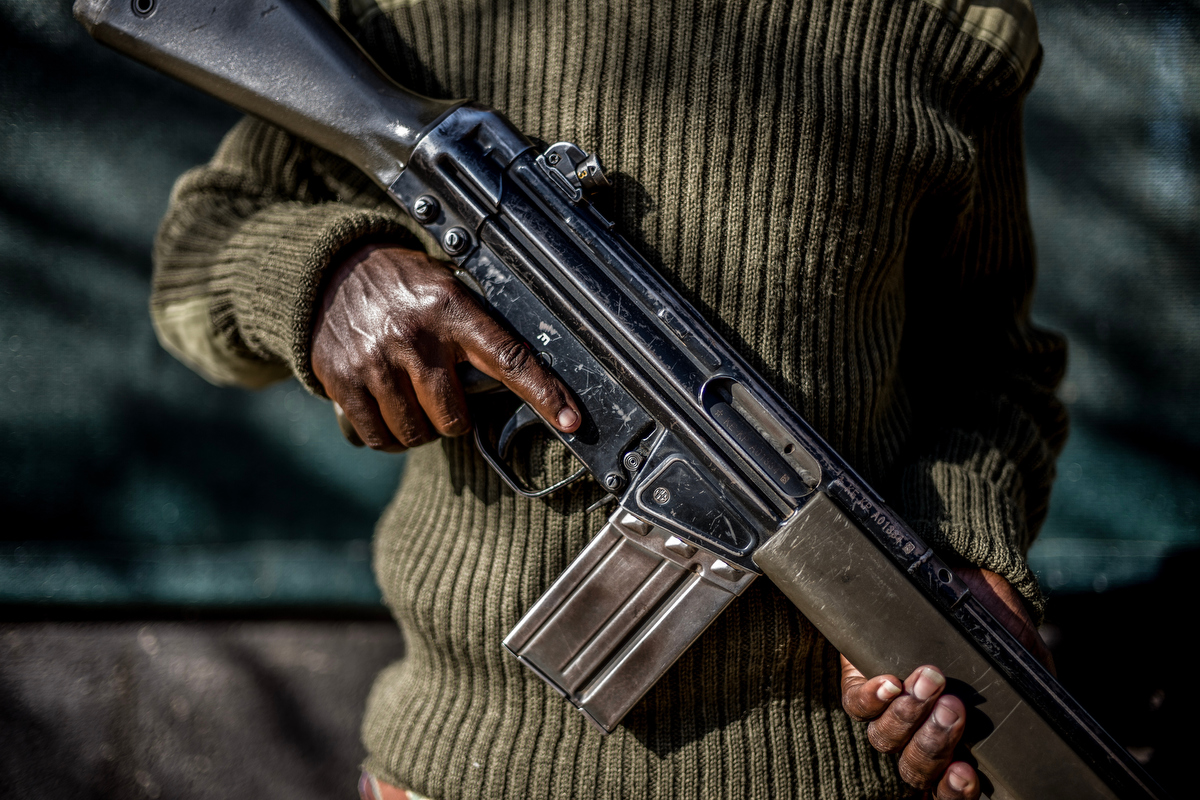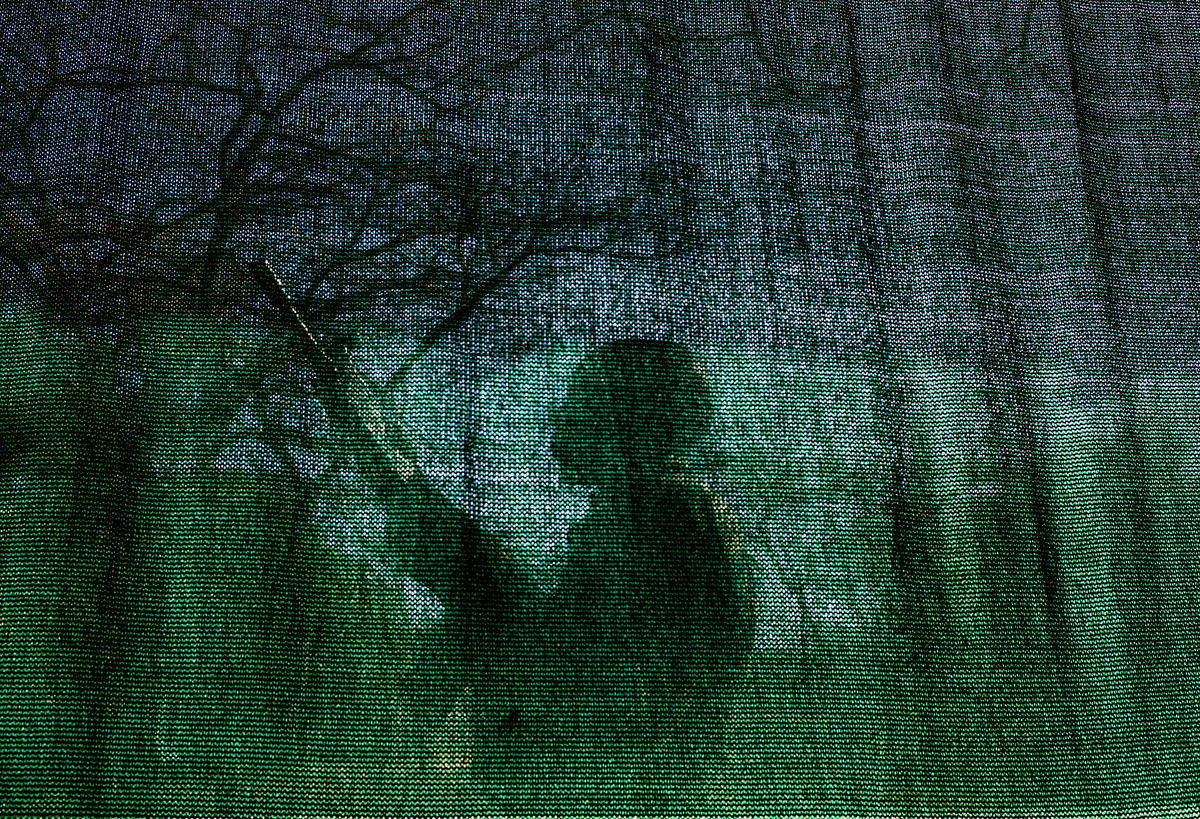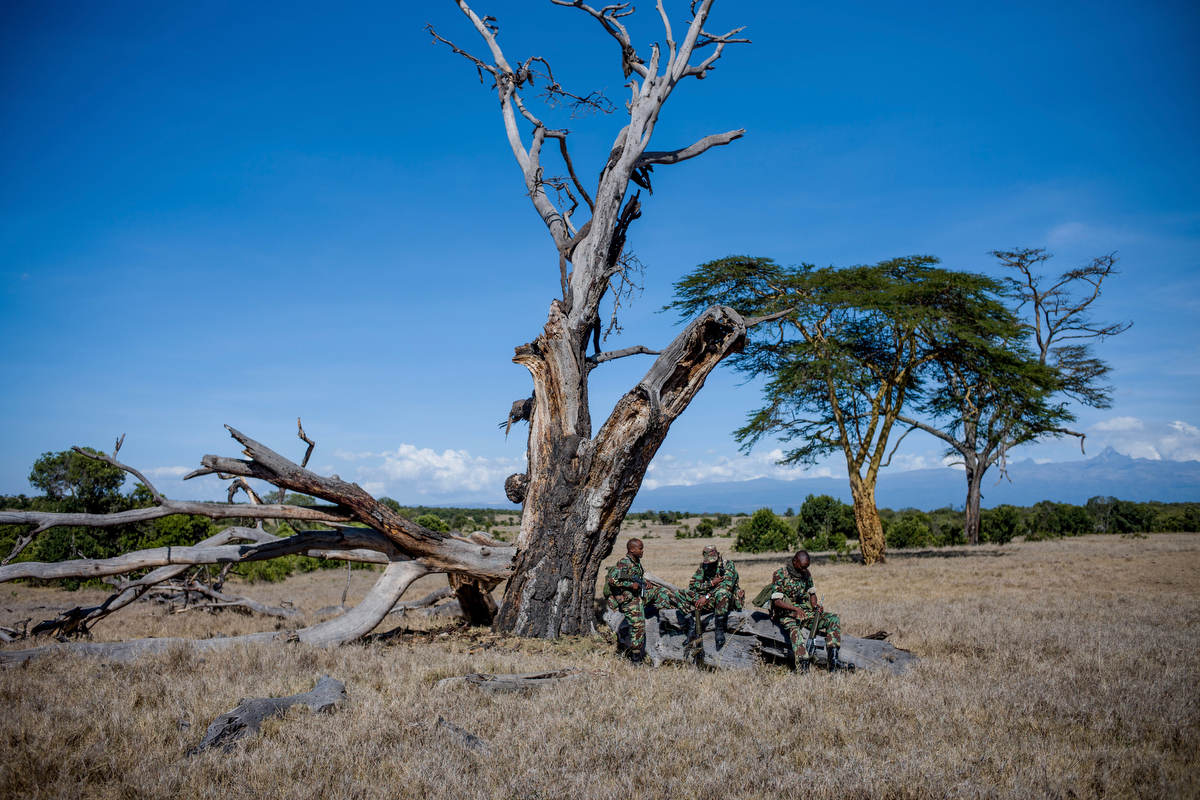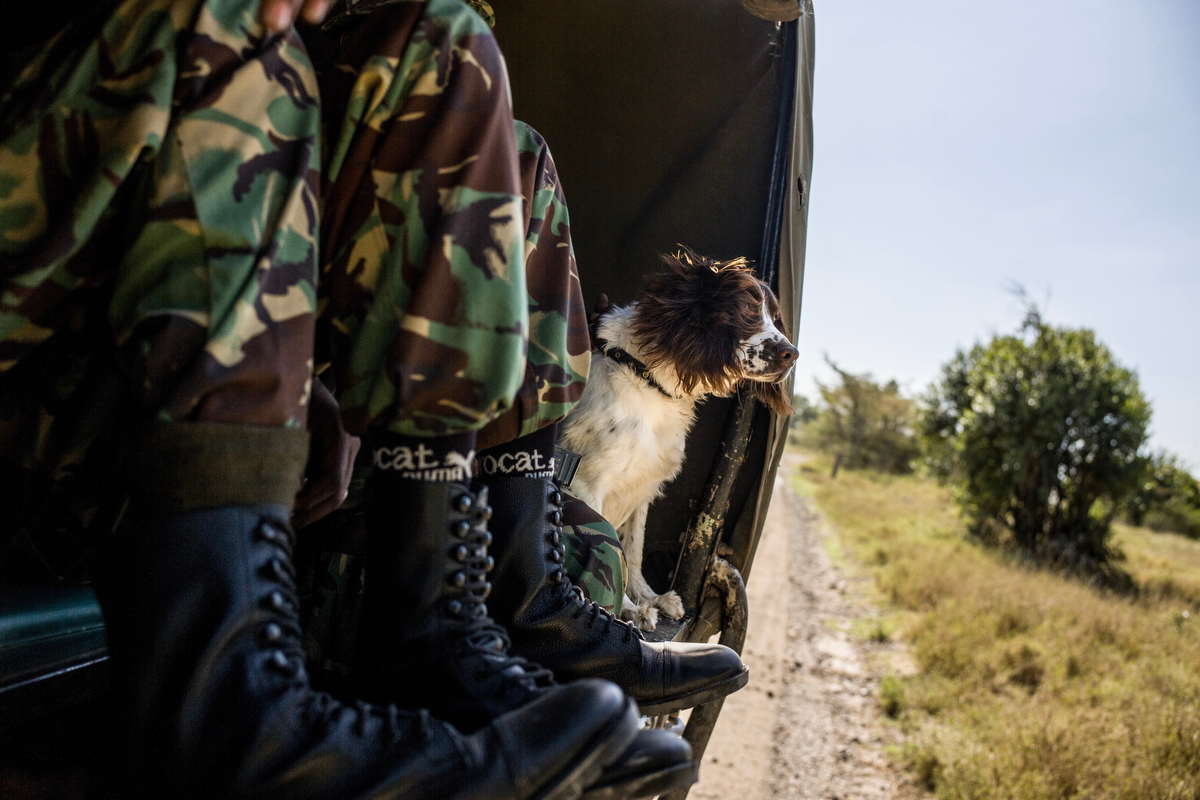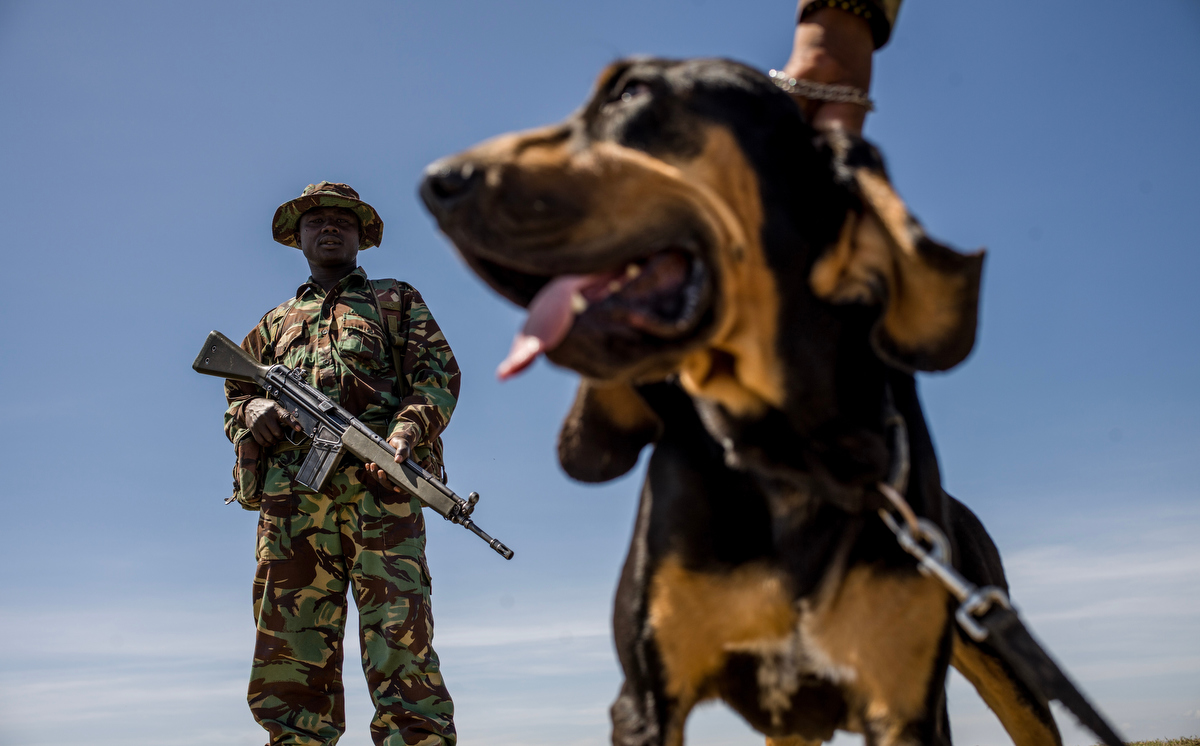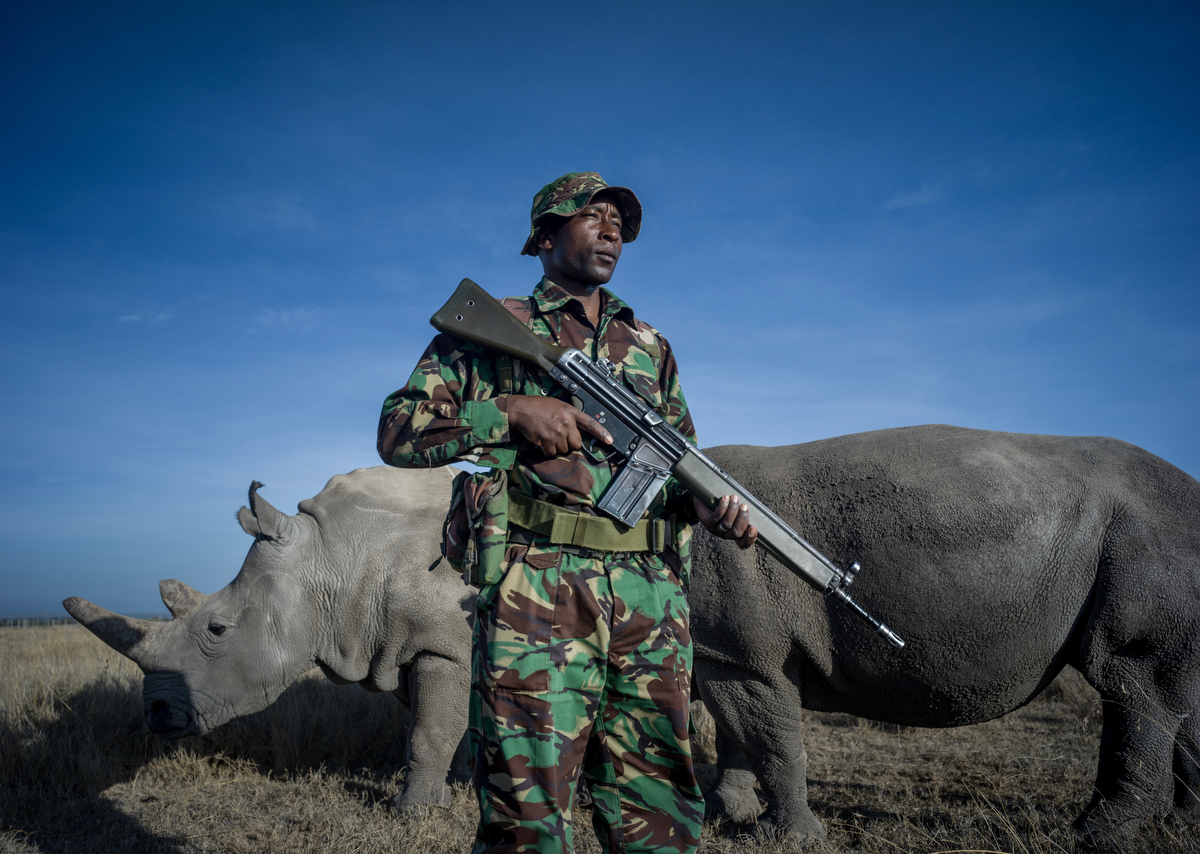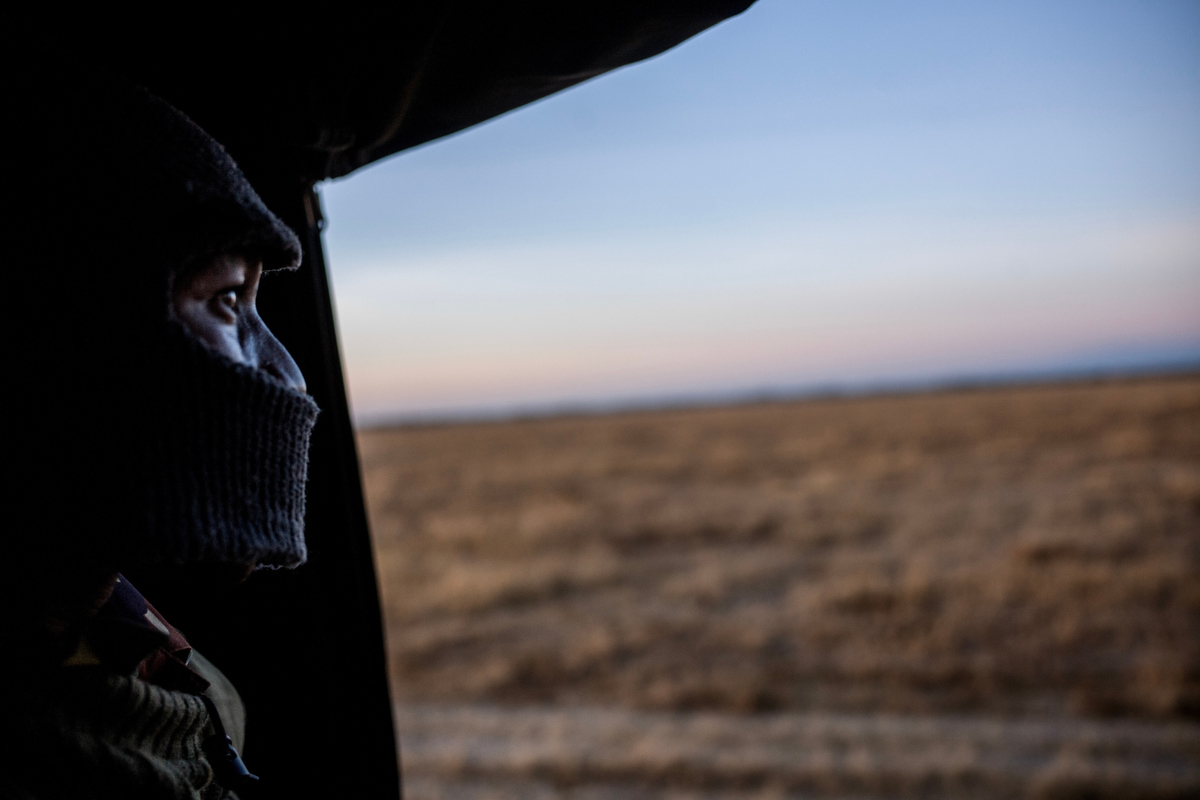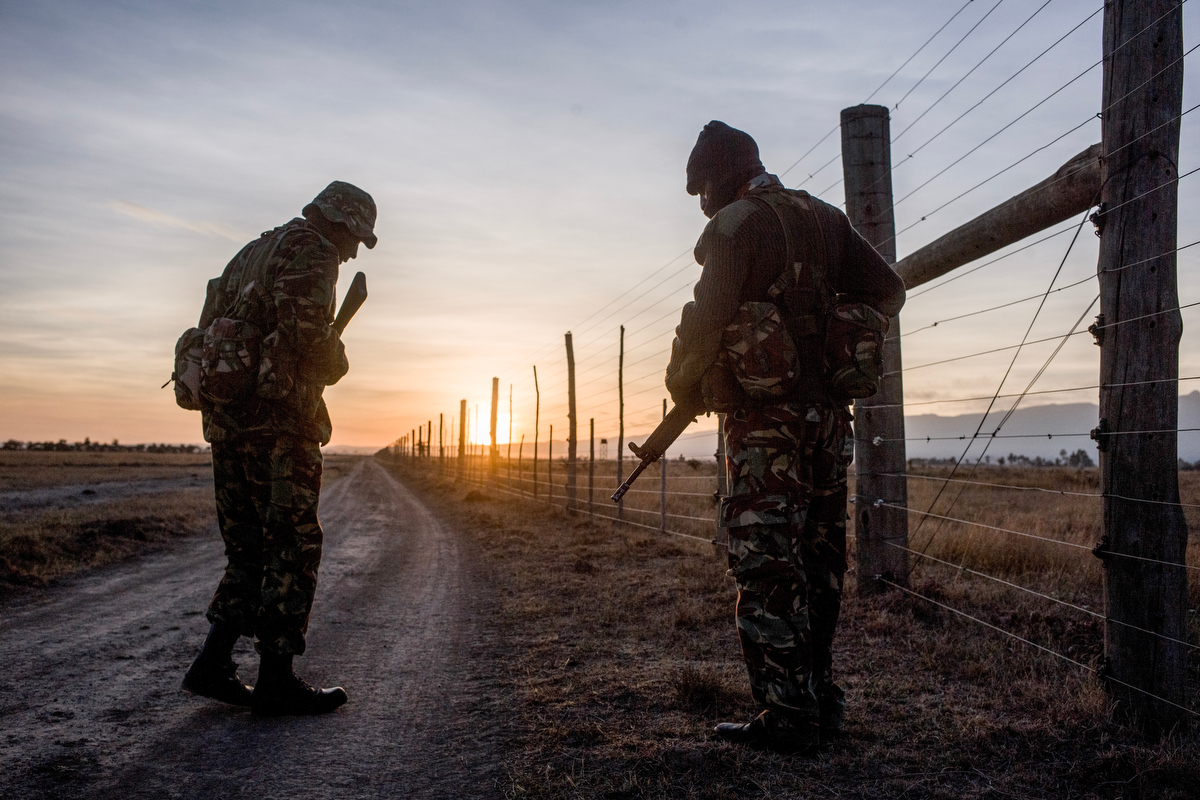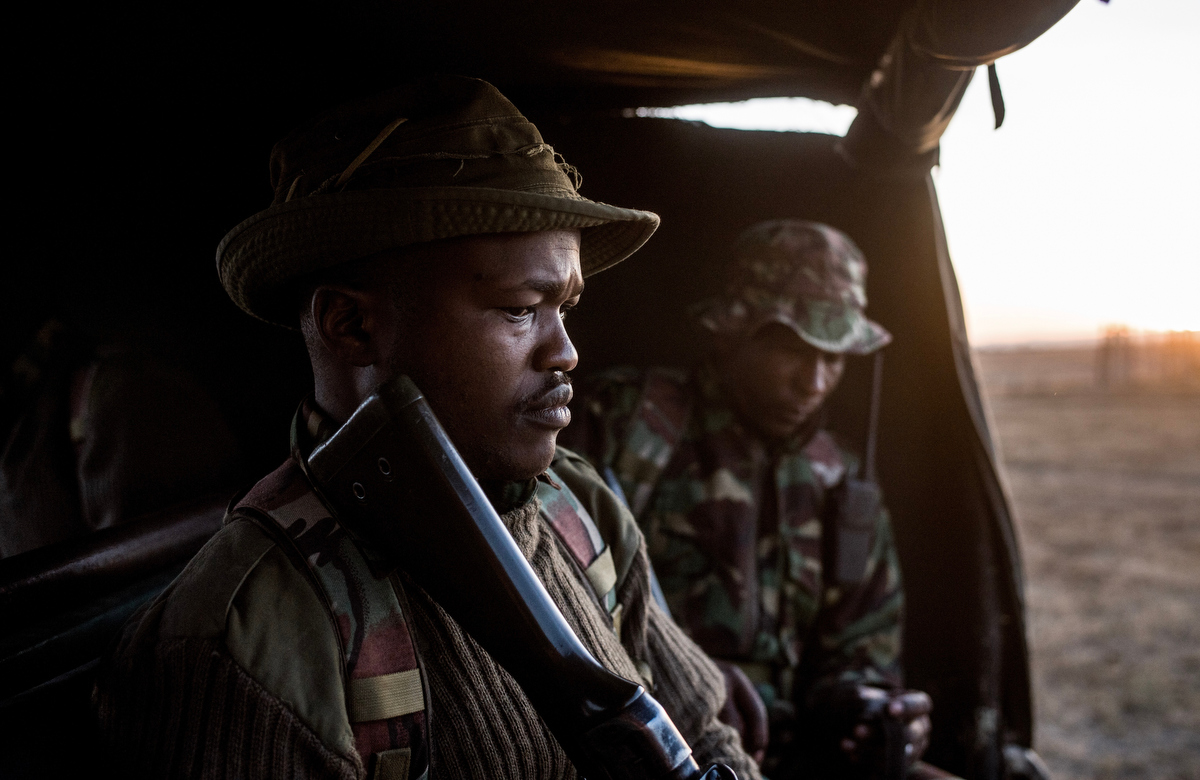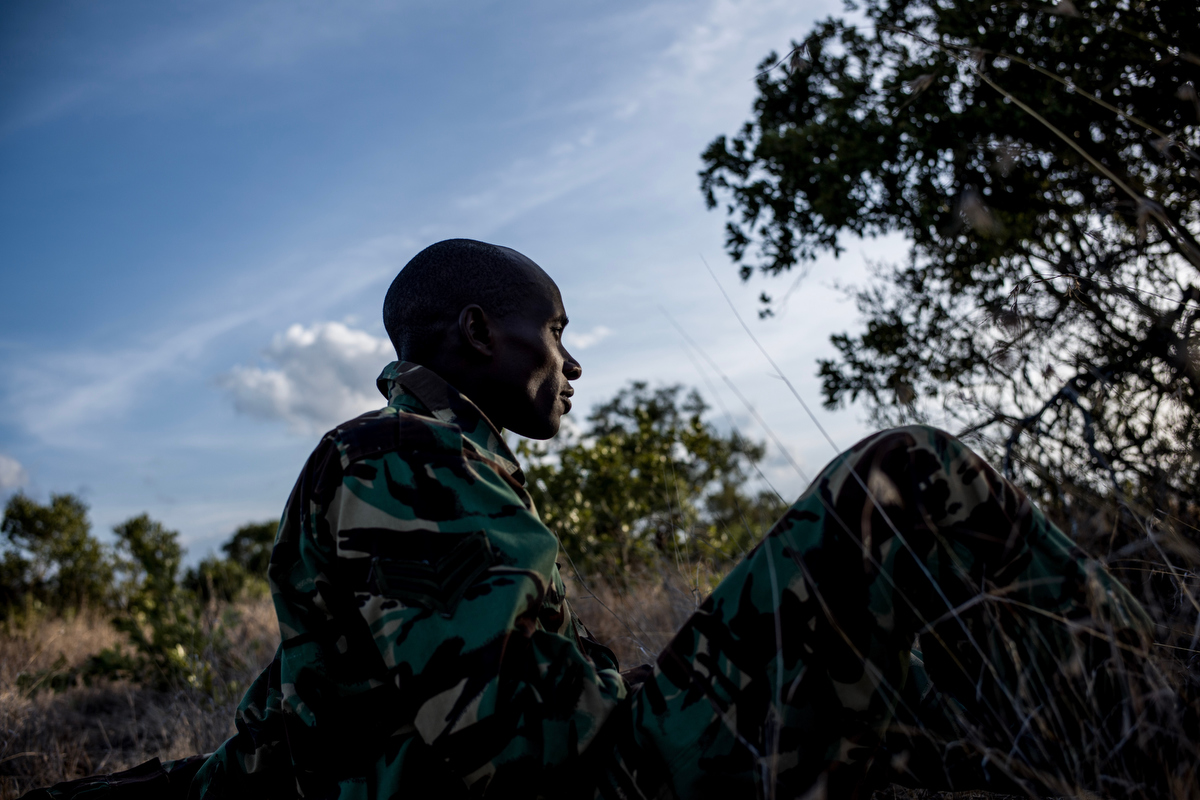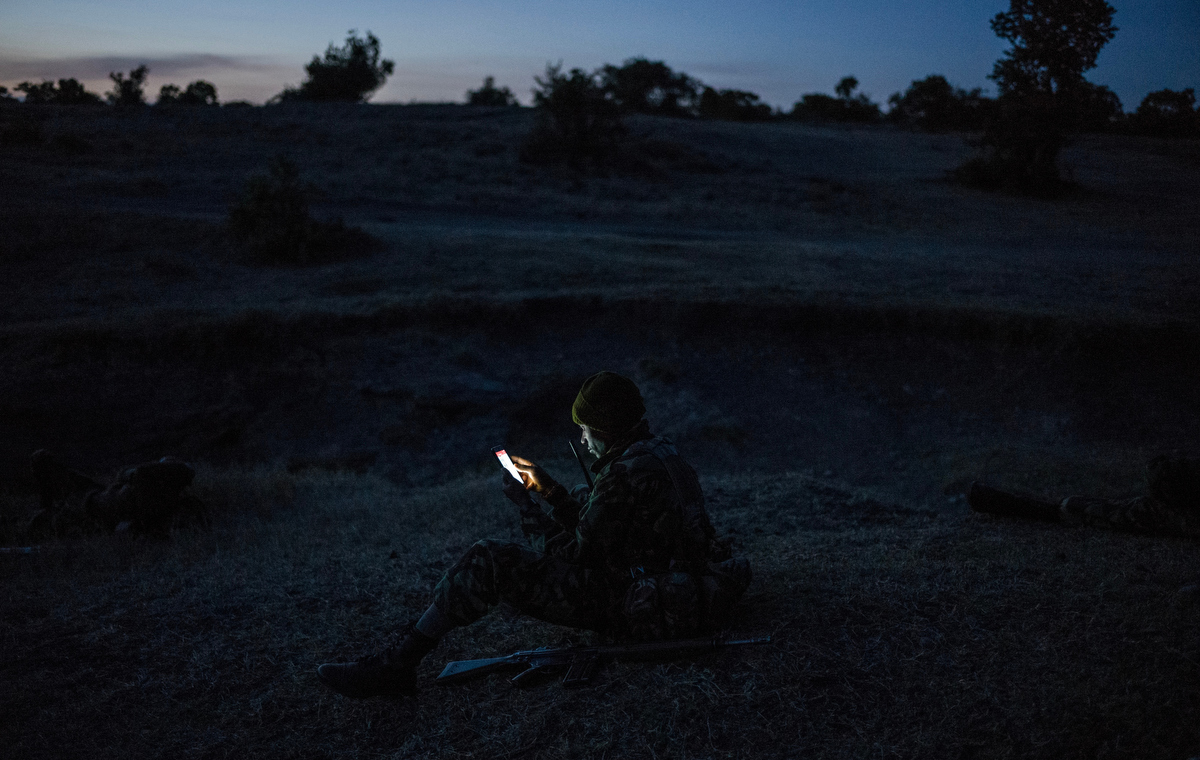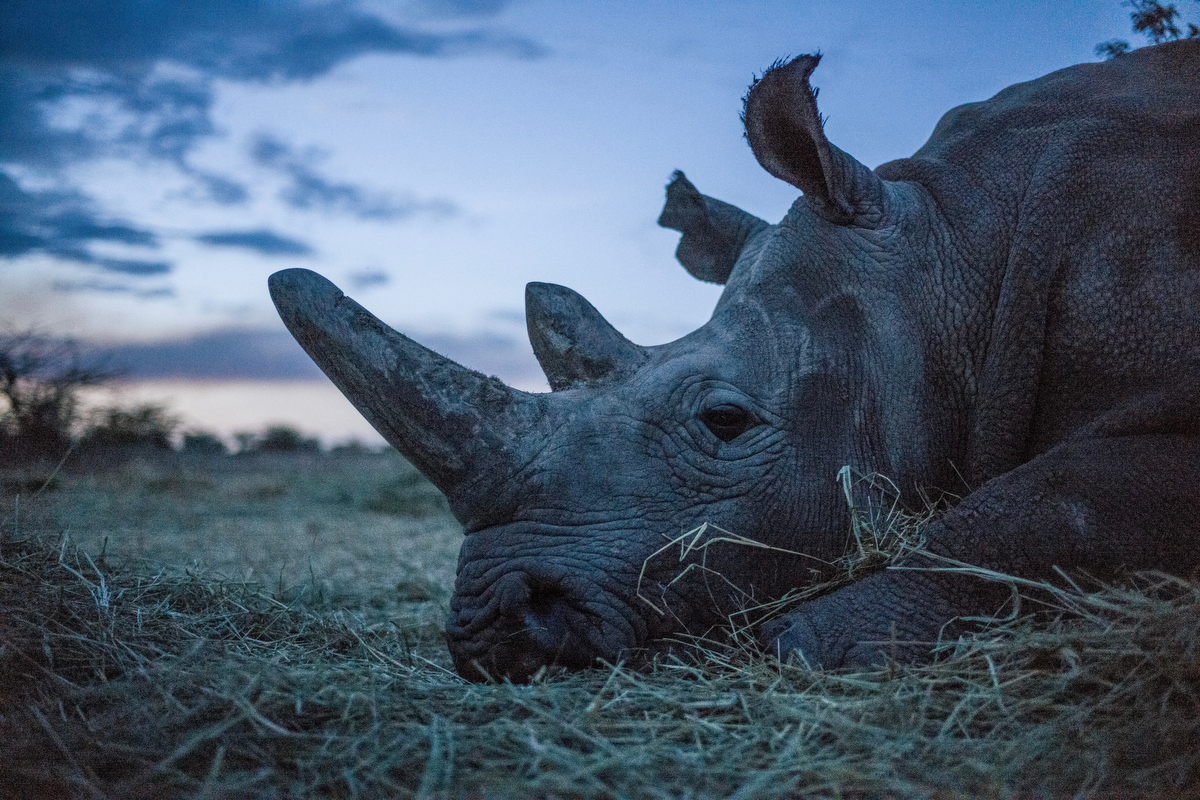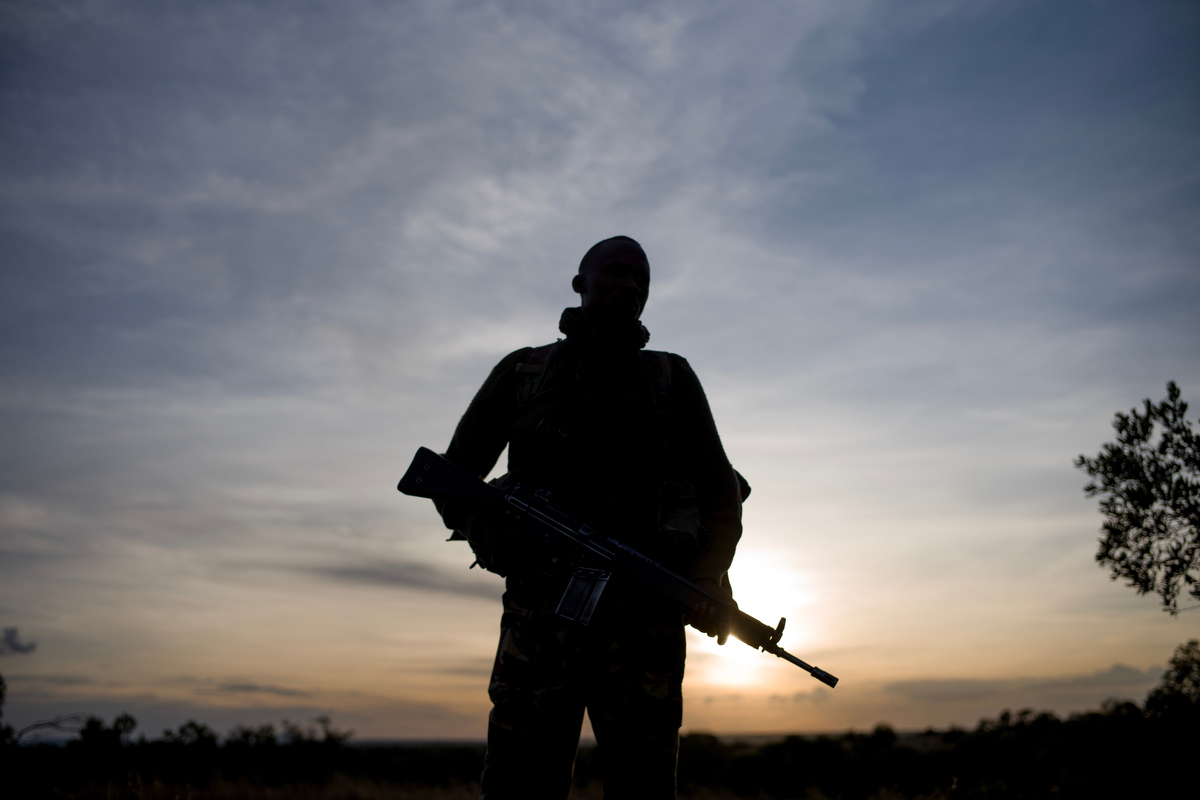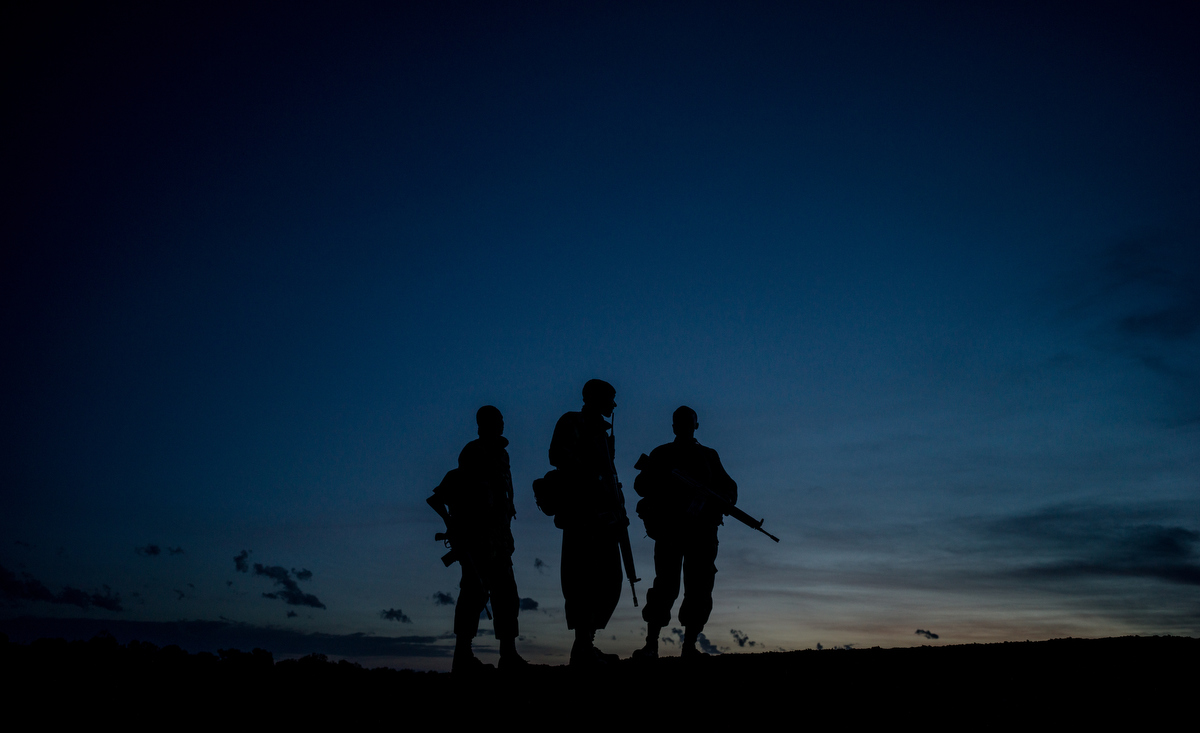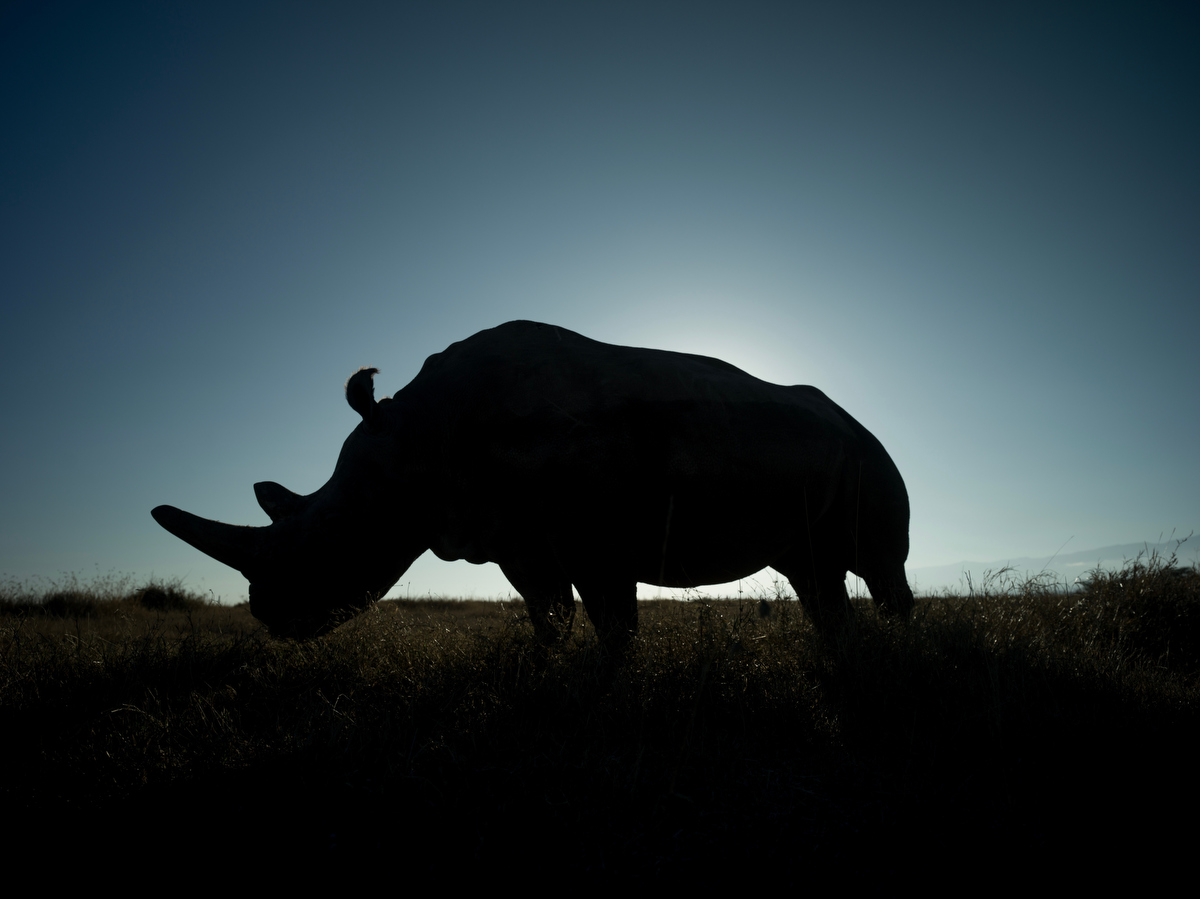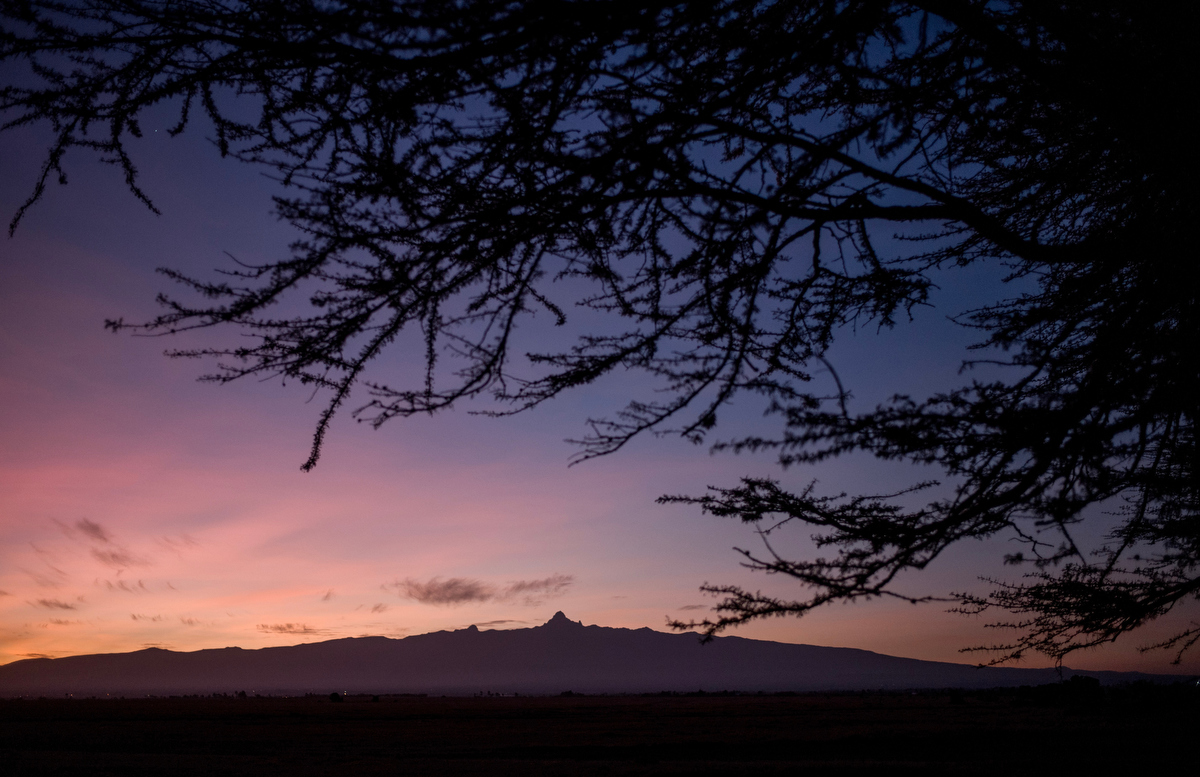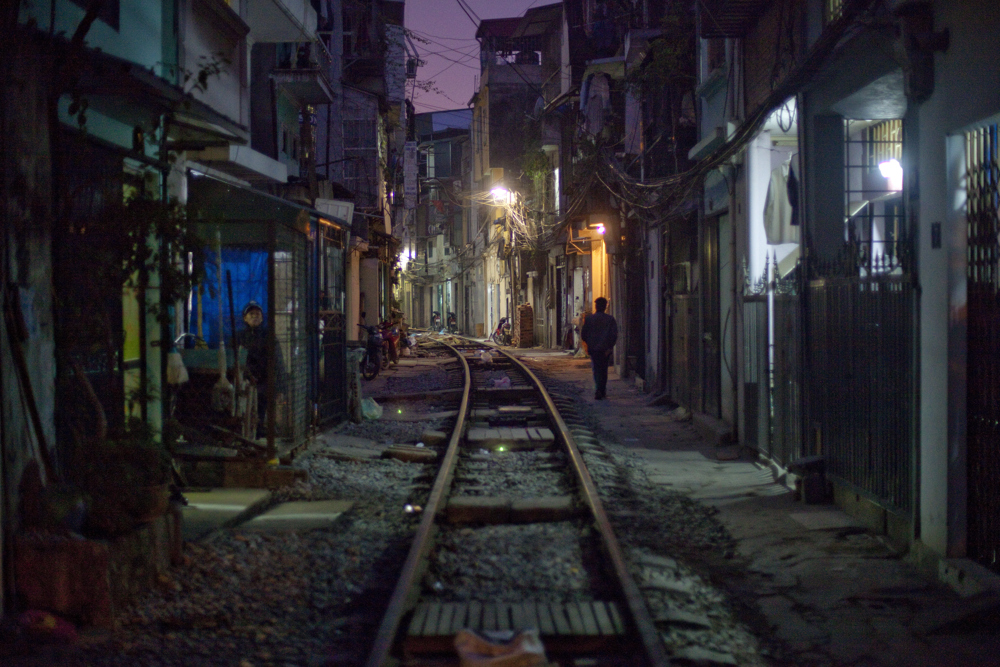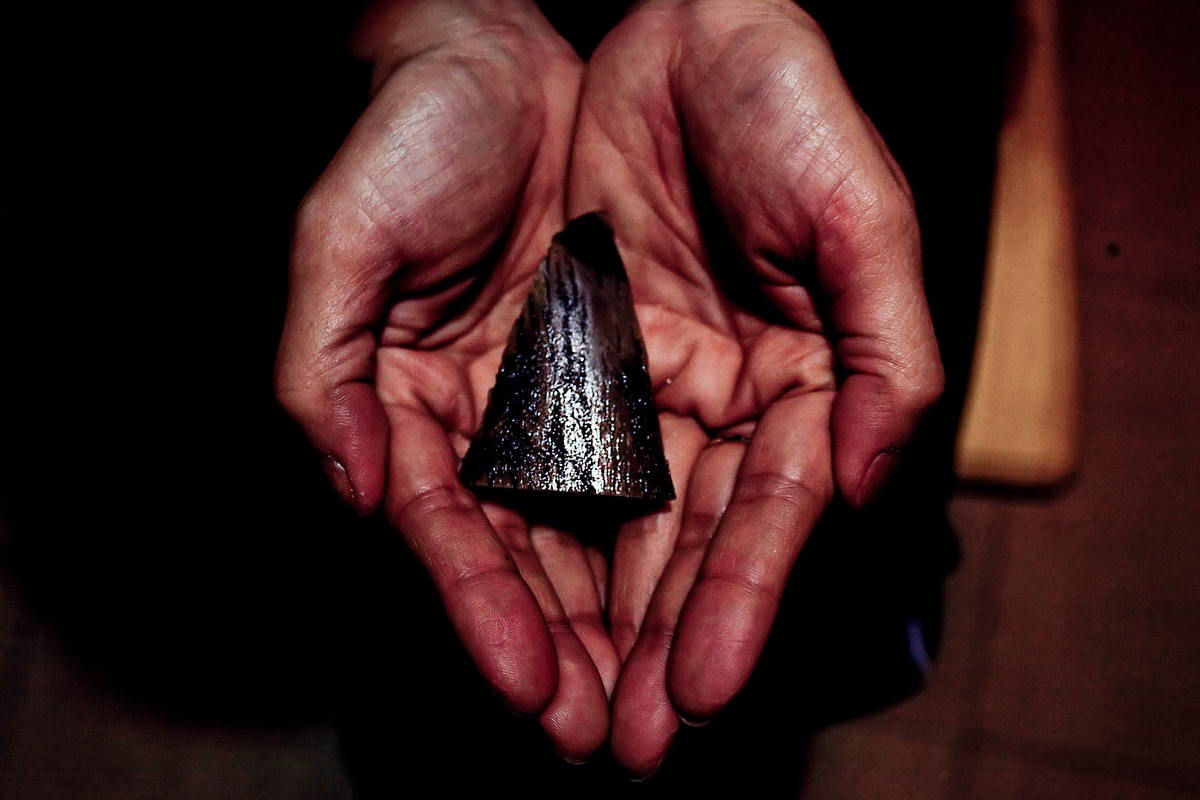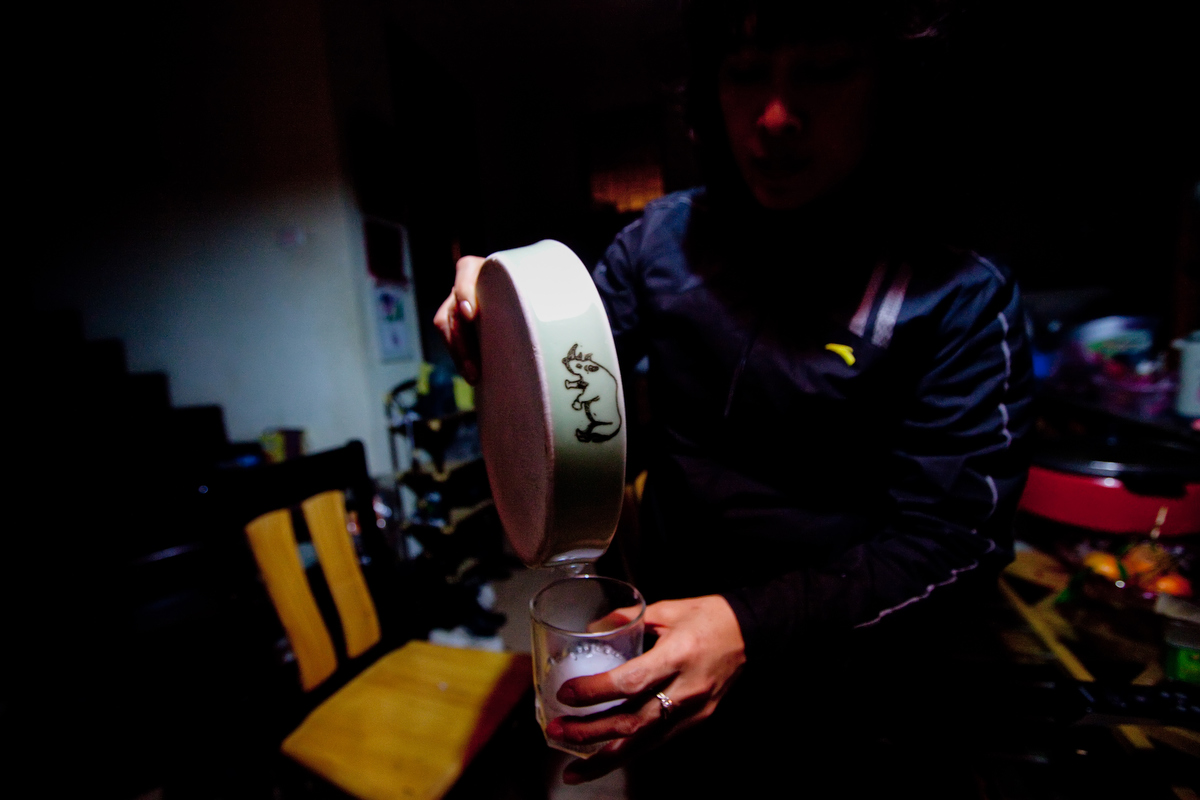 In 2018, Sudan, the last remaining male northern white rhino passed away of natural causes at the Ol Pejeta conservancy in Laikipia County, Kenya thus dooming the existence of their subspecies.
Not far from Sudan's grave lives Fatu and Najin (mother and daughter), the last known living northern white rhinos on the planet. A loss of habitat and poaching of their valuable horns to be sold off in the black market for traditional eastern medicinal purposes bound for countries such as China, South Korea, and Vietnam has led to the demise of their species.
Fatu and Najin live in a large gated and protected area where they are free to roam and are monitored 24 hours a day by Ol Pejeta's caretakers and armed NPR (National Police Reservists).
The caretakers feed and look after them along with educating visitors about their plight. The NPR patrols the 360 square kilometer conservancy around the clock looking for signs of poachers. They patrol the bush throughout the night amongst wild and sometimes dangerous animals. In 2018, they had an encounter with three poachers and a gun fight ensued, resulting in the death of all 3 poachers.
The protectors and caretakers all live in small bush camp within eyesight of Fatu and Najin. They live away from their families where they work 20 days on and 6 days off at the conservancy. They take tremendous pride and honor in their work and these heroes sacrifice so much for these animals, this is their story.
If you'd like to donate to Ol Pejeta and help support their amazing efforts for animal conservation please click here.
This is part of a larger ongoing personal project titled Kindred Guardians, an ongoing personal project documenting people around the world who dedicate their lives to help animals in need. Each chapter explores a new issue and a new bond between humans and animals.
Chapter 2
Soi Dog Foundation | Thailand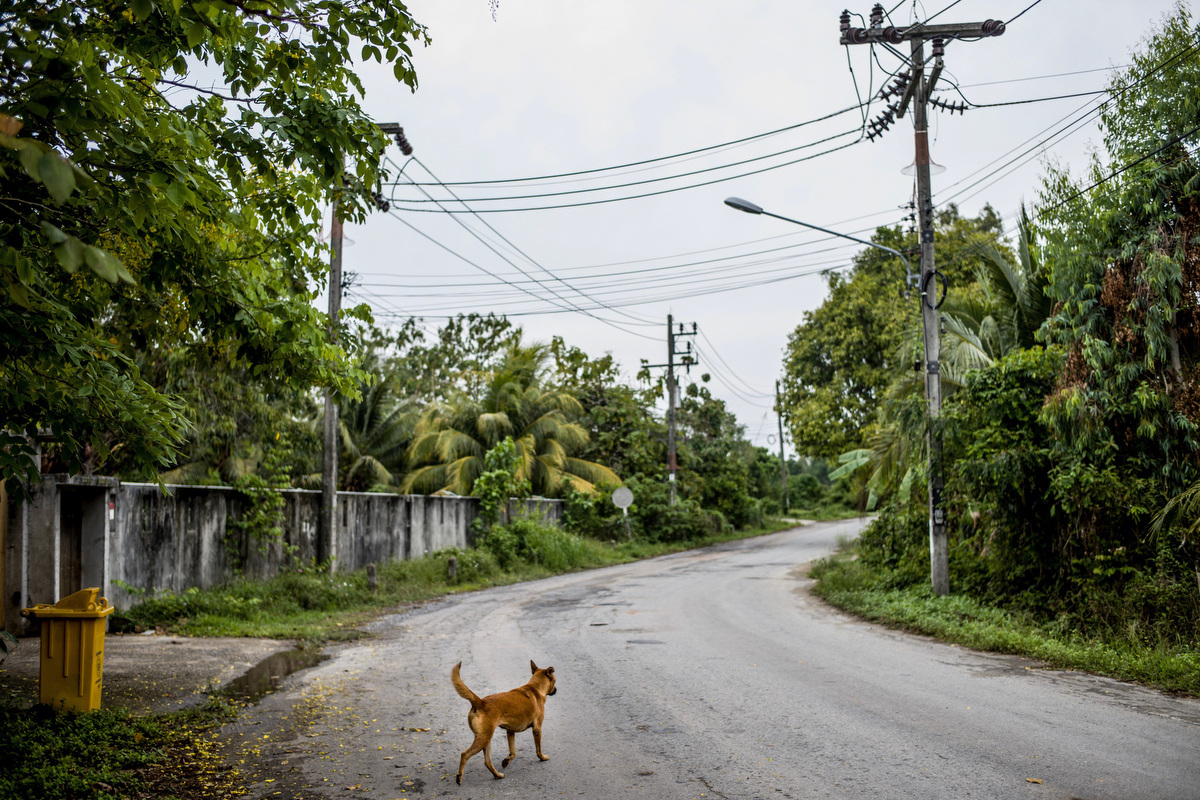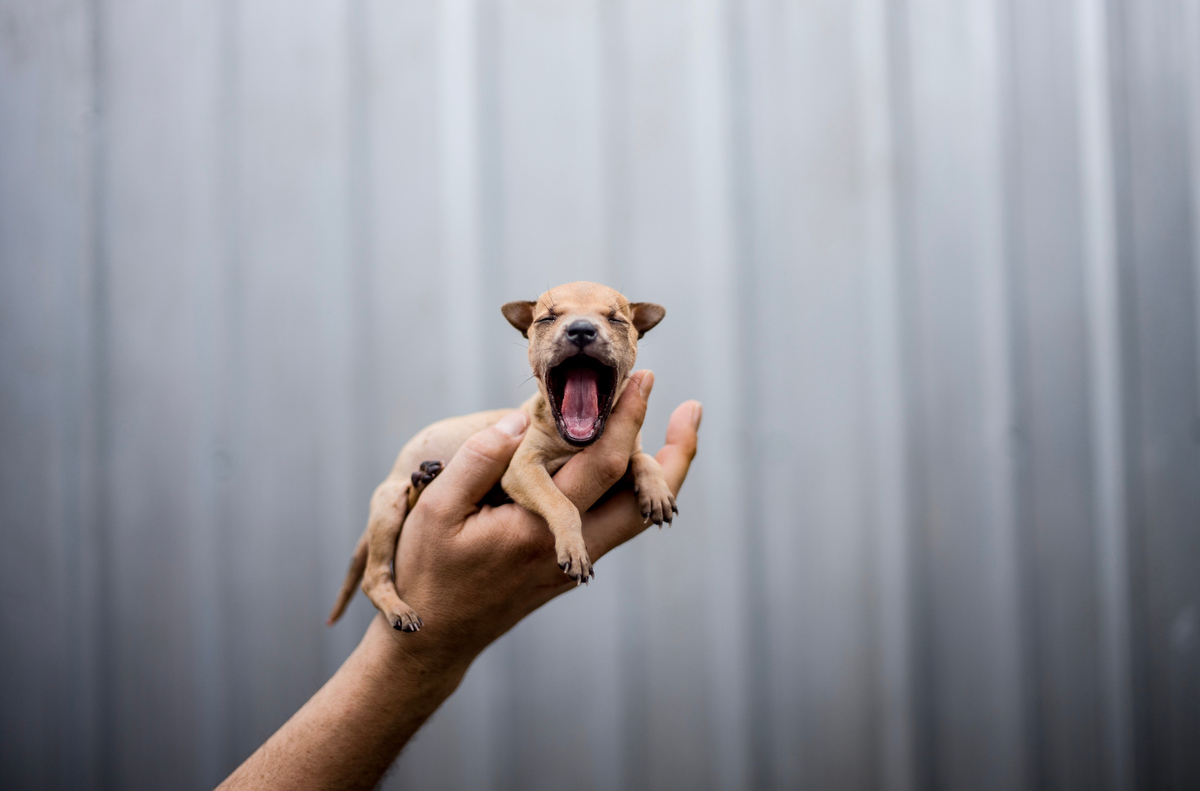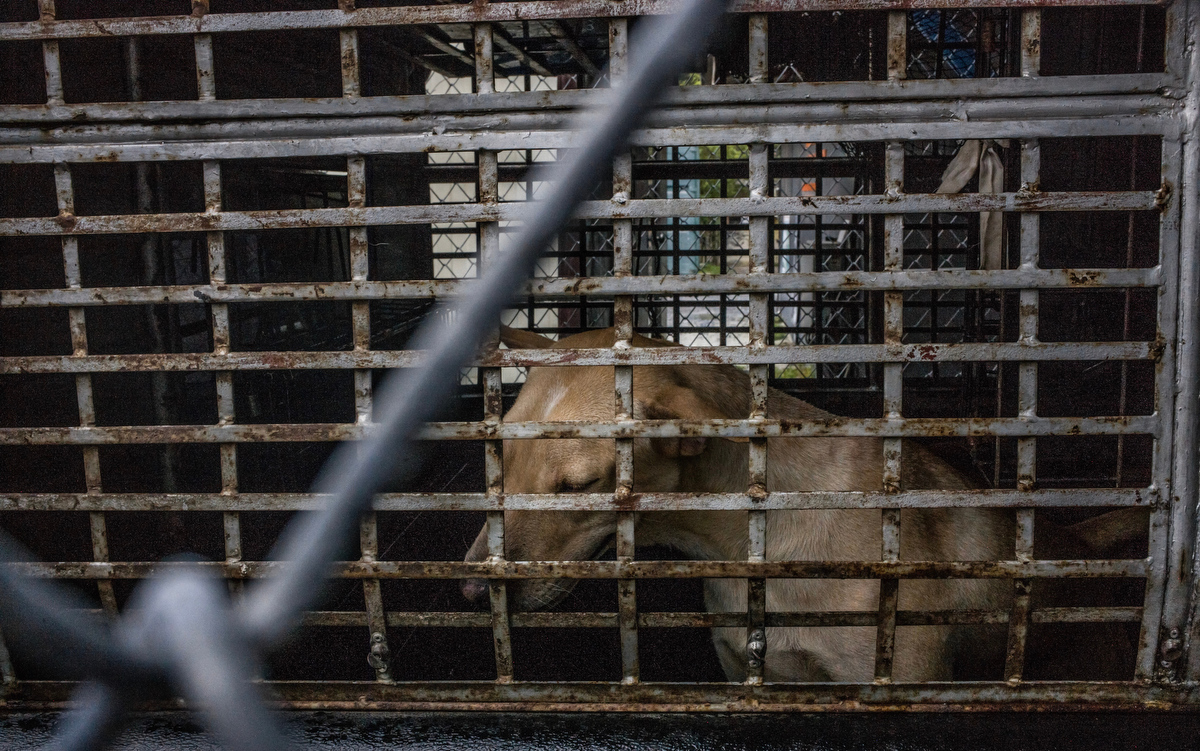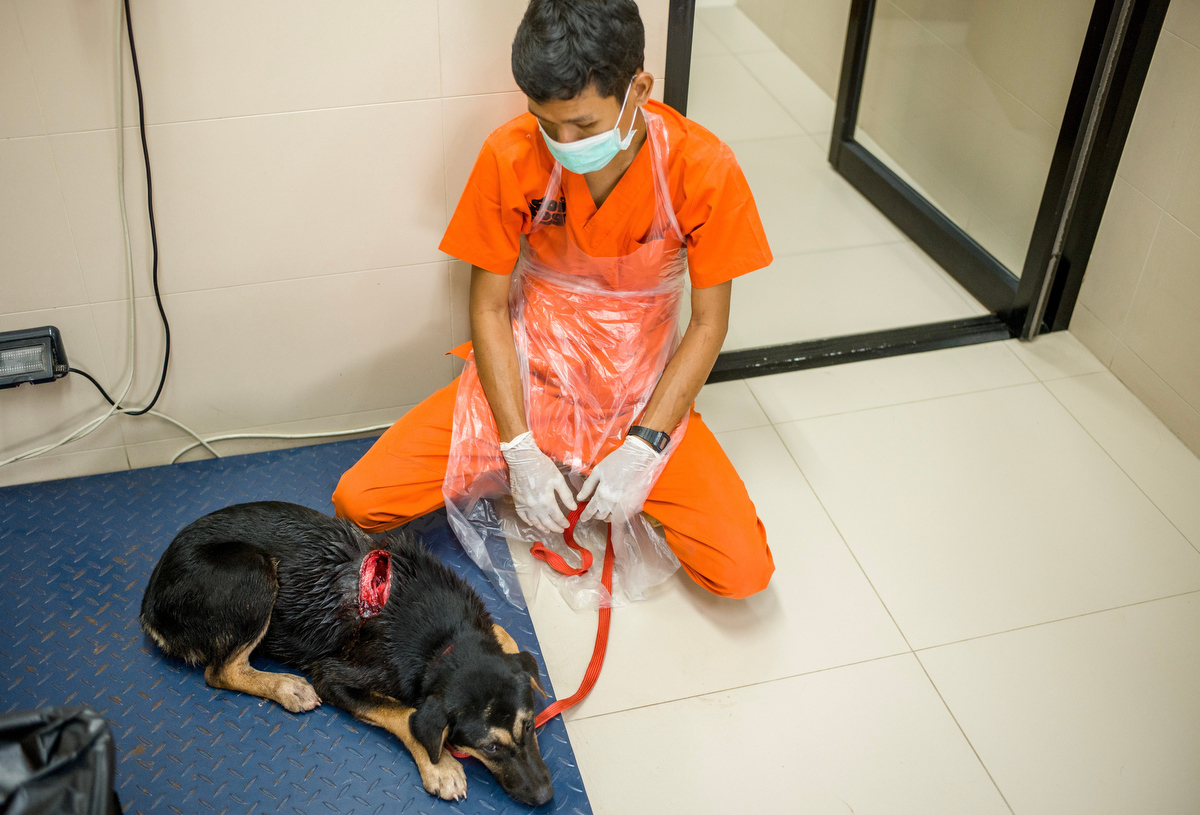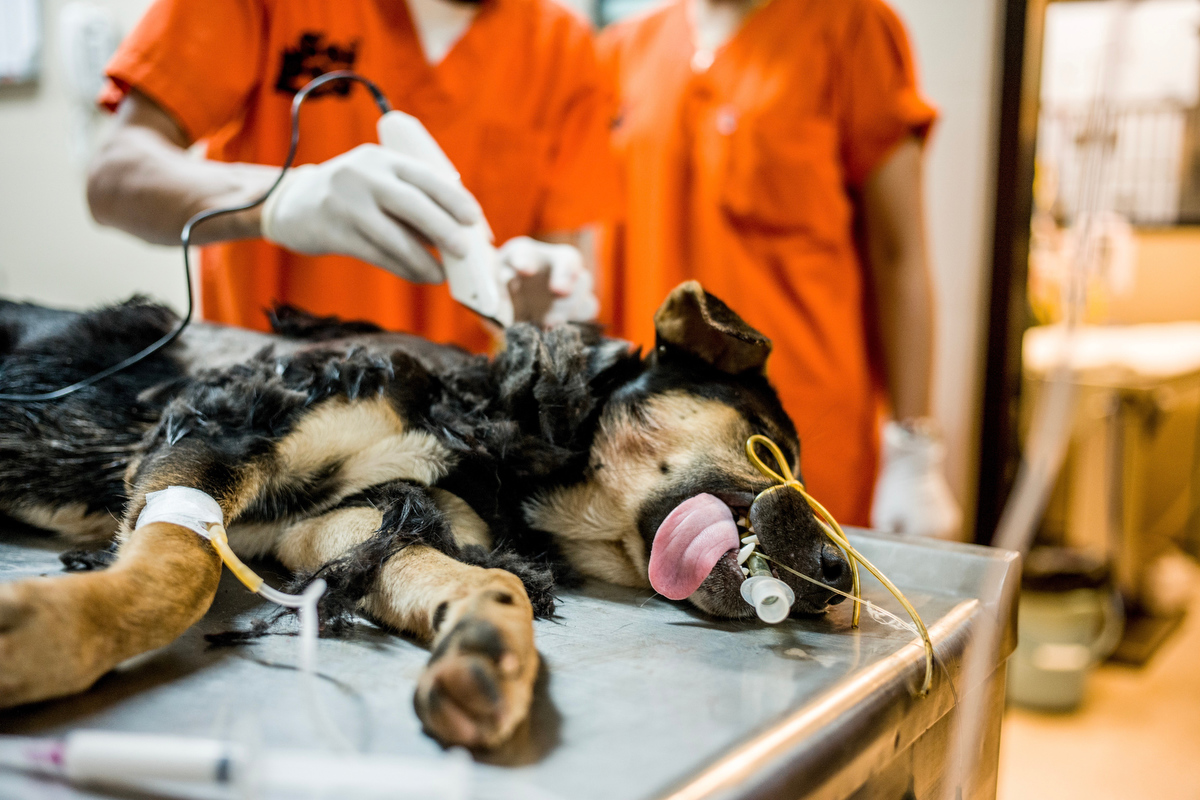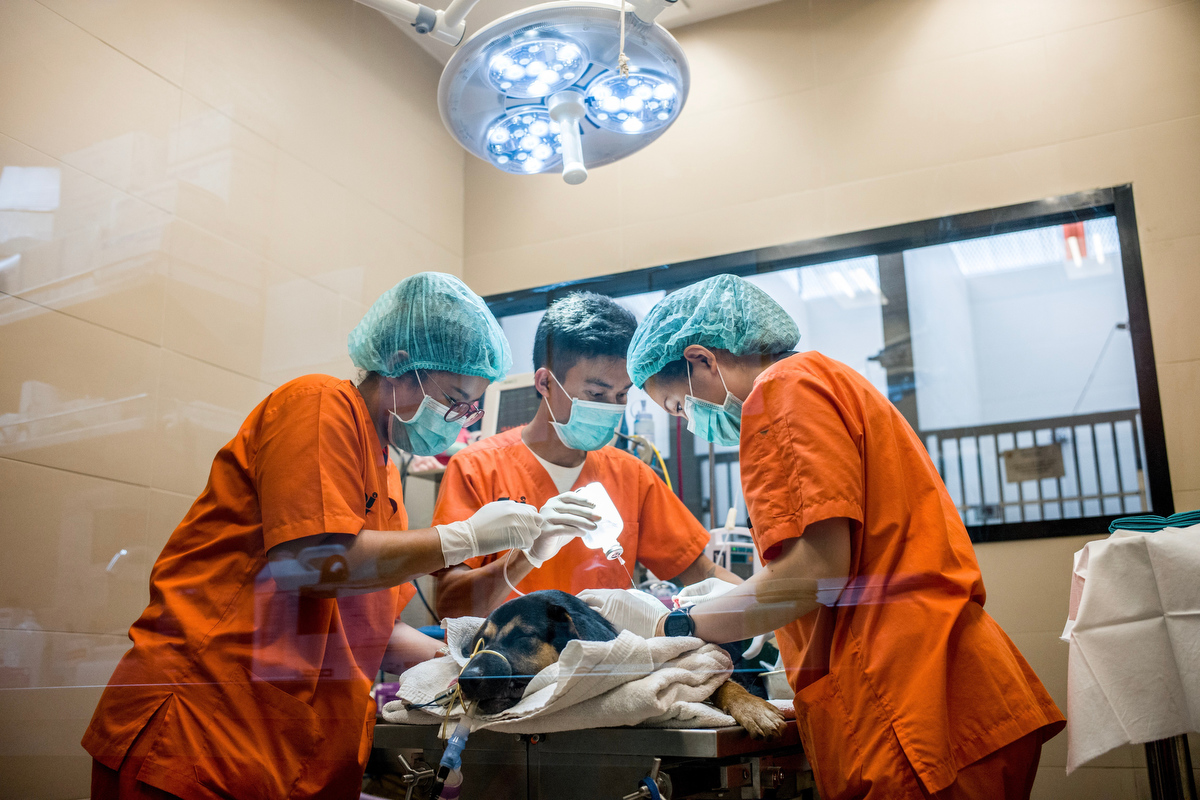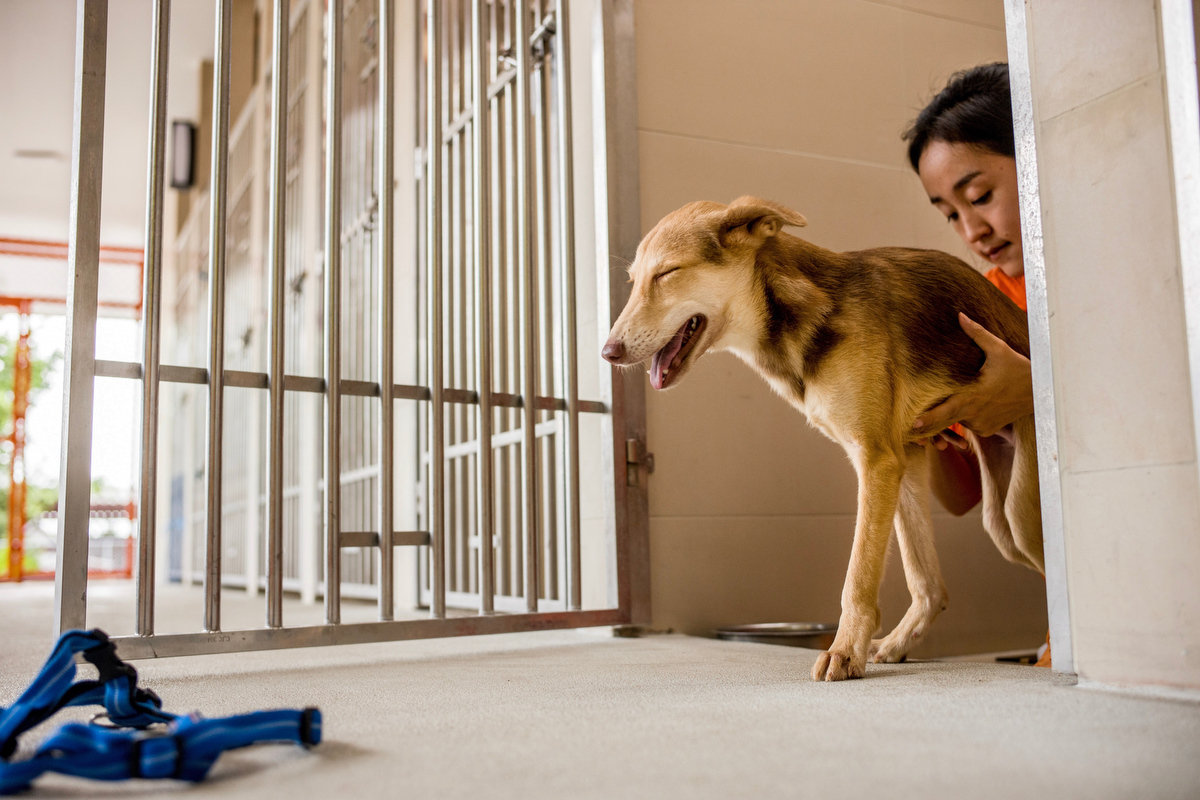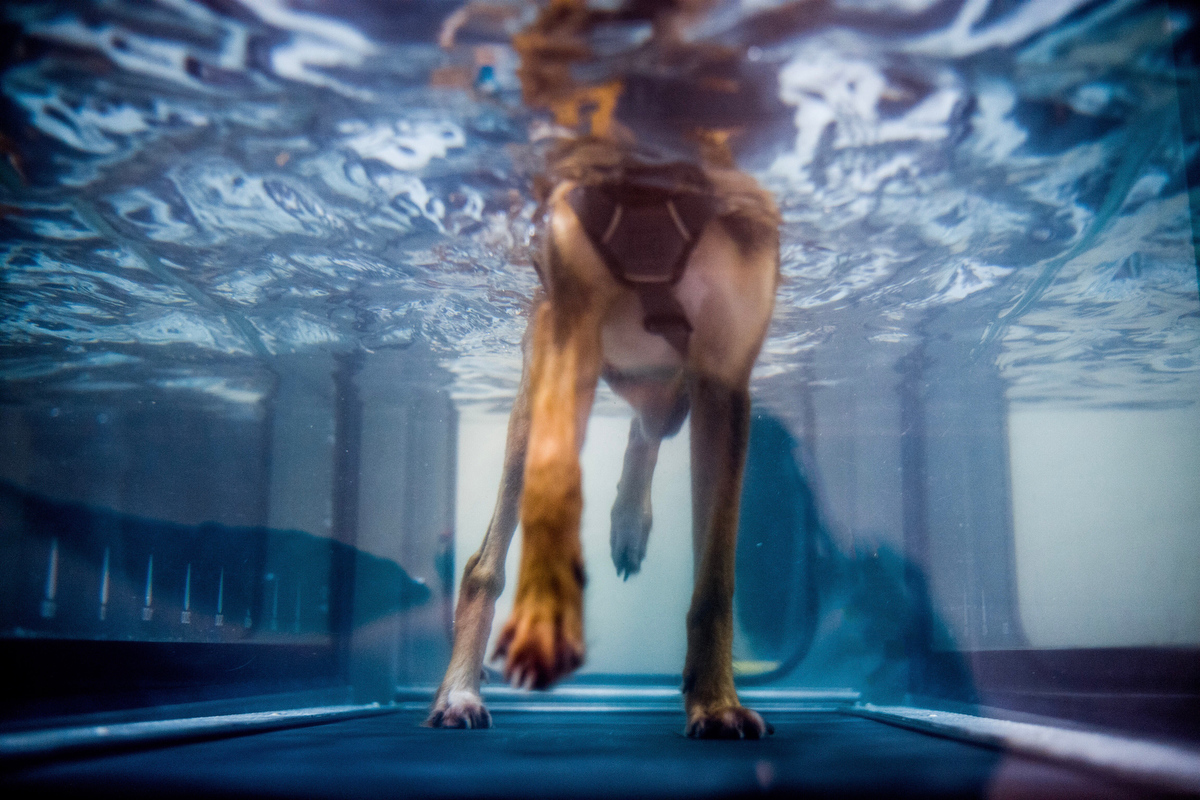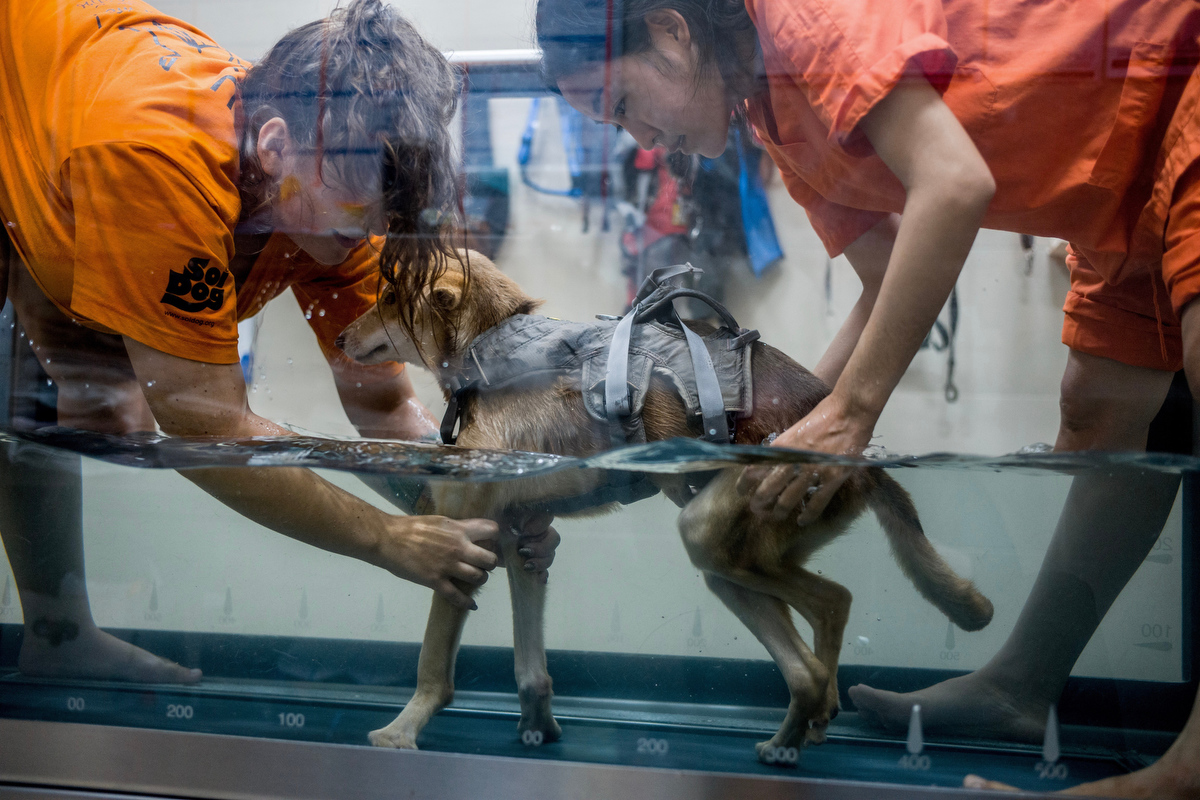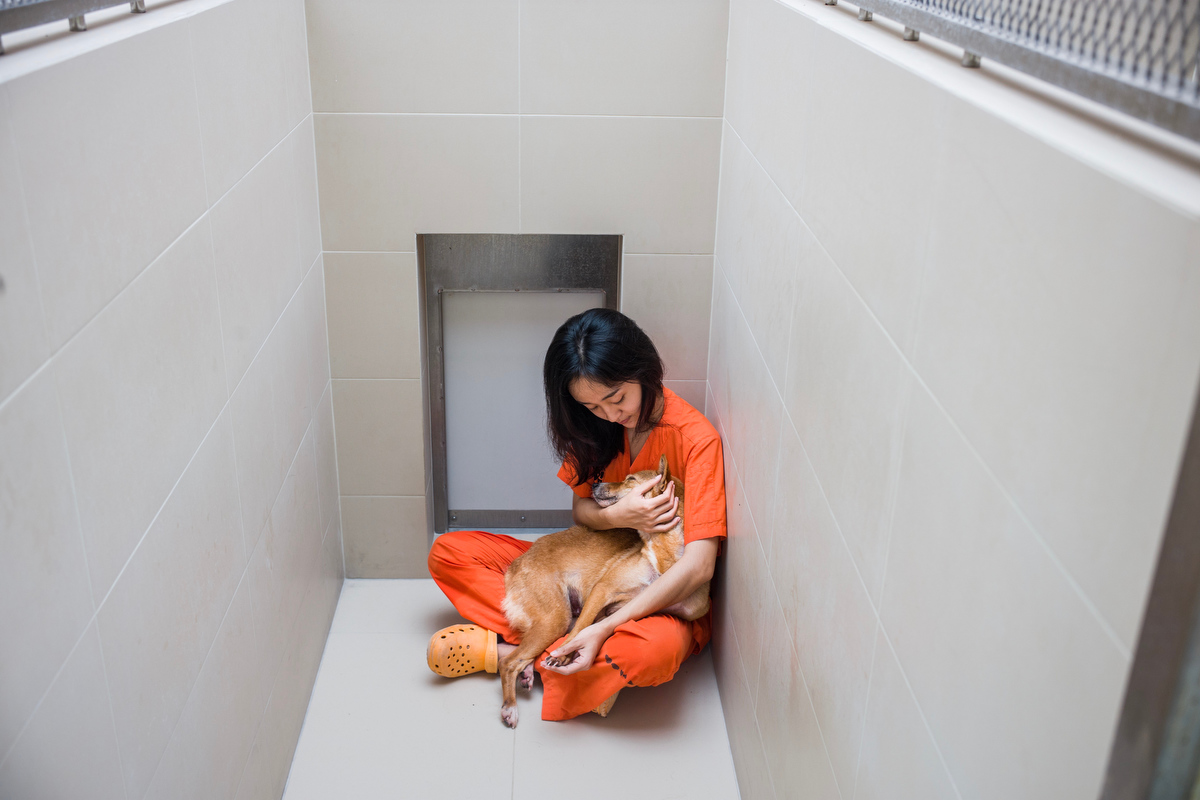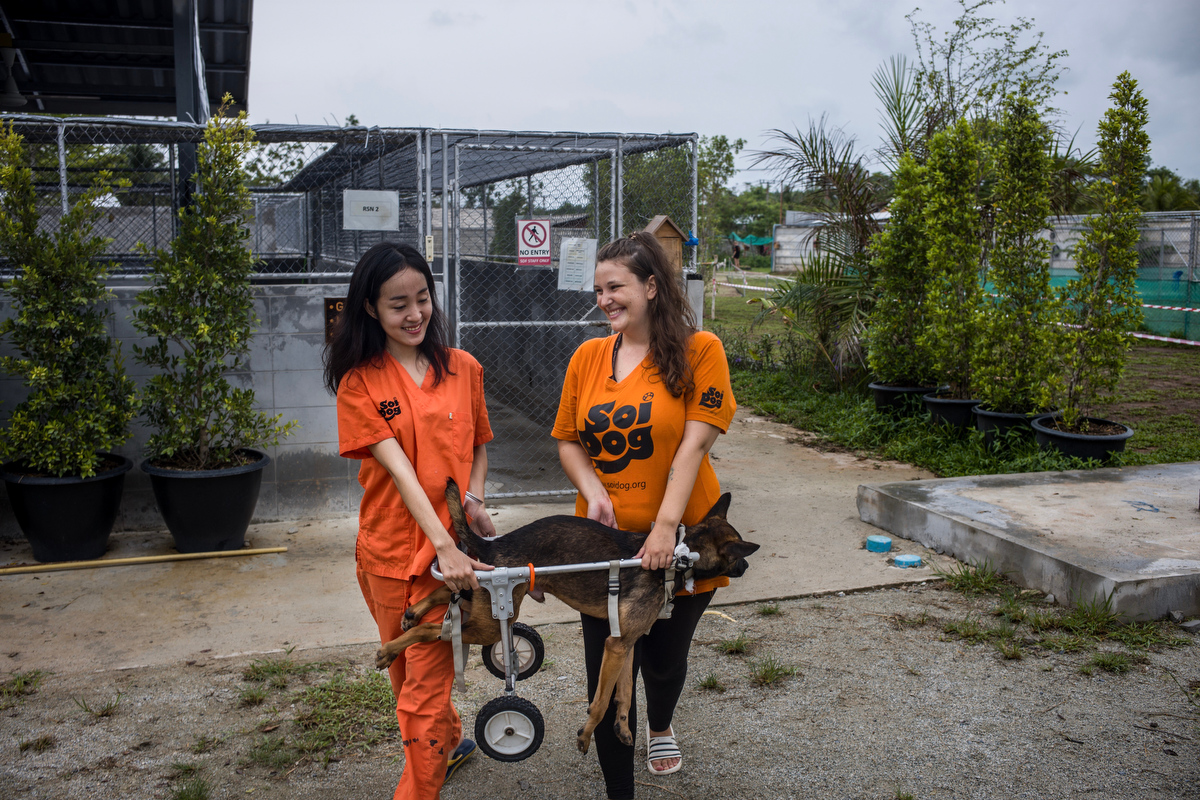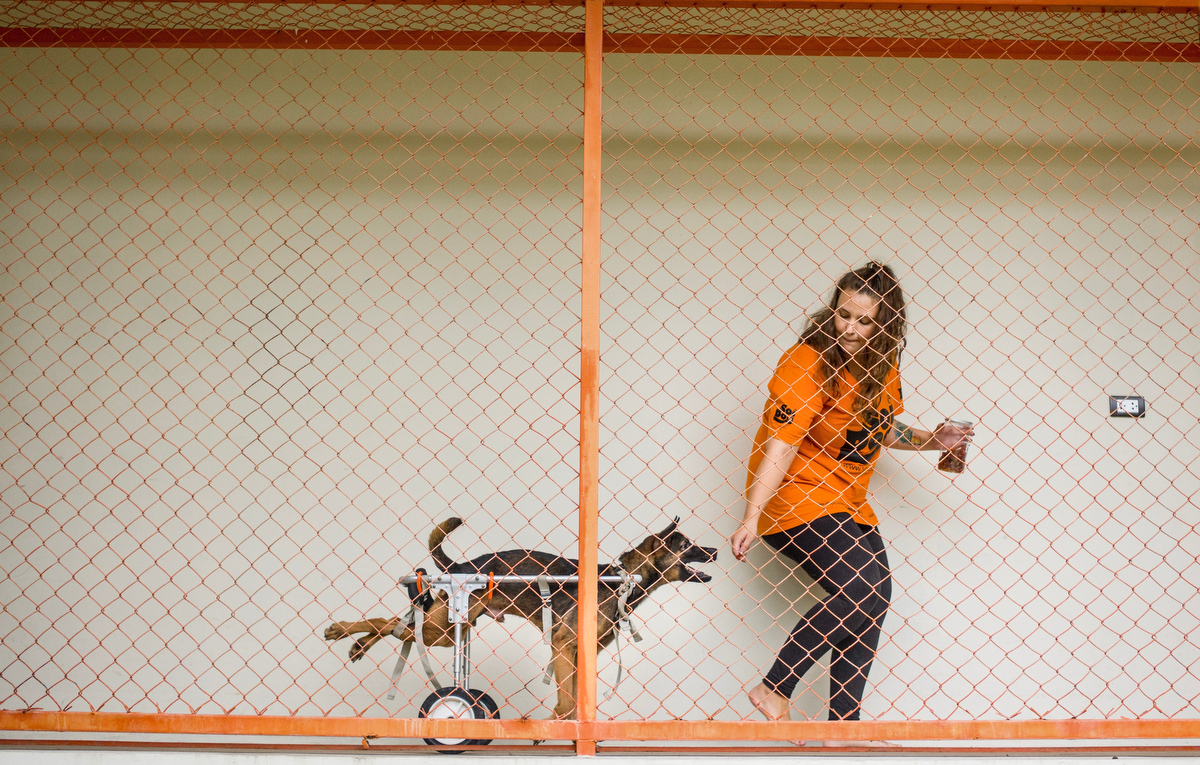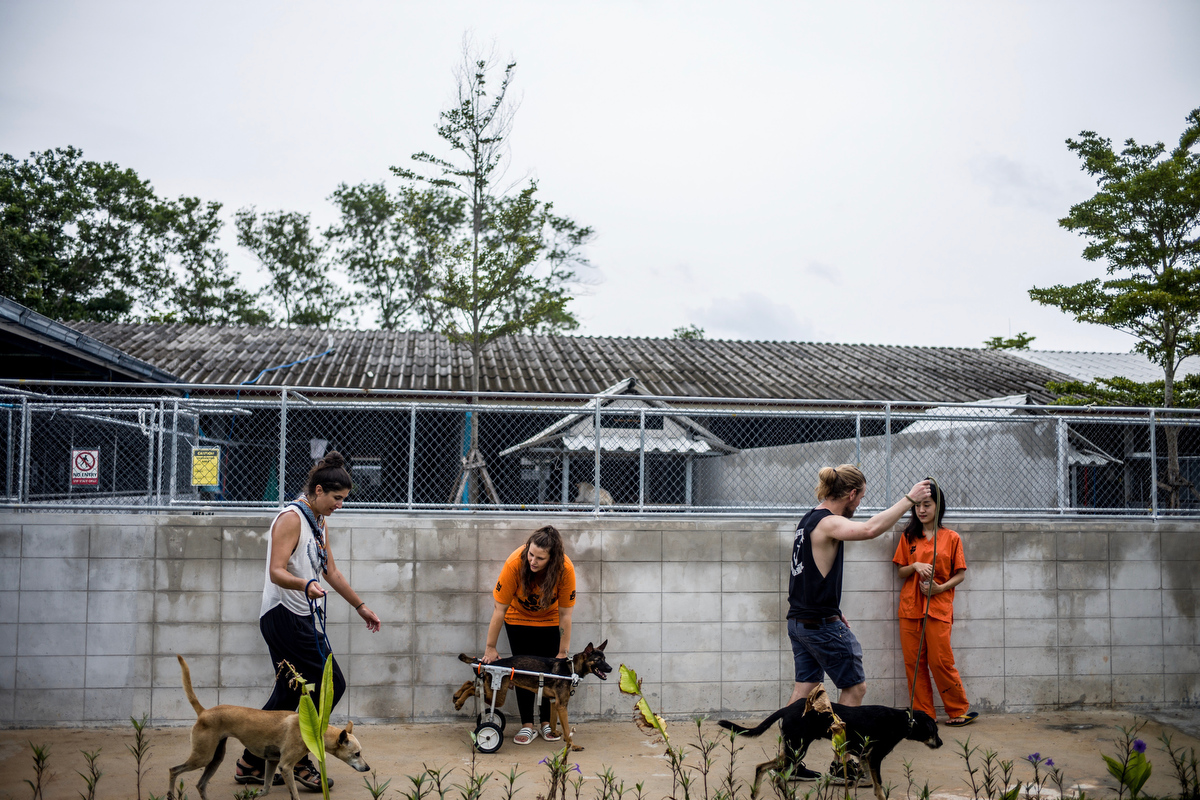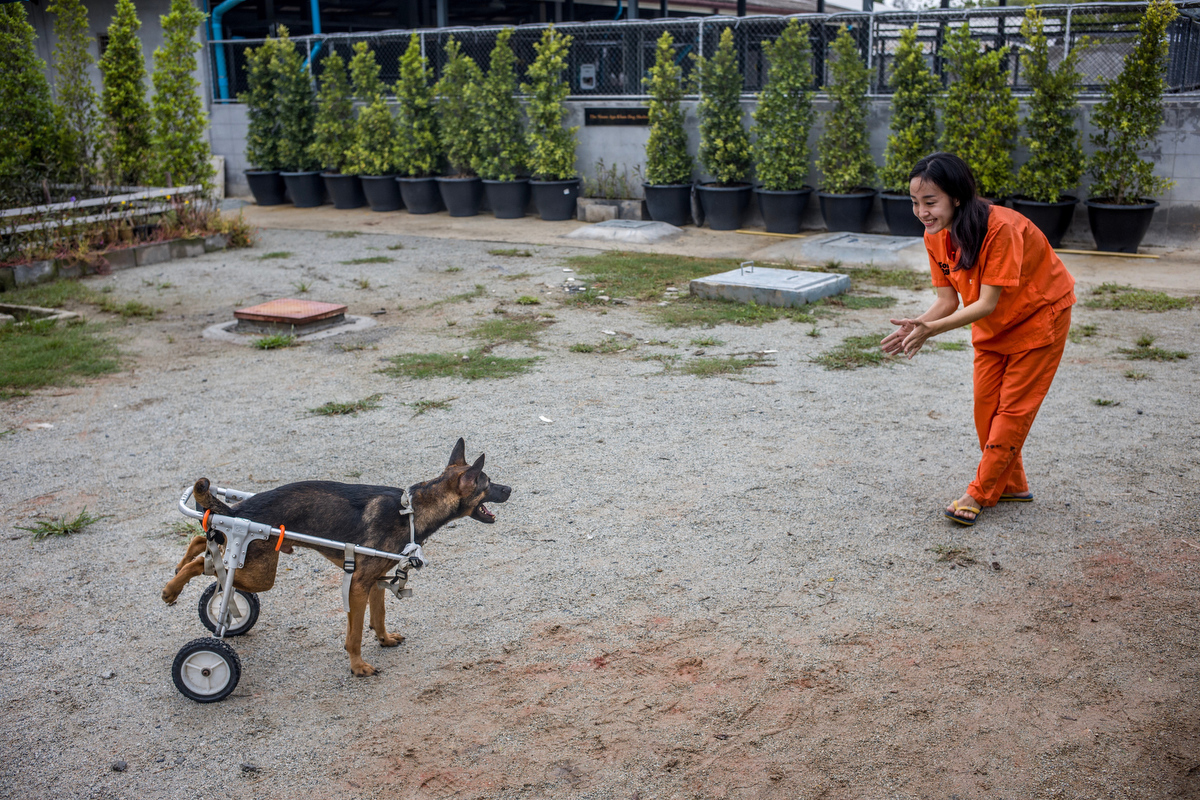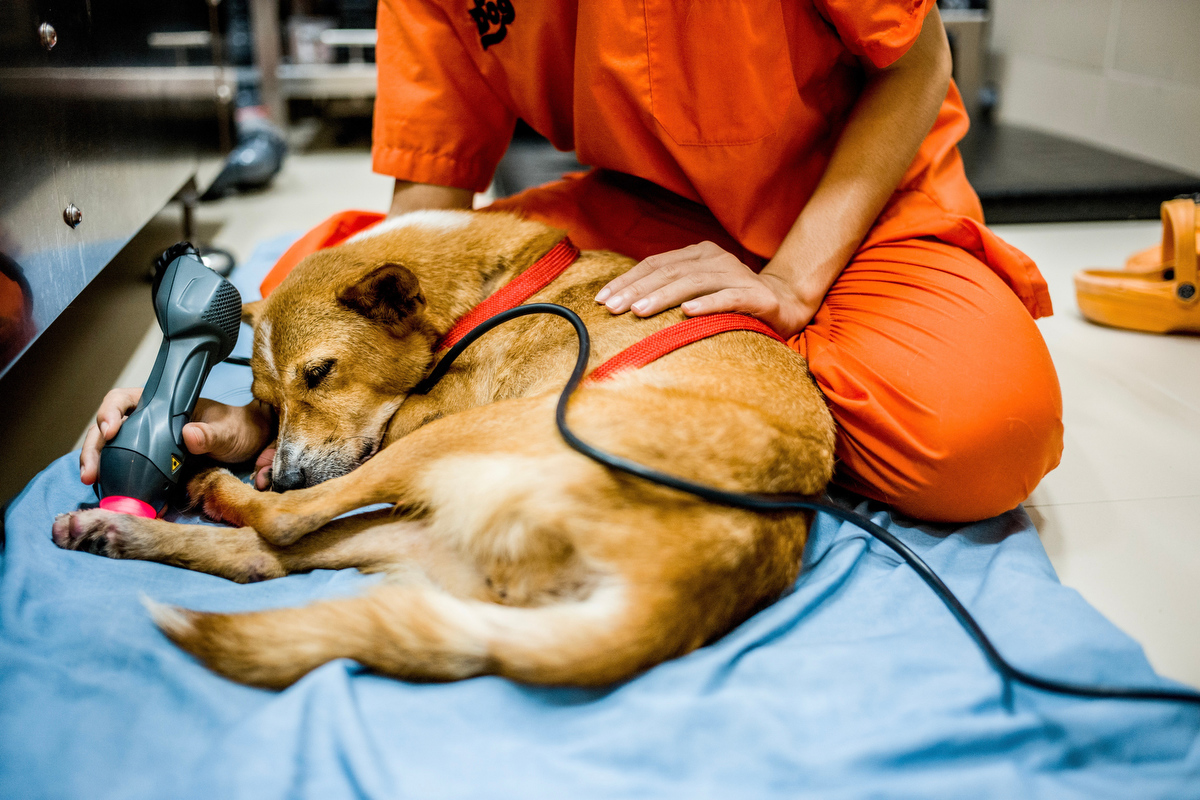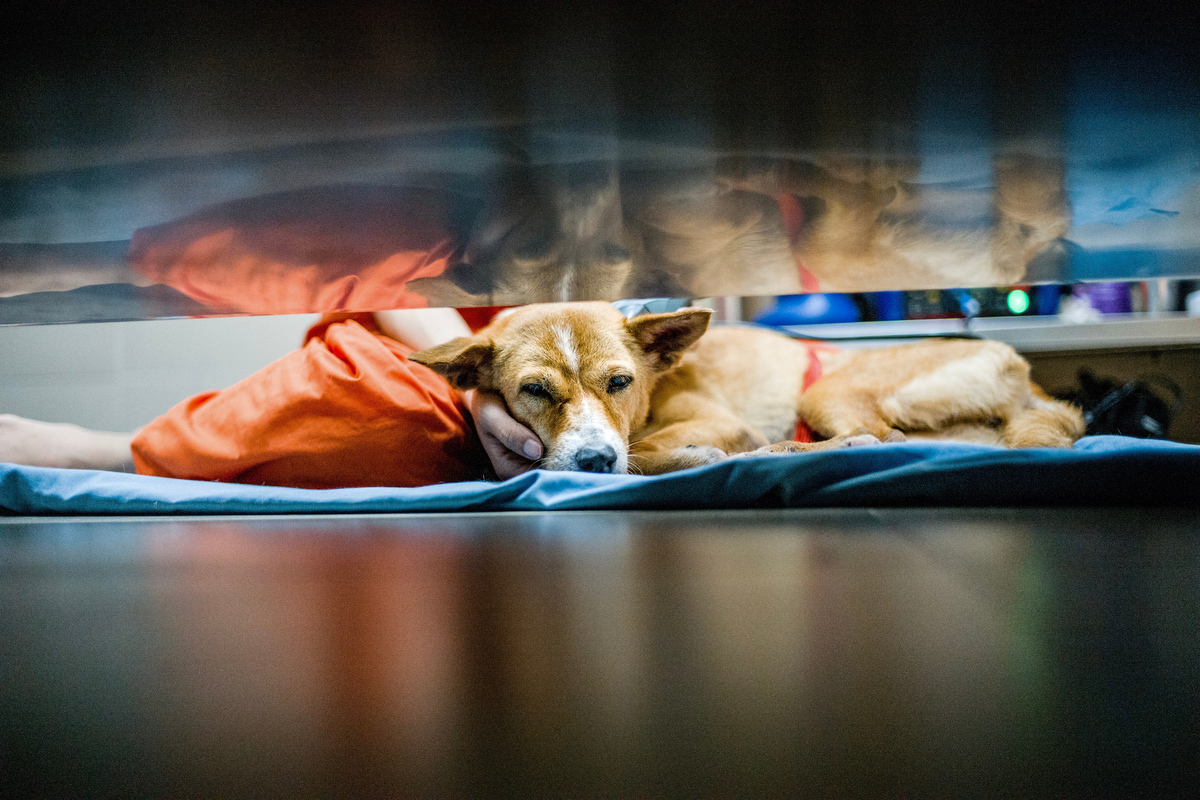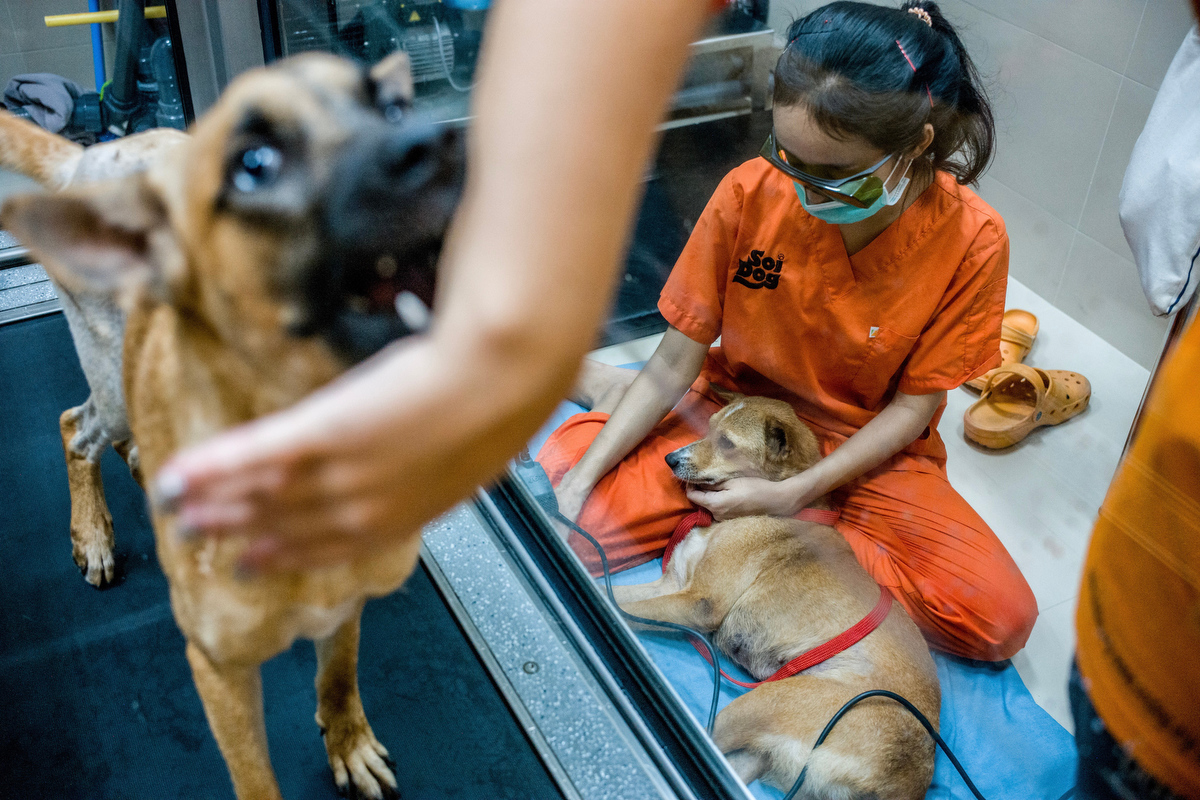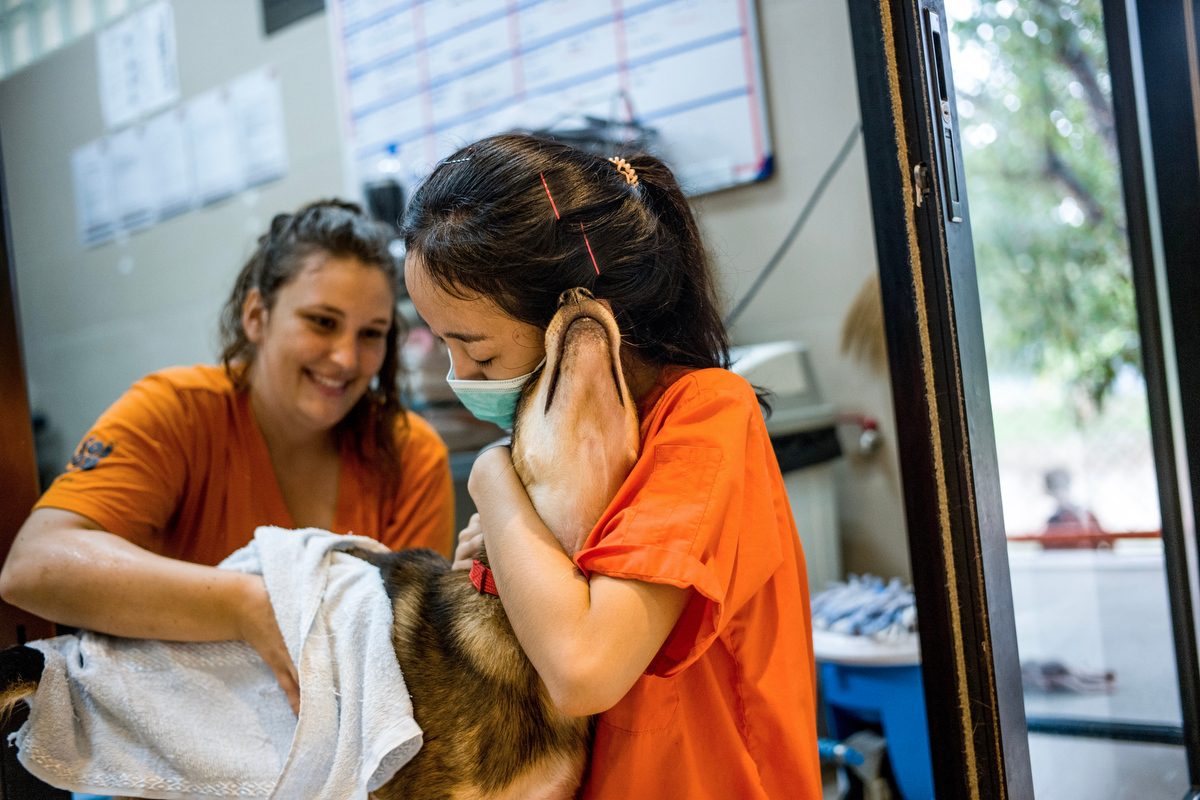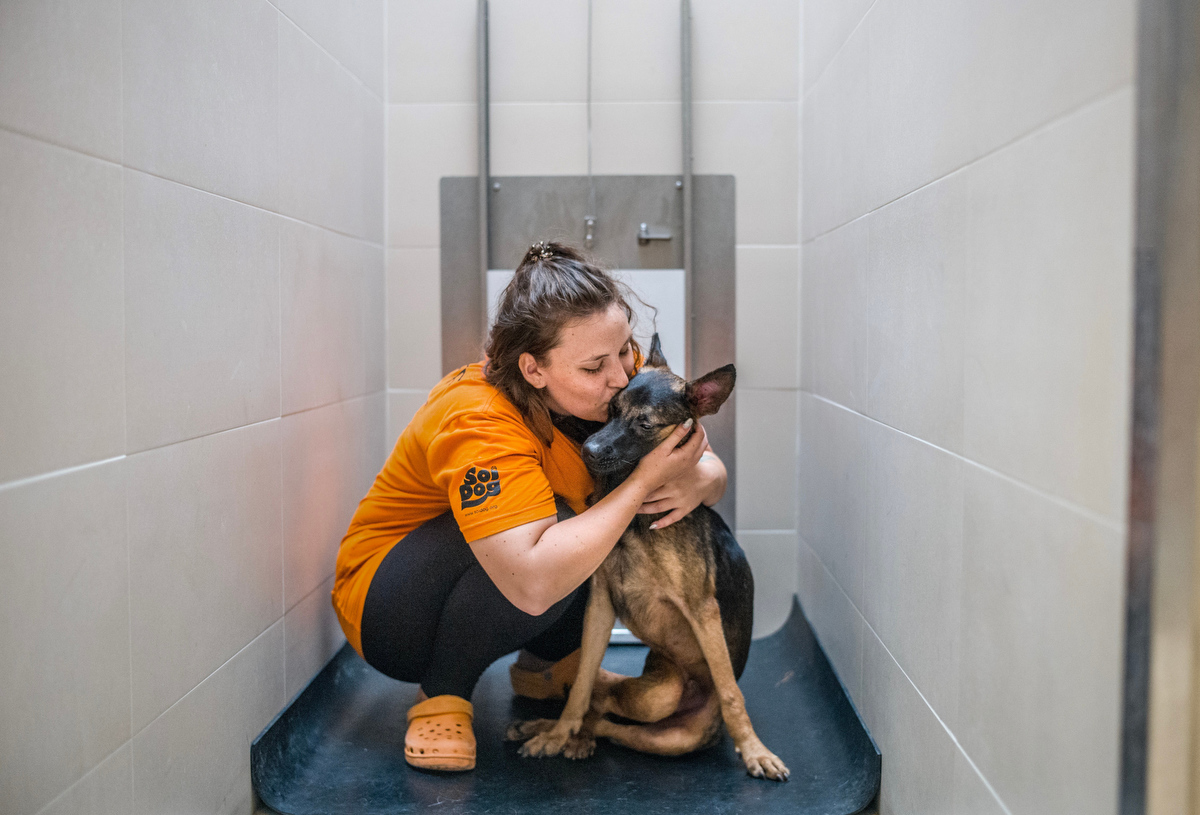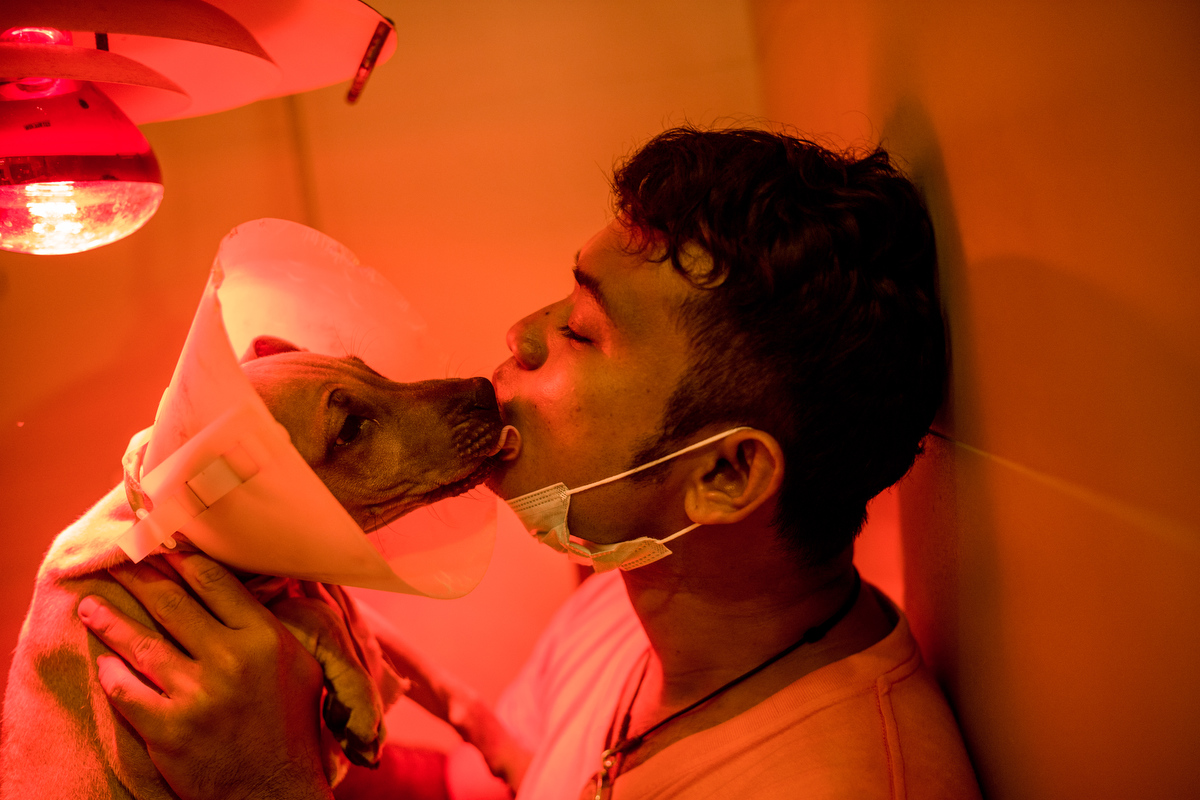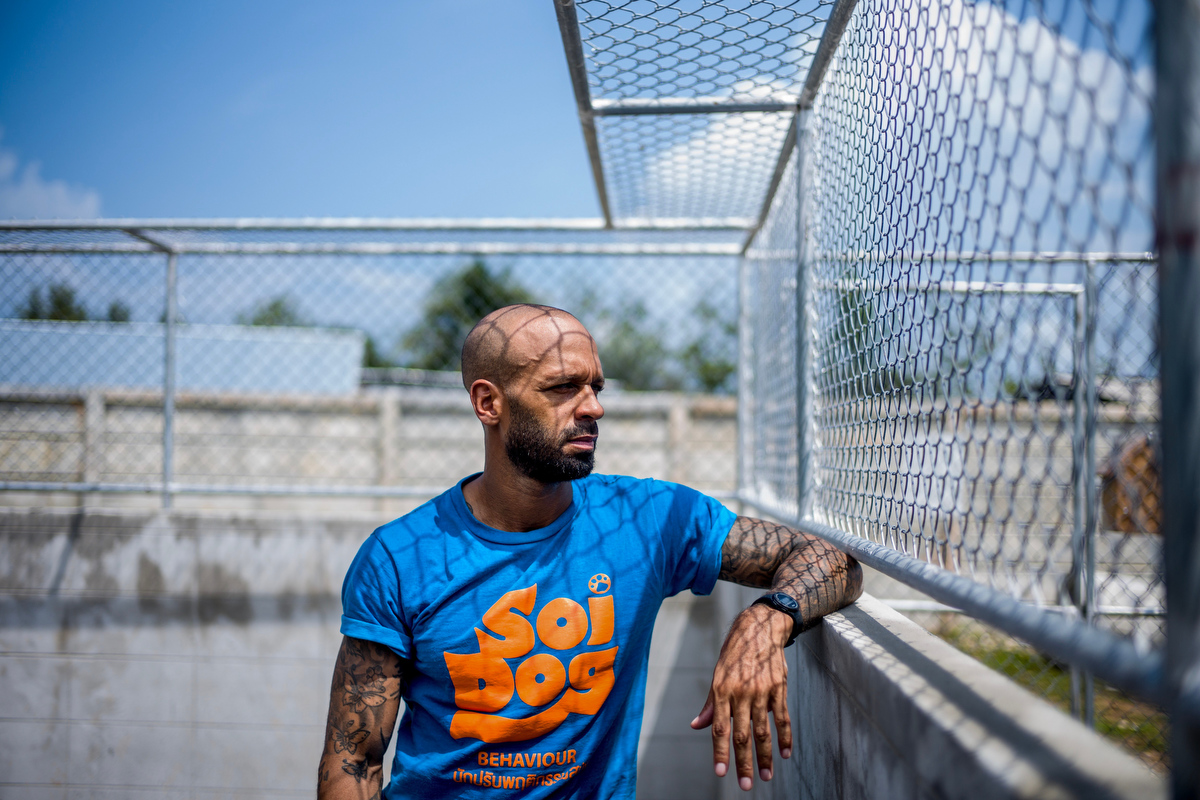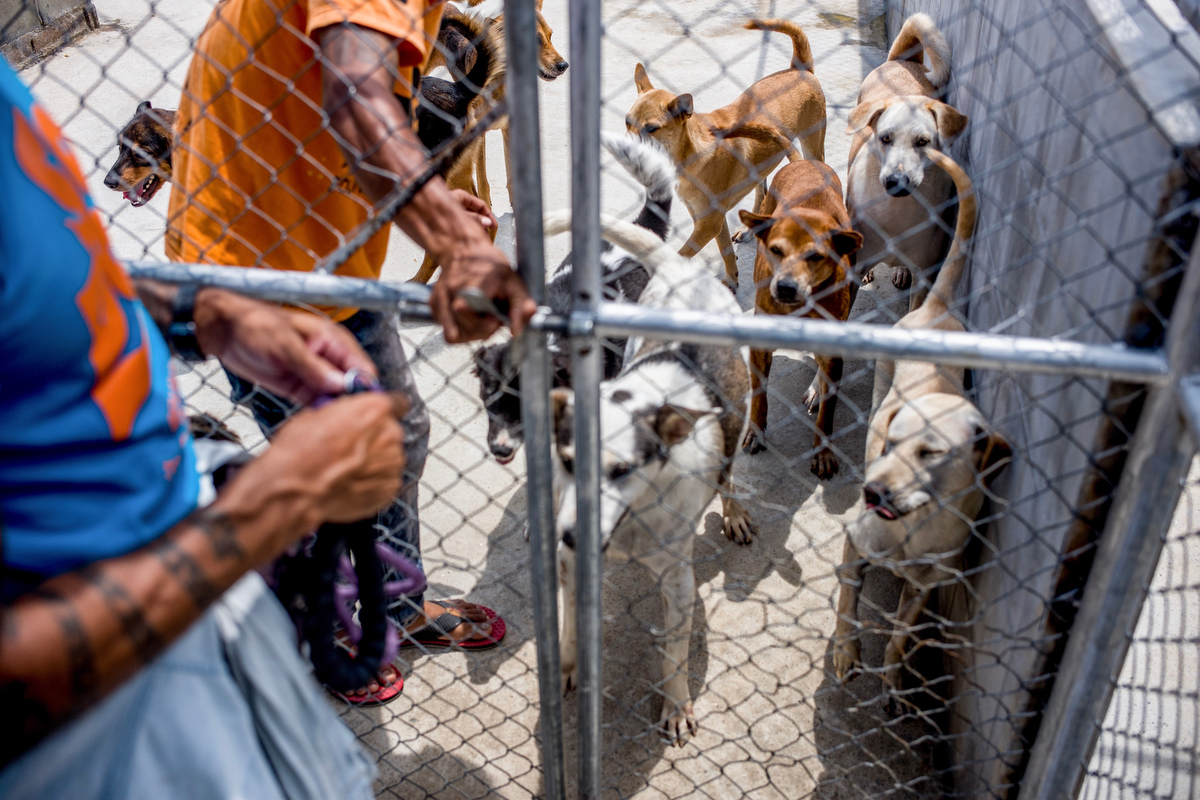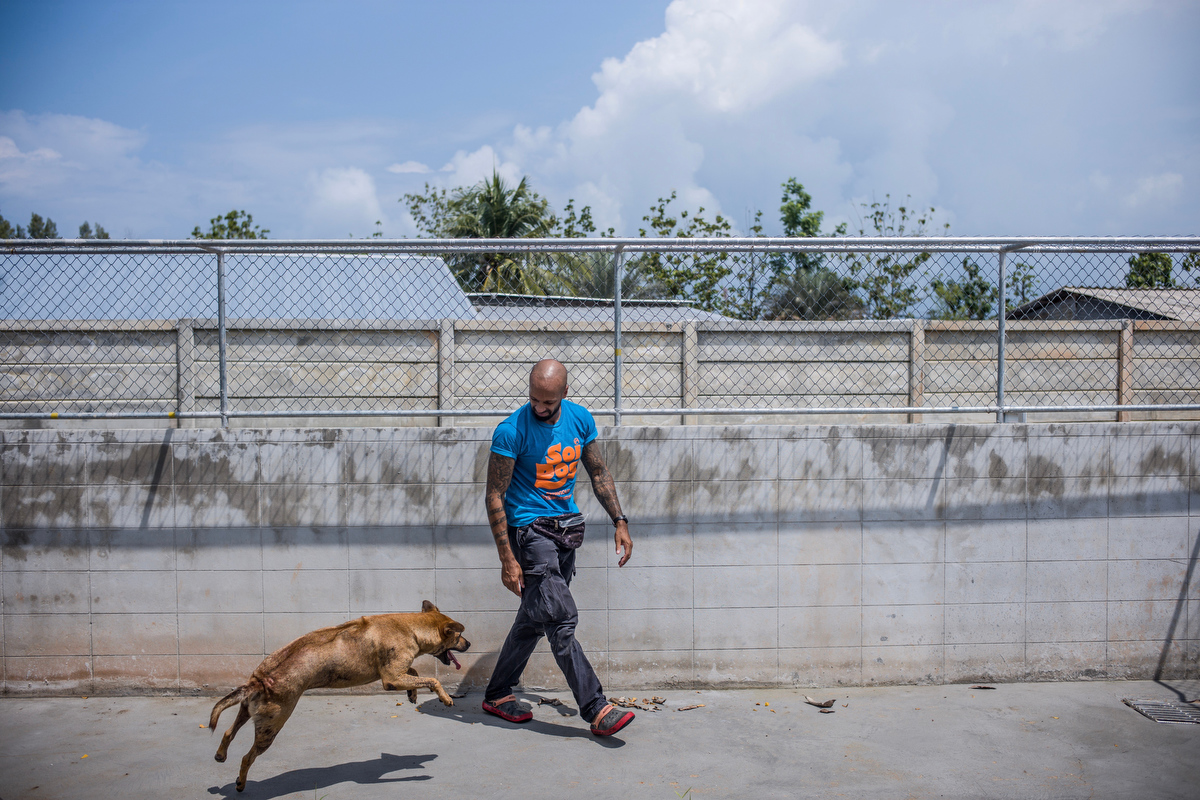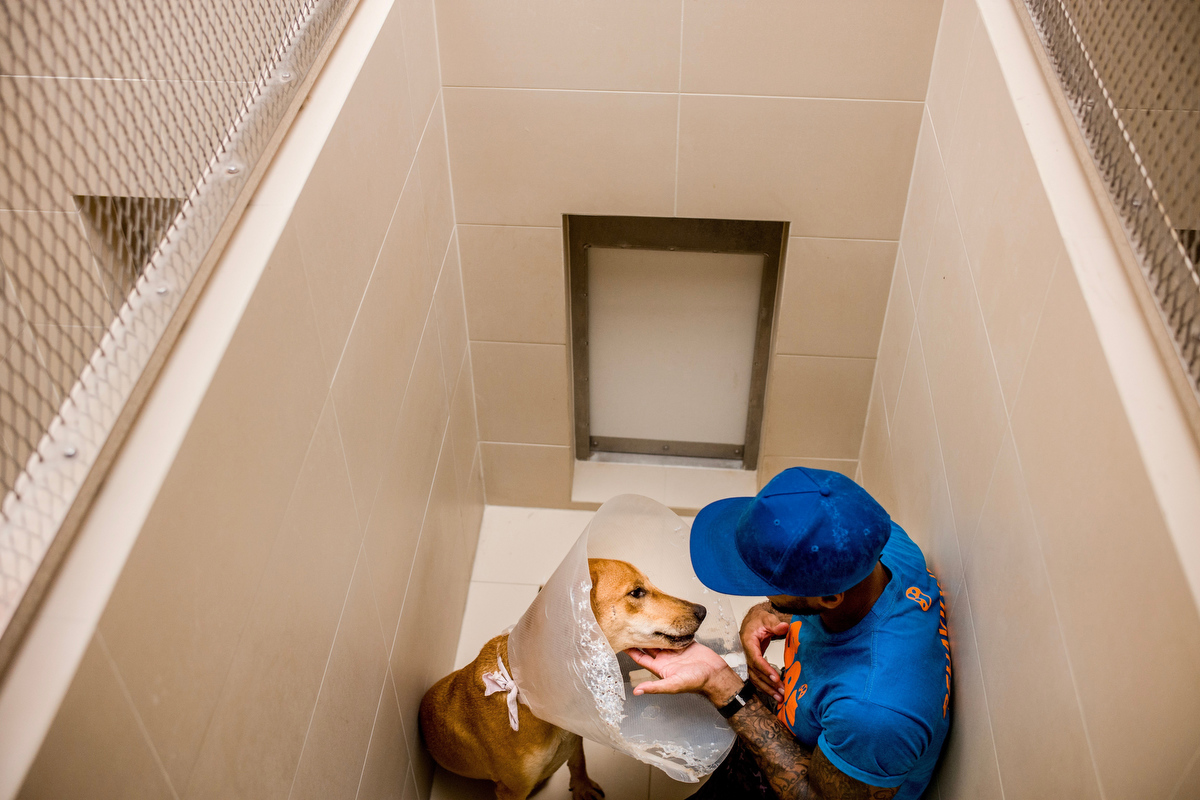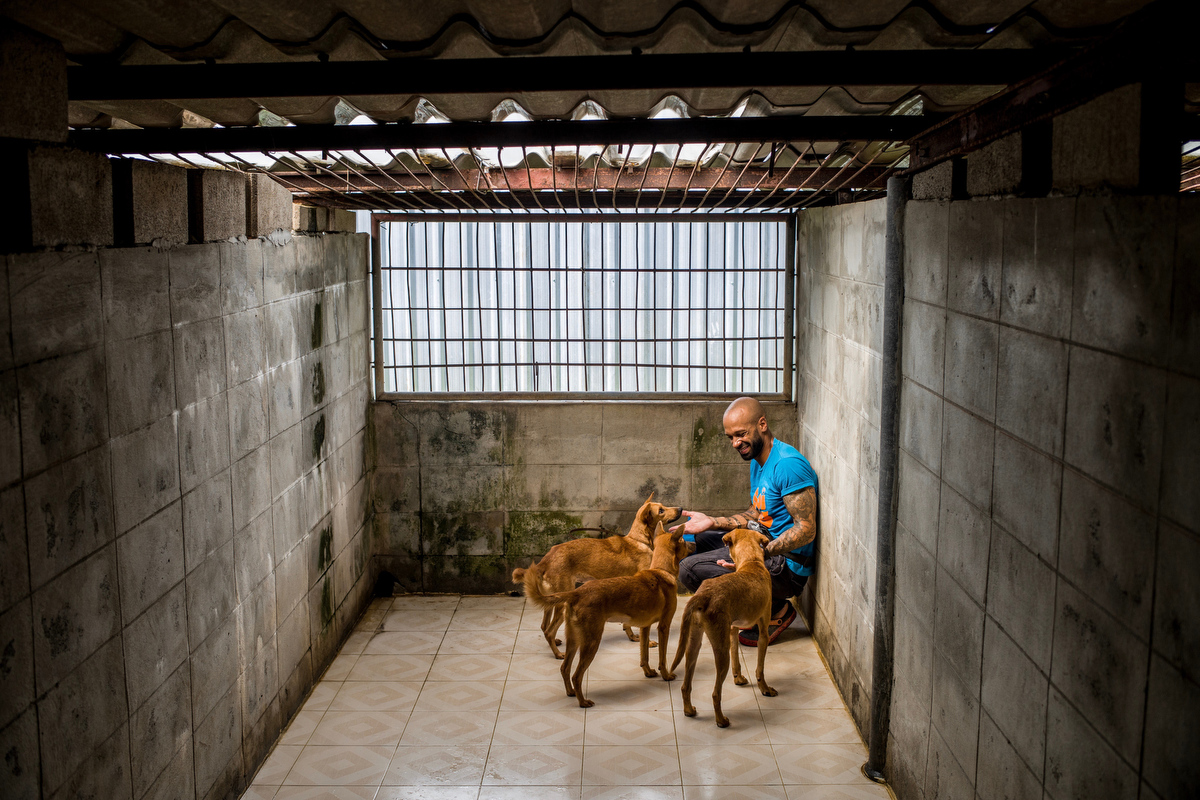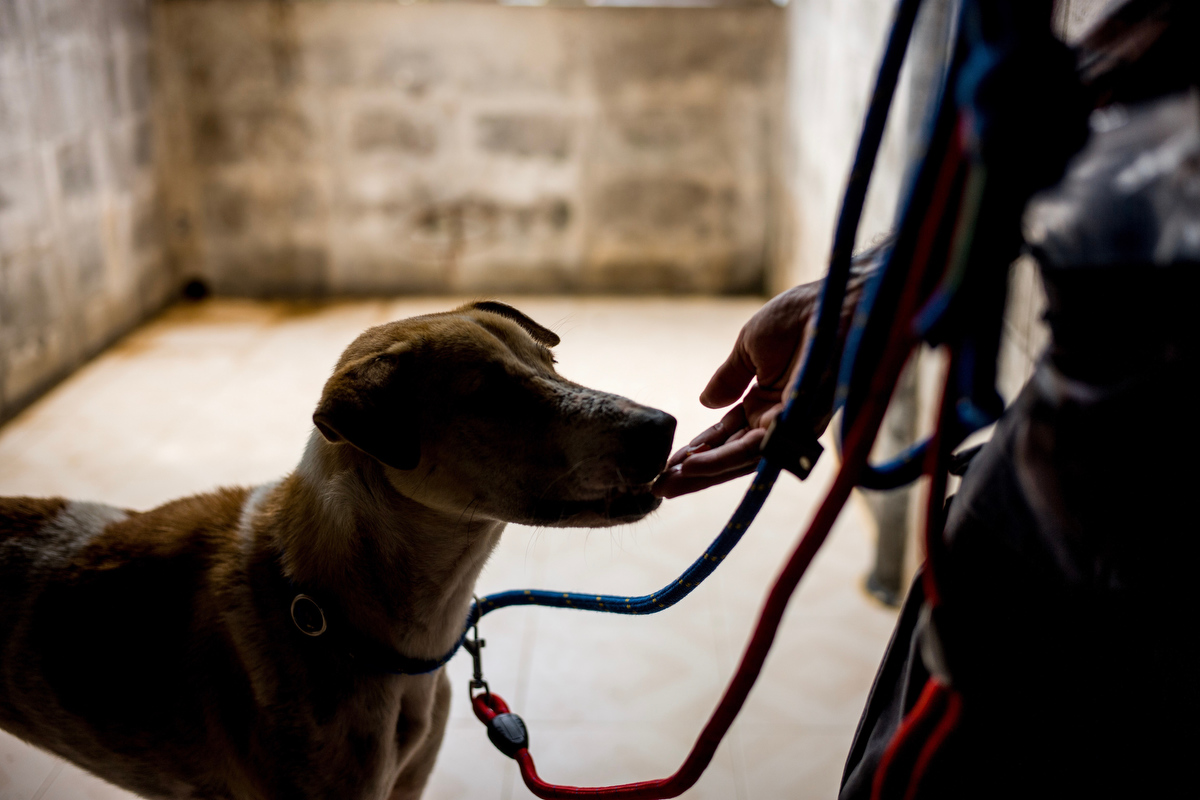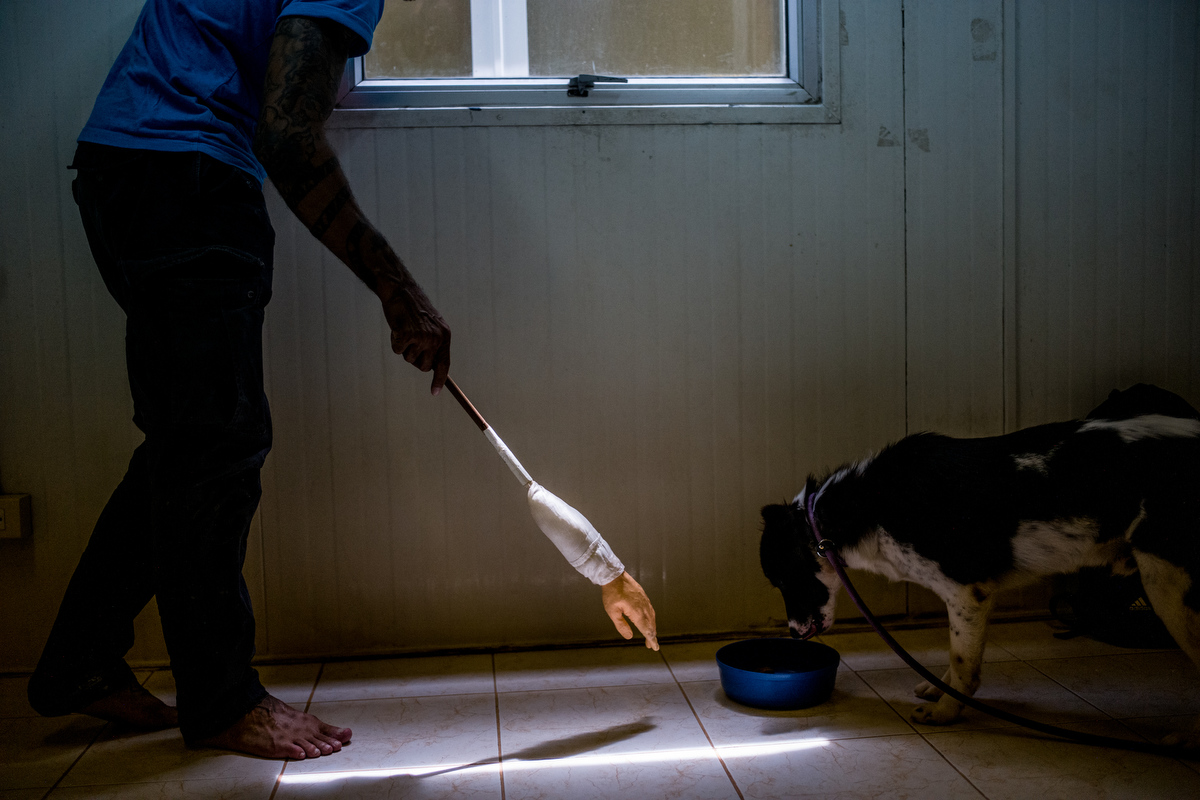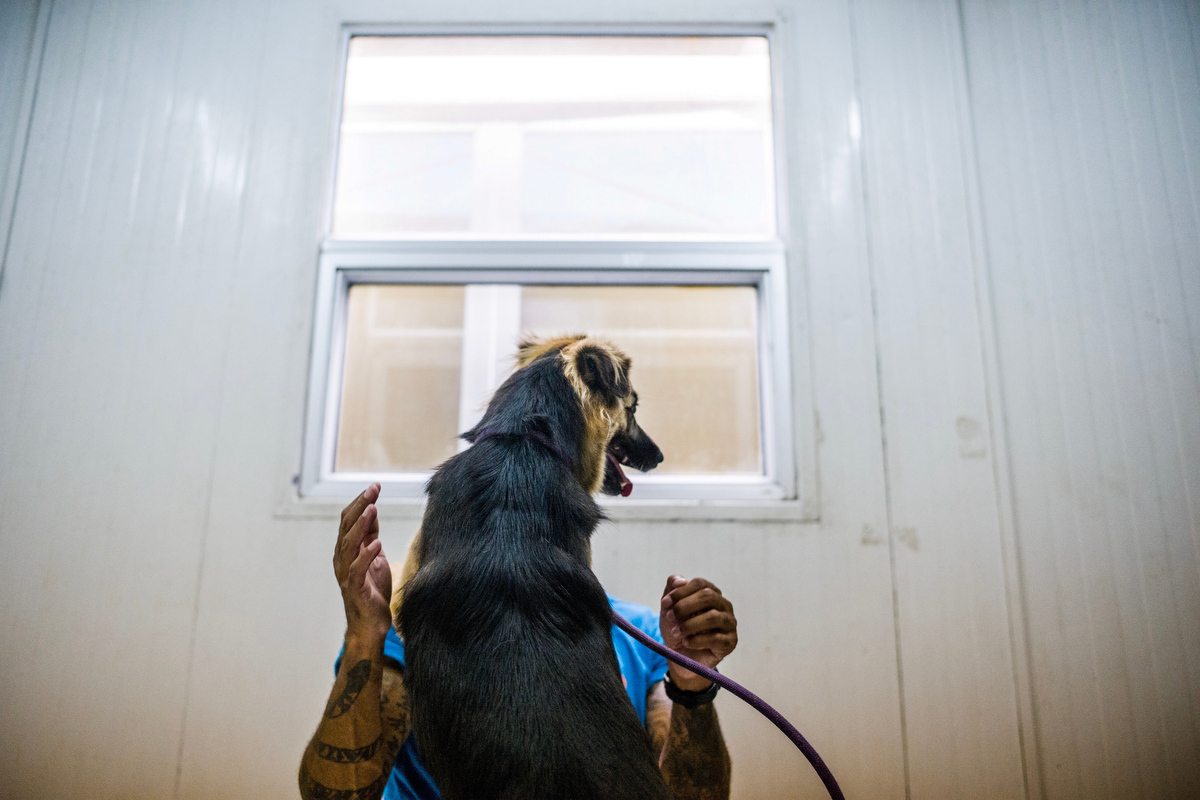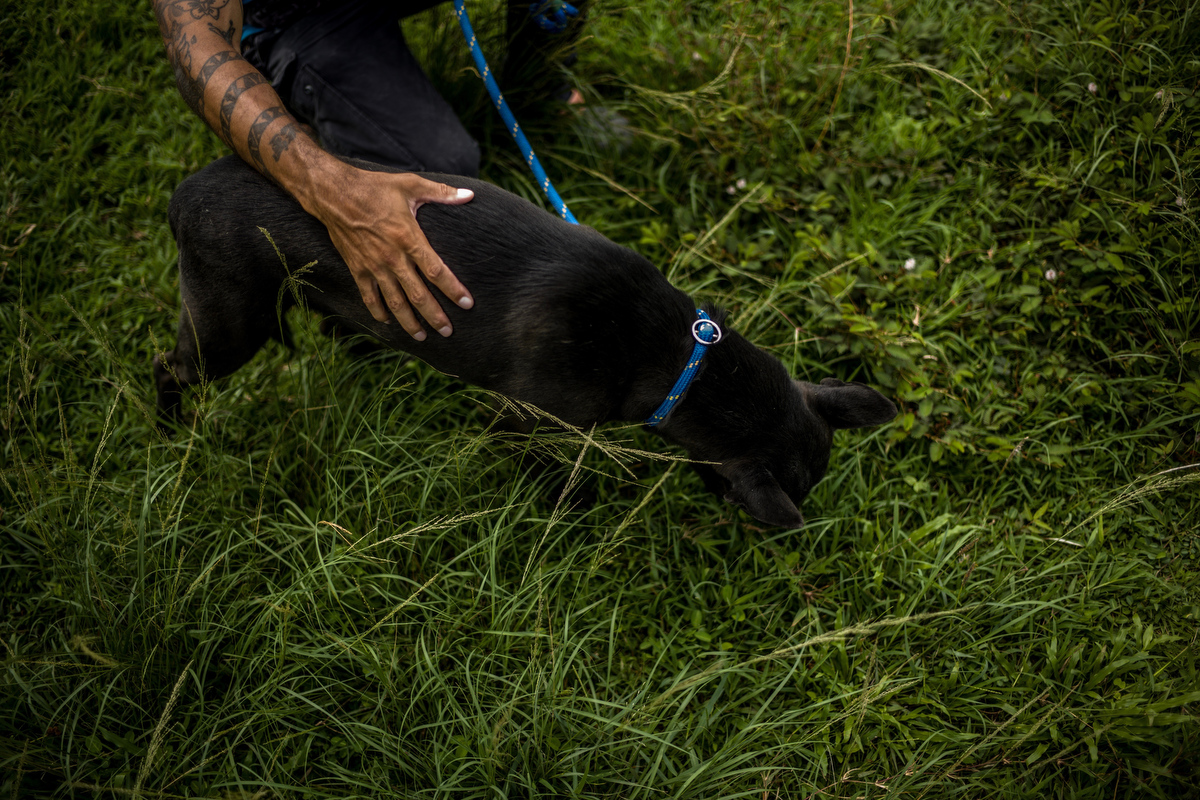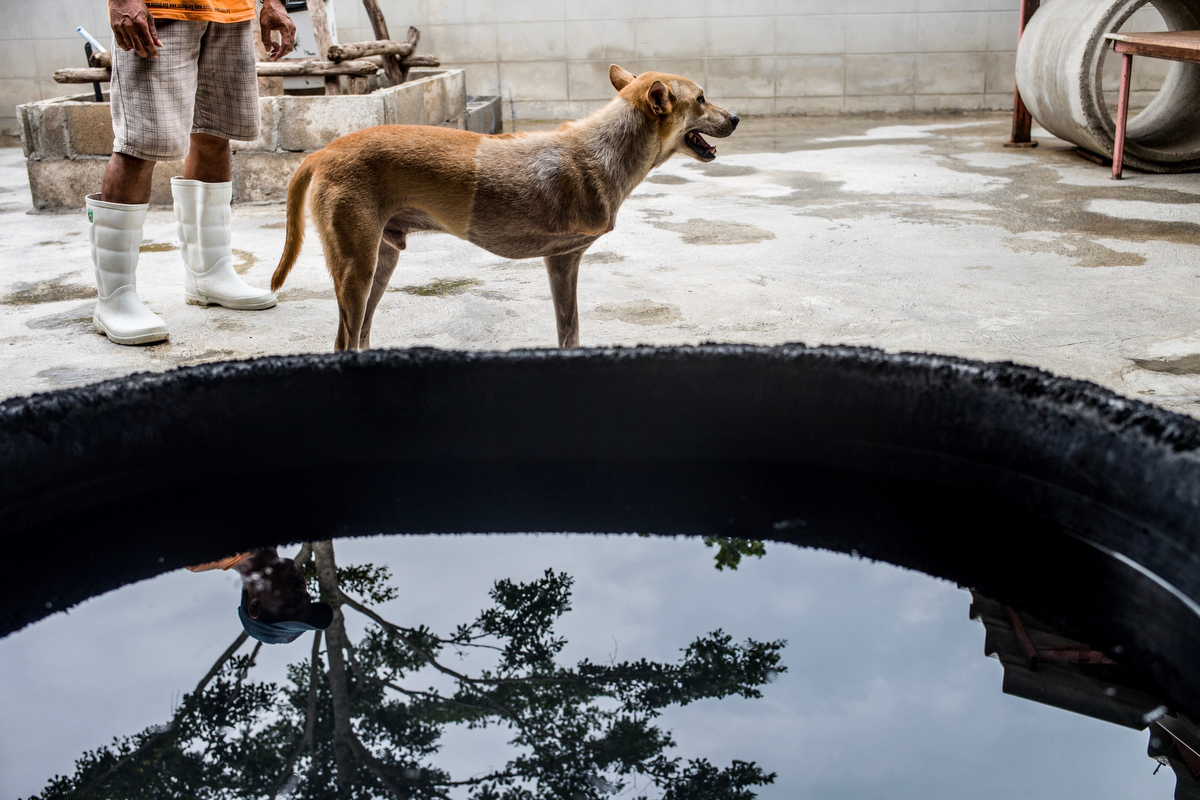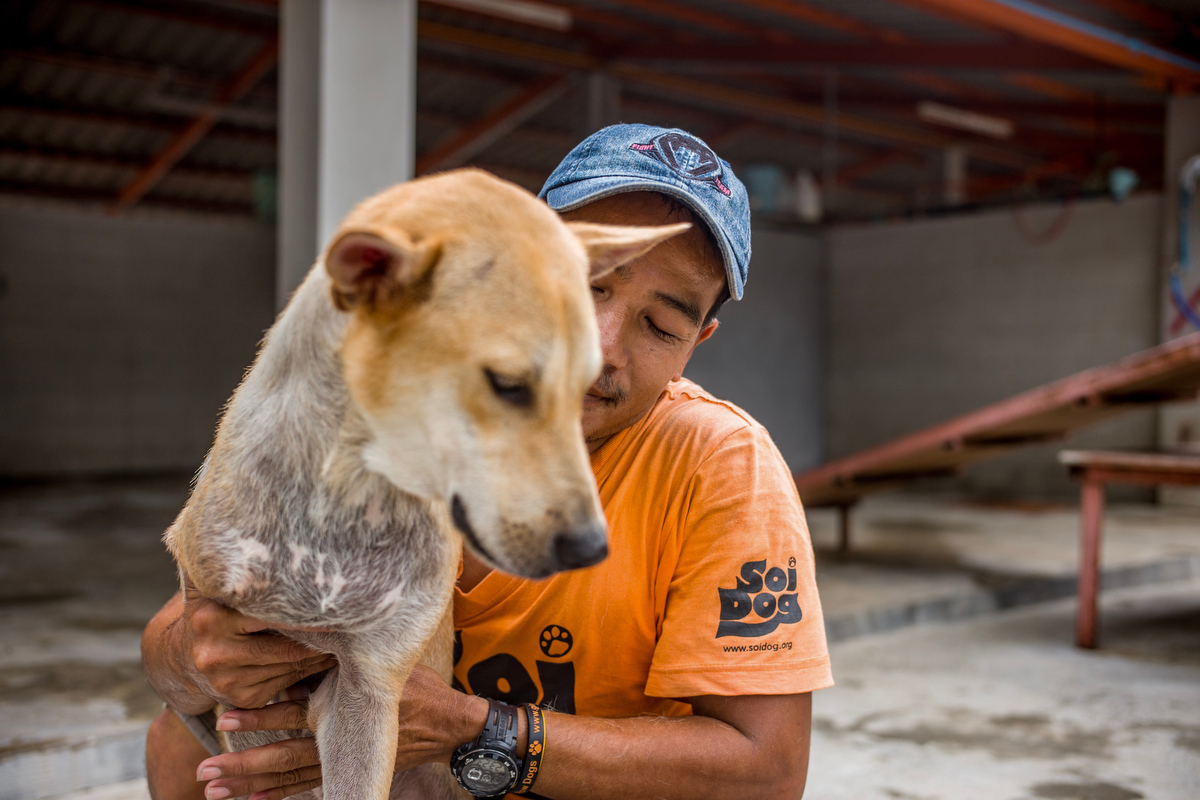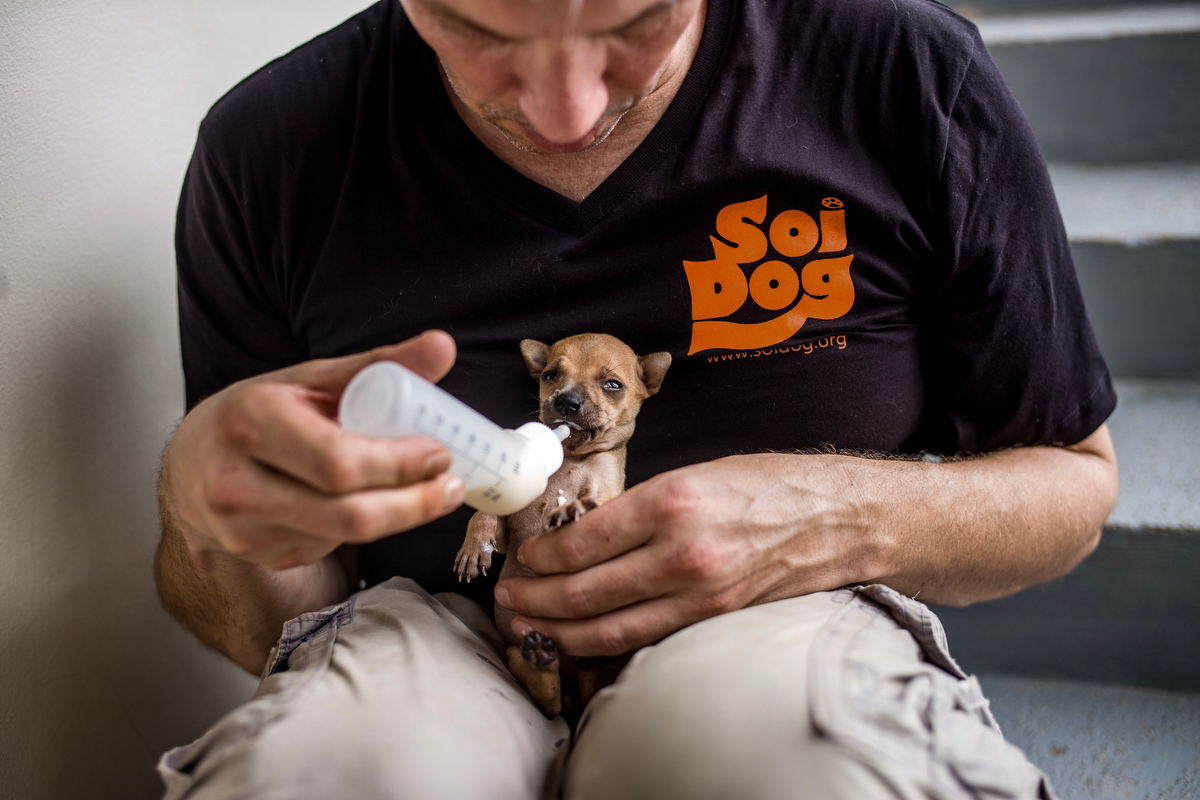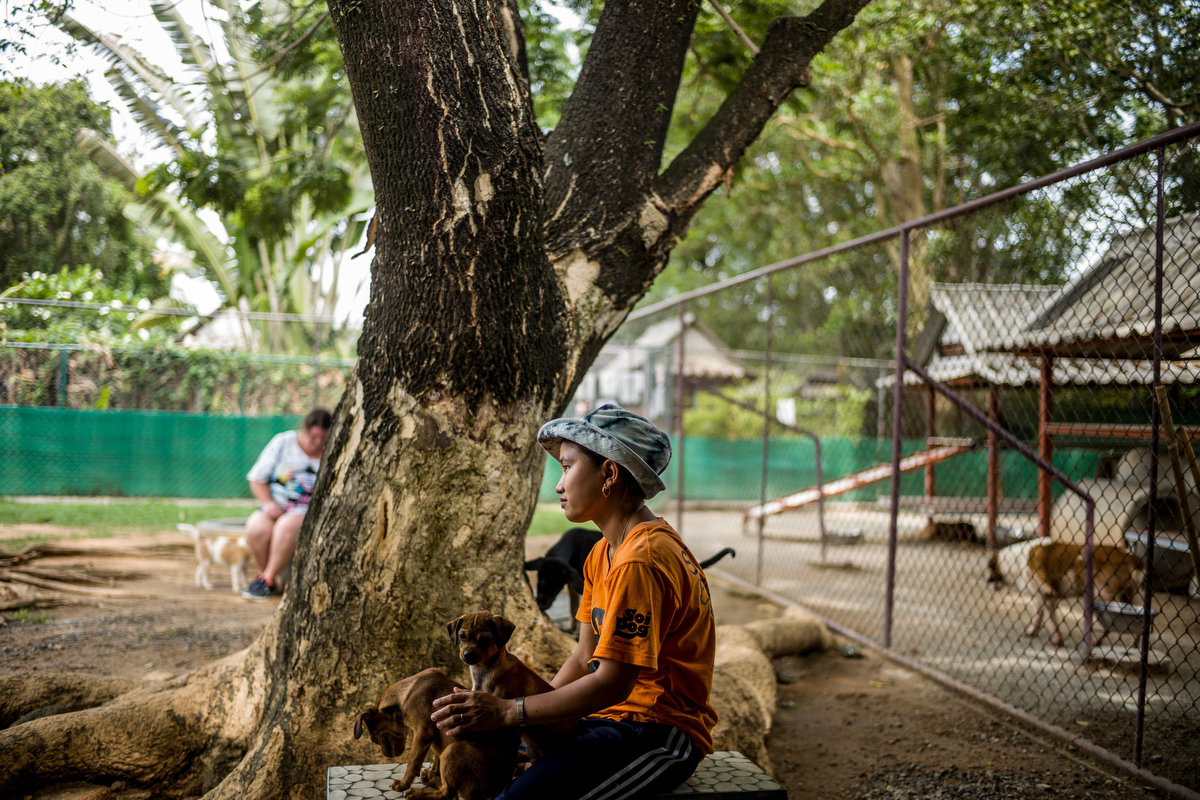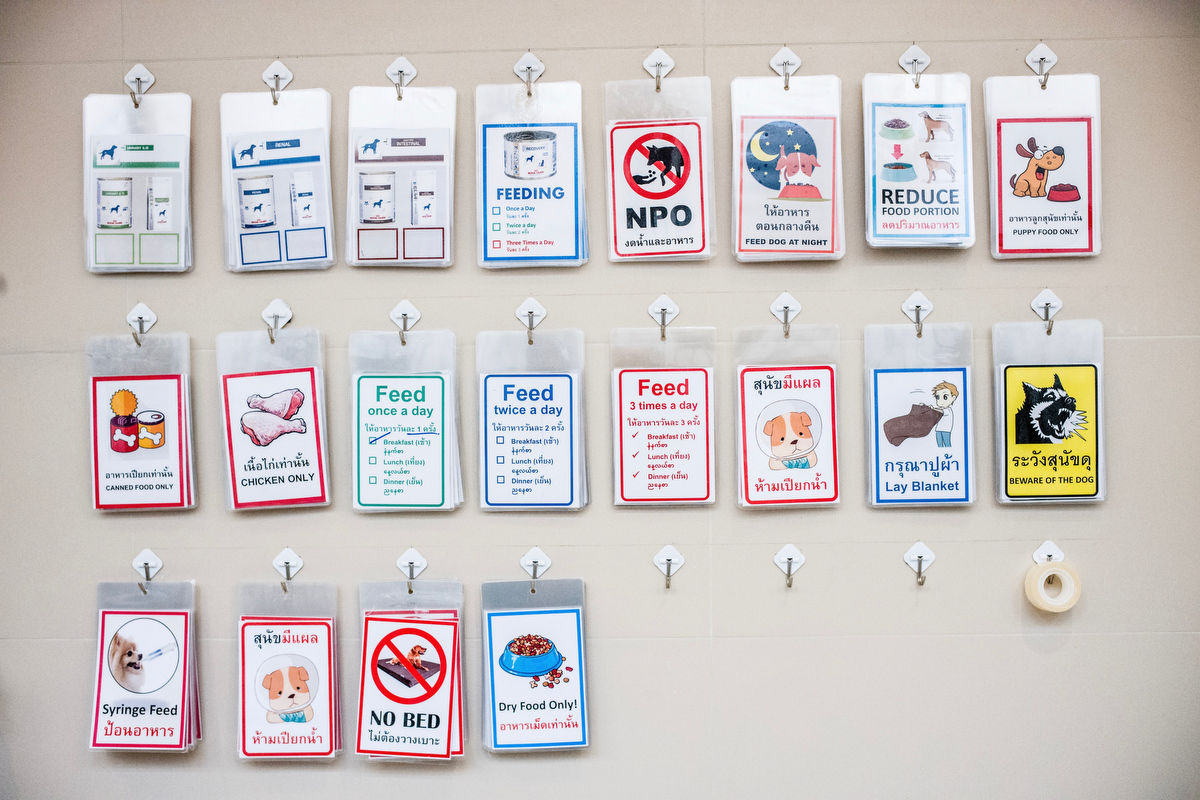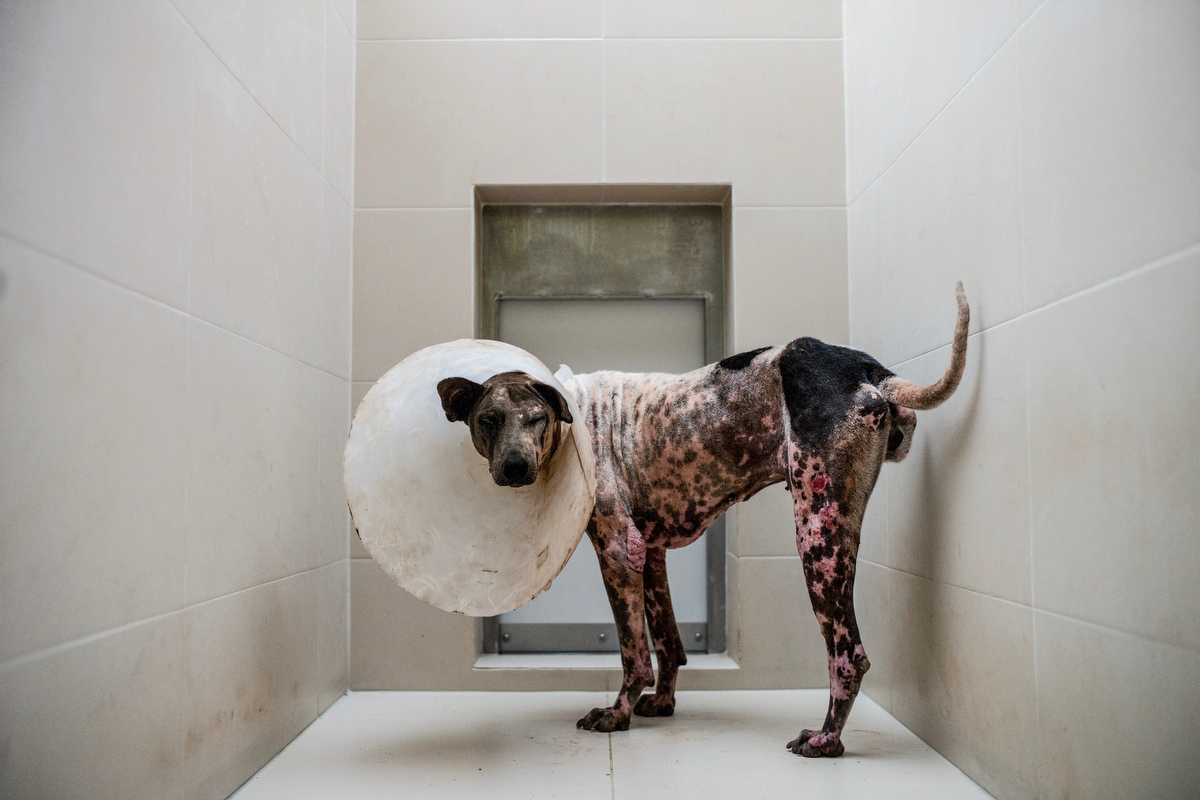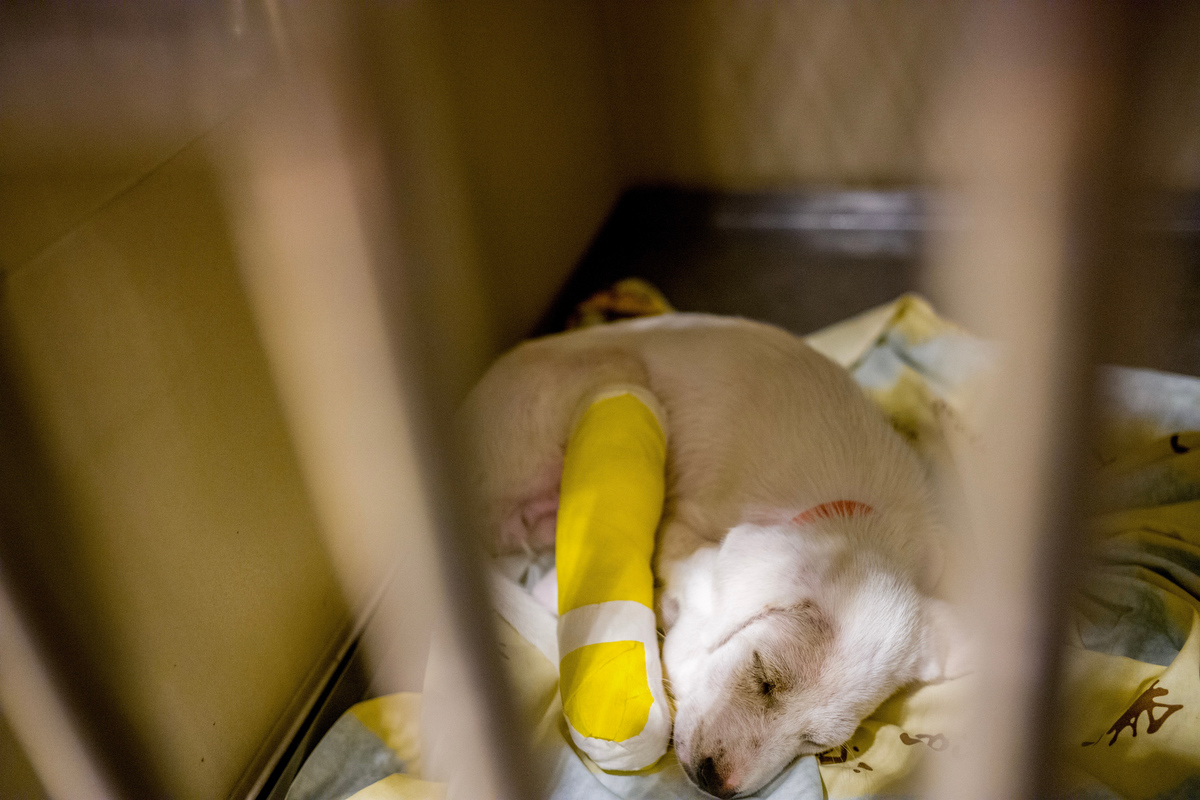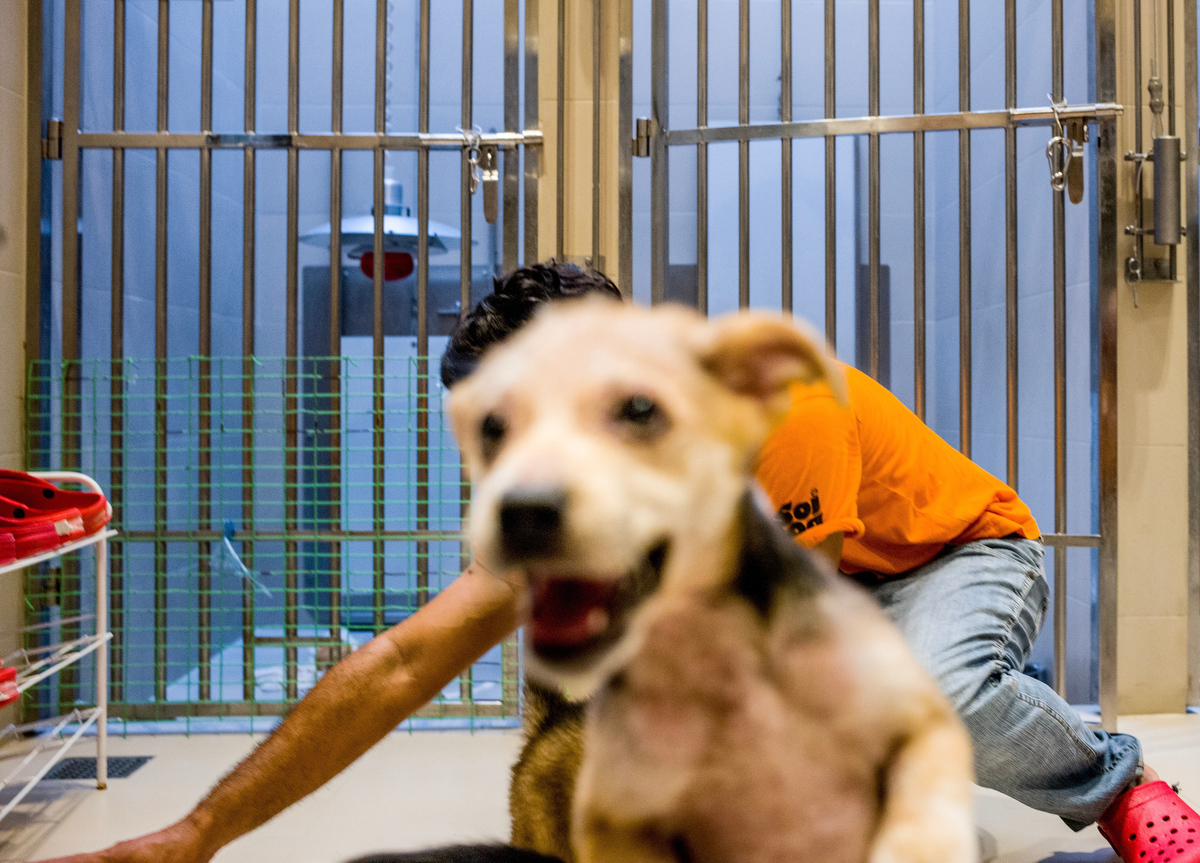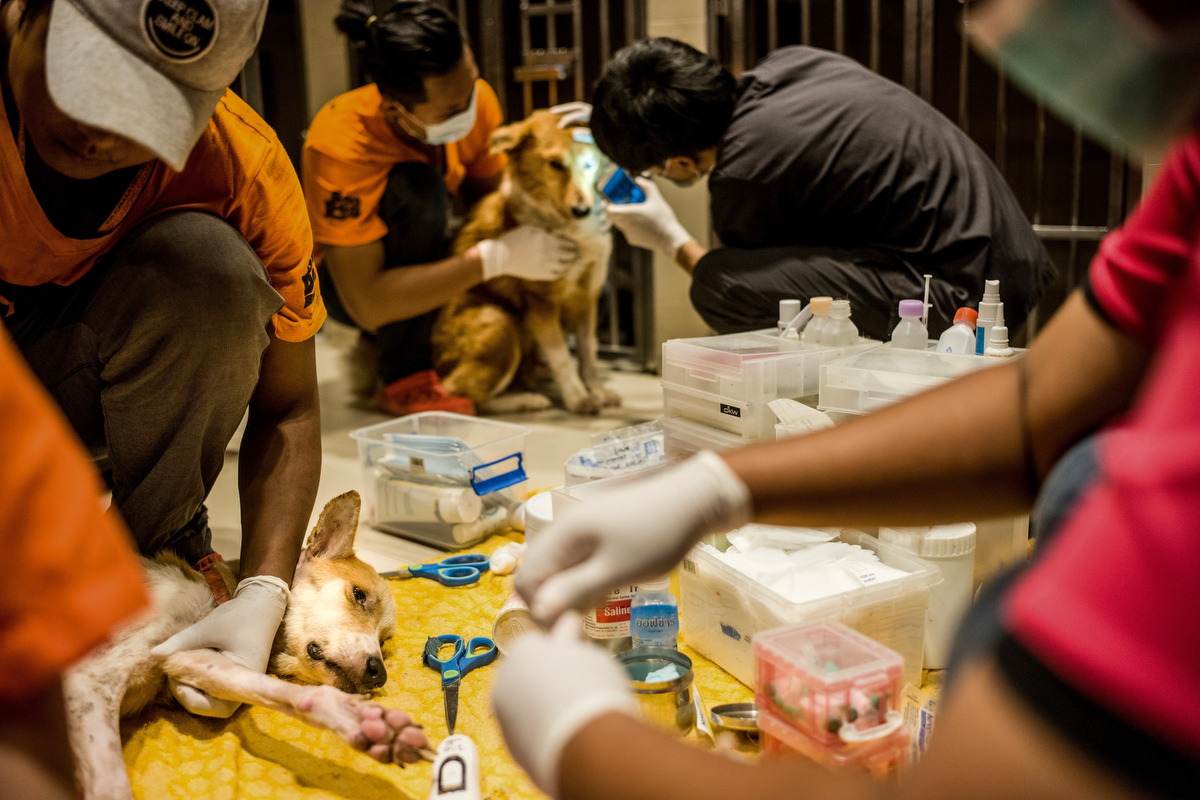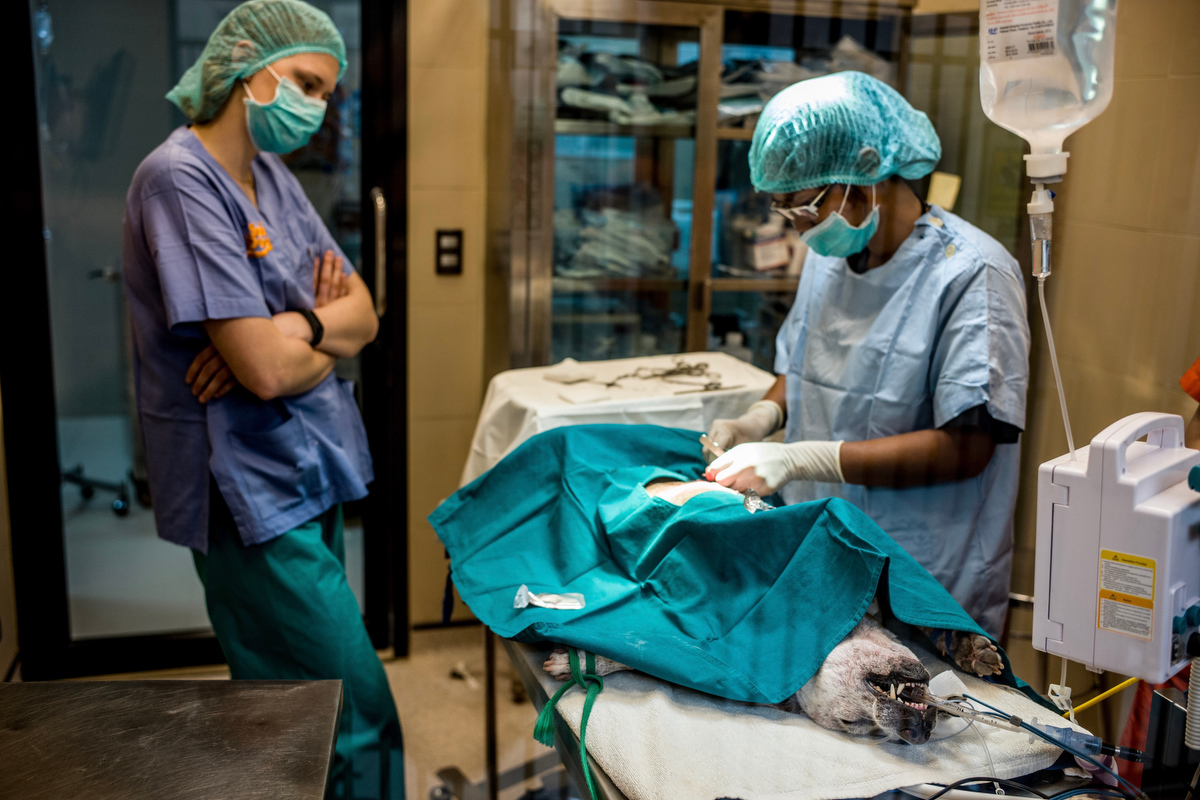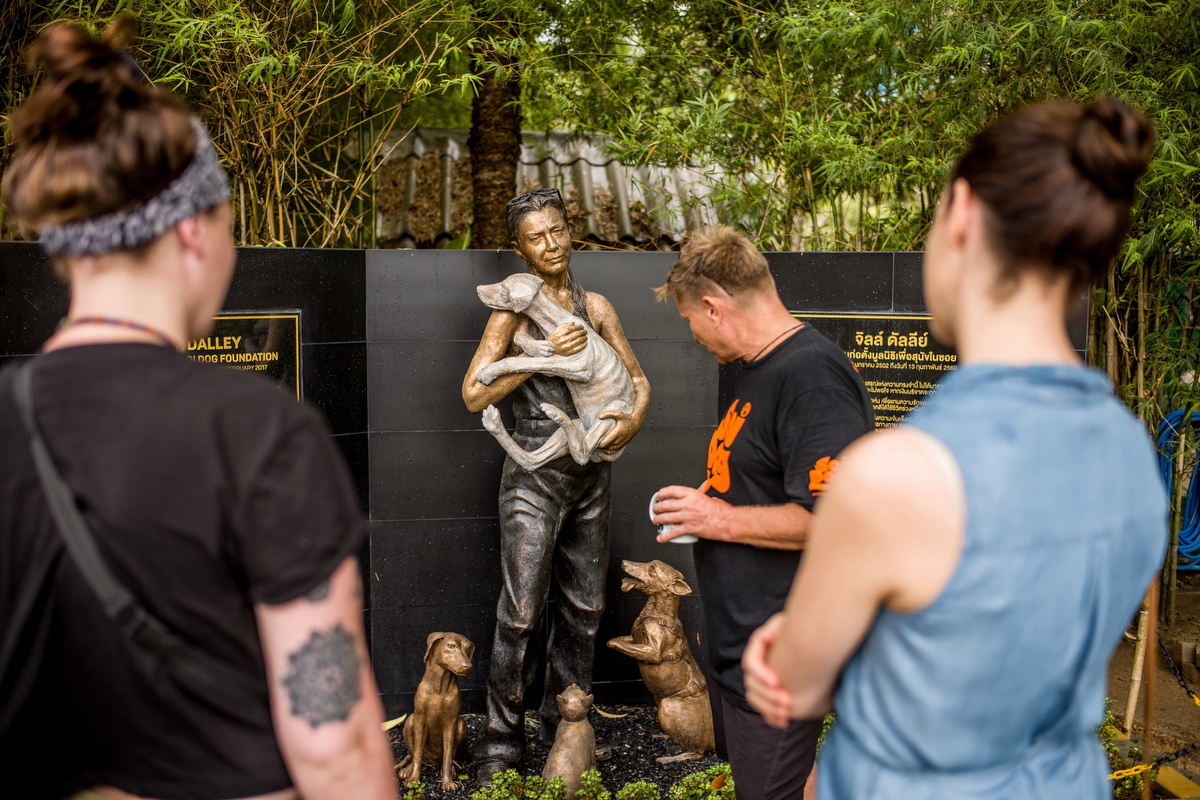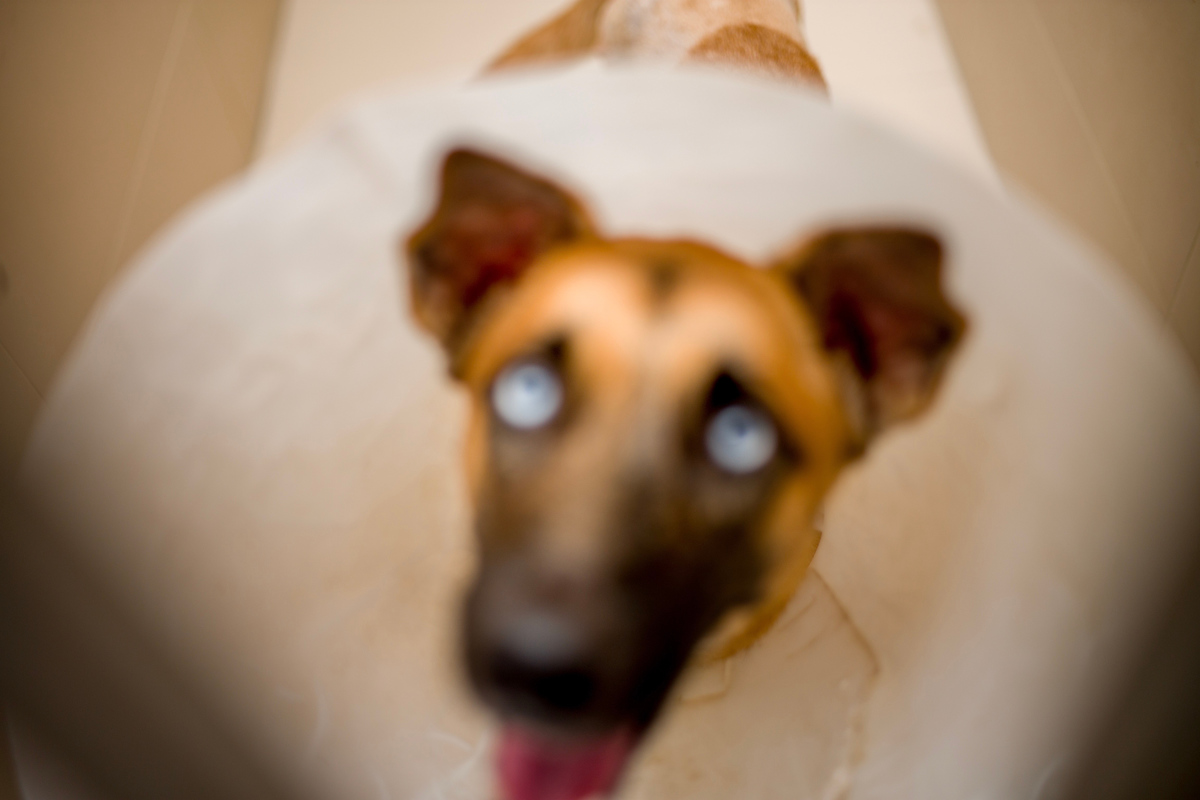 Located in a small village near the airport surrounded by a rubber tree plantation in the bustling tourist town of Phuket, Thailand you can find the Soi Dog Foundation, a non-profit sanctuary for street dogs.
The foundation was founded in 2003 by British couple John and Gill Dalley. Gill passed away in 2017 from cancer but her spirit is still present at the foundation. A large statue of her sits next to their veterinarian hospital. As of 2019 John remains fully involved in Soi Dog Foundation, honoring his commitment to Gill and the street dogs.
Their mission statement reads "To improve the welfare of dogs and cats in Asia, resulting in better lives for both the animal and human communities, to create a society without homeless animals, and to ultimately end animal cruelty."
Their work extends beyond Phuket to Bangkok and other provinces in Thailand. Every year, Soi Dog spays/neuters and vaccinates tens of thousands of street dogs and cats in Thailand. They are also fighting the Asian dog meat trade and they have almost completely wiped it out in Thailand. They continue to campaign for an end to the trade in South Korea, Vietnam, and other south-east Asian countries where it is prevalent.
On your average day, you can find tourists lined up to volunteer at the center to walk the dogs and give them much needed affection and exercise. The heartbeat and driving force of the foundation is the full-time staff, many of whom started off as volunteers and never left.
Daily, the foundation is home to around 800 dogs and 200 cats, many suffering with horrible injuries ranging from from being hit by cars, animal cruelty by humans, skin diseases, and much more. The staff has a full-time veterinarian team, physiotherapists, caretakers, and even dog behaviorists helping to rehabilitate traumatized dogs so they can be adopted.
The staff provides life-saving surgery, through physiotherapy helps dogs walk again or for the first time ever, and provides human affection and loving care for them. This is the story of these incredible people who dedicates their daily lives to helping these animals.
If you would like to learn more or support the Soi Dog Foundation please visit.
Pangolins are the most trafficked mammal in the world, and you probably never heard of them.
They are threatened by poaching (for their meat and scales) and heavy deforestation of their natural habitats, and are the most trafficked mammals in the world. Of the eight species of pangolin, four are listed as vulnerable, two are listed as endangered, and two are listed as critically endangered on the International Union for Conservation of Nature Red List of Threatened Species. Most people have never seen a pangolin on TV or in person, and if things keep going the way they are, you may never be able to see one again.
I traveled to Cuc Phuong National Park located in Ninh Bình Province, in Vietnam's Red River Delta. Cuc Phuong was Vietnam's first national park and is the country's largest nature reserve. The park is one of the most important sites for biodiversity in Vietnam. It is also the home to The Carnivore and Pangolin Conservation Program (CPCP) and managed through a collaborative partnership between Cuc Phuong National Park and Save Vietnam's Wildlife . The CPCP is dedicated to rescuing, rehabilitating and releasing back into the wild carnivores and pangolins confiscated from the illegal wildlife trade. It is also developing global conservation breeding programs for these threatened species.
Pangolins are trafficked by the thousands for their scales, which are boiled off their bodies for use in traditional medicine; for their meat, which is a high-end delicacy in Vietnam and in China; and for their blood, which is seen as a healing tonic. In restaurants, Pangolin can fetch up to $350 per/kilo.
Vietnam is a heavy consumer of these scaly relatively unknown creatures for traditional medicine and like rhino horn their scales are made of keratin(made of the same substances as hair and fingernails) and have no proven scientific benefits.
Phuong Quang Tran works as a researcher and daily caretaker of the rescued pangolins at CPCP. He works rehabilitating, studying, and then releasing the confiscated pangolins into the wild. When they are ready to be released back into the wild, they are driven to Hanoi airport, flown to Ho Chi Minh City, and driven to Cát Tiên National Park where they are released into the wild. Phuong says pangolins often die in captivity for reasons unknown as they are extremely temperamental and volatile animals.
Pangolins don't get the attention of heavily trafficked animals such as rhinos, elephants, and tigers because many people don't even know they exist. The rate of evaporation is alarming, WWF states that "based on reported seizures between 2011 and 2013, an estimated 116,990-233,980 pangolins were killed, which represents only the tip of the trade. Experts believe that seizures represent as little as 10 percent of the actual volume in pangolins in illegal wildlife trade."
The CPCP aims to conserve these threatened species of mammal through the rescue and rehabilitation of trade confiscated wildlife, education and awareness and field research but Phoung and his team with what little resources they have.
To learn more and to help pangolins by donating please visit Save Vietnam's Wildlife "Save 500 Pangolins Campaign" here.
This is part of a larger ongoing personal project titled Kindred Guardians, an ongoing personal project documenting people around the world who dedicate their lives to help animals in need. Each chapter explores a new issue and a new bond between humans and animals.
This story was originally photographed in 2014 on assignment for CNN here.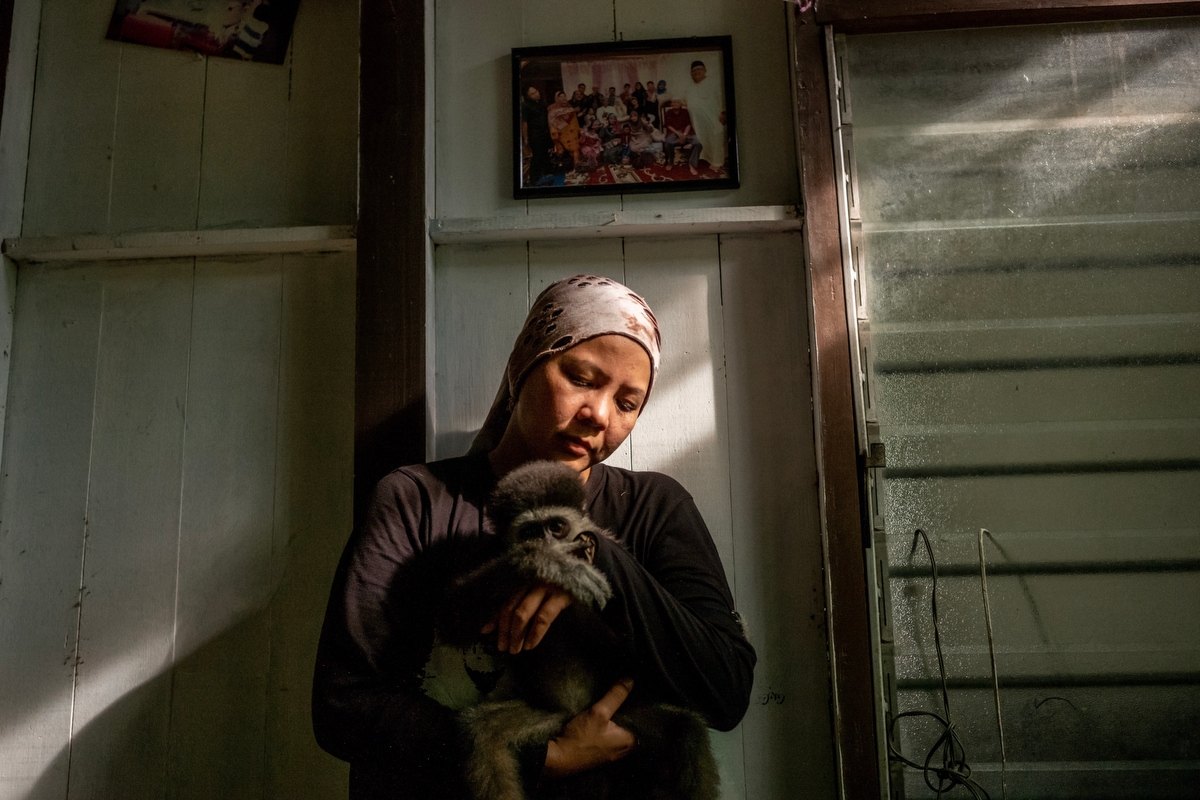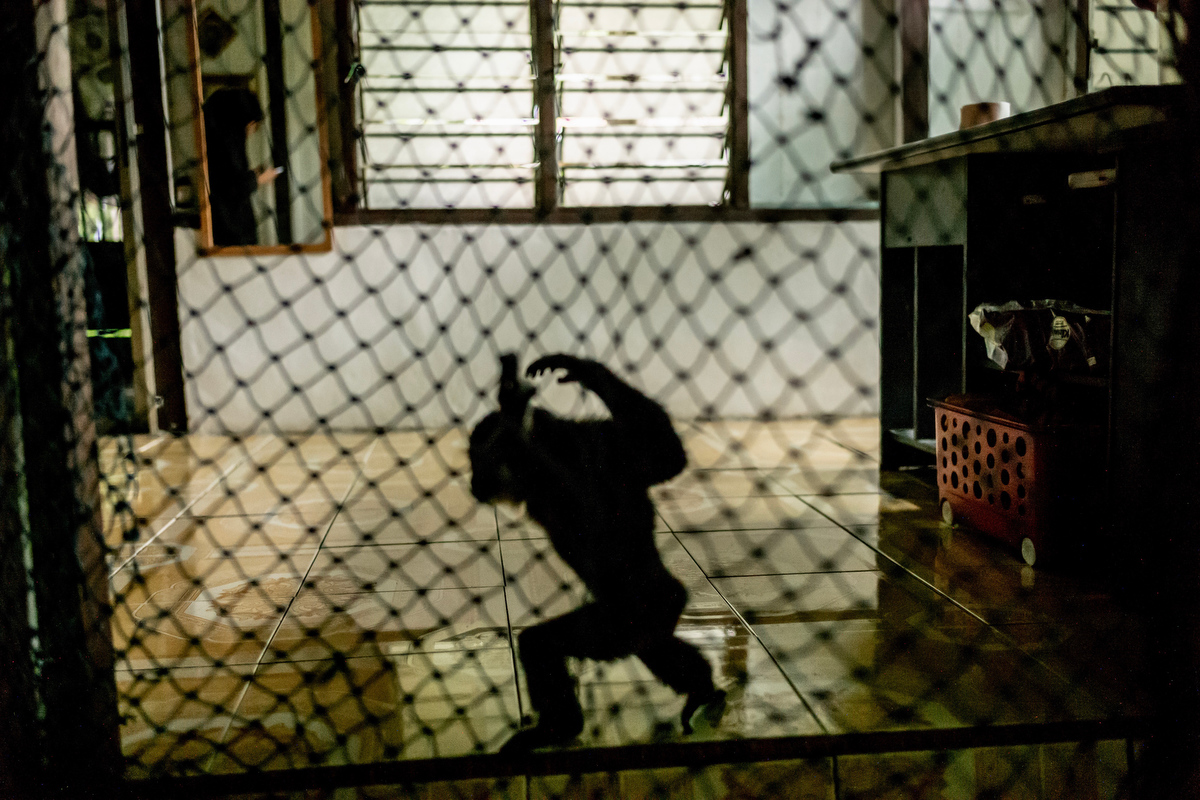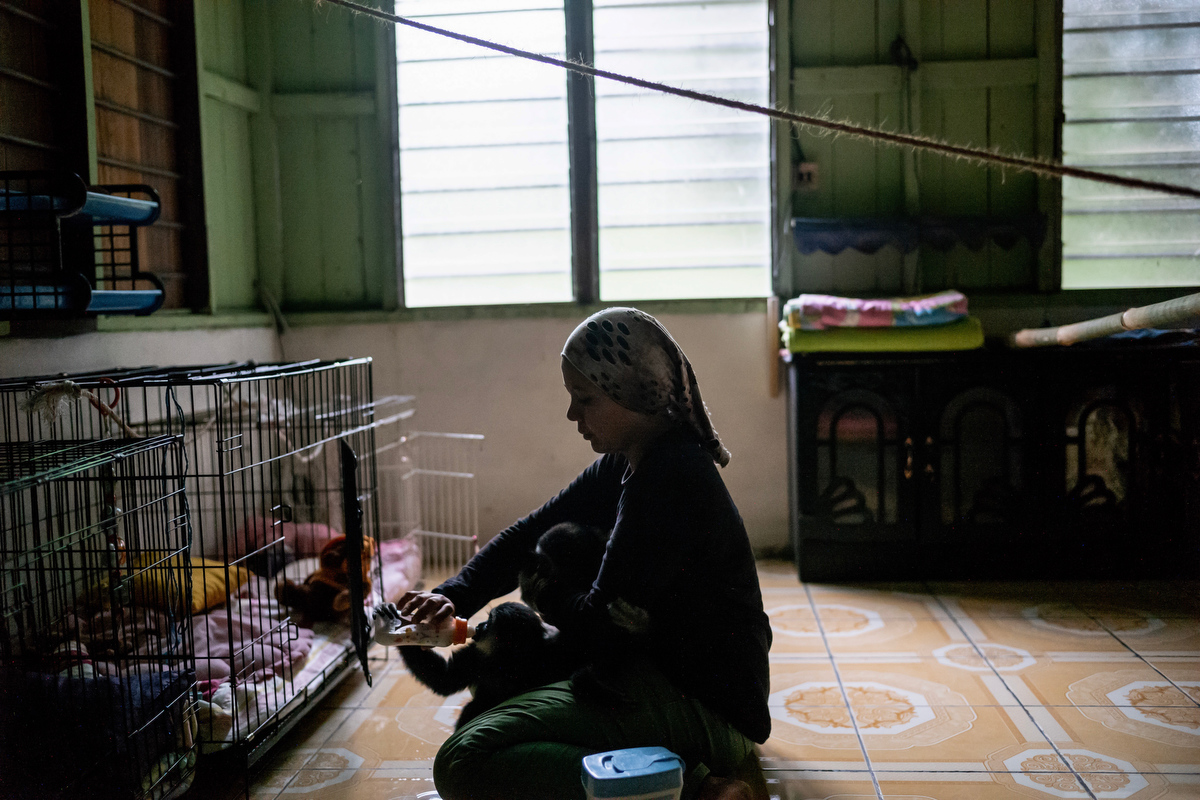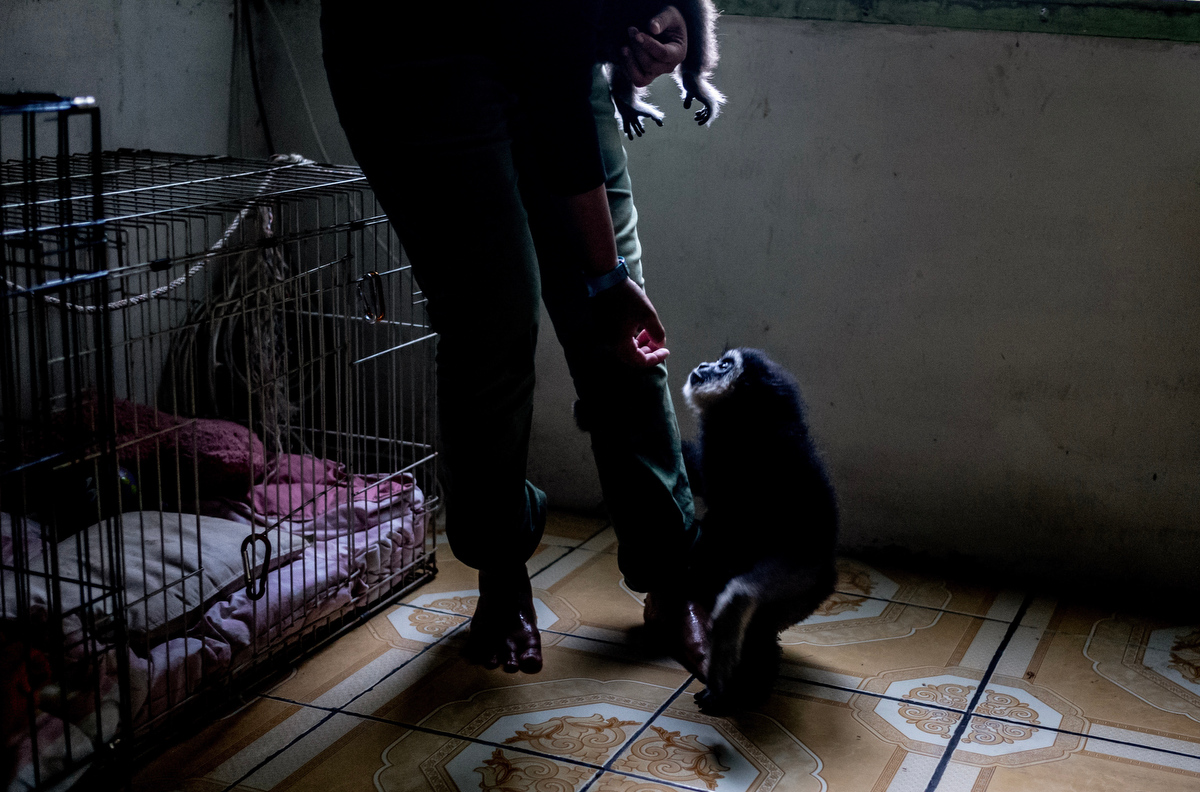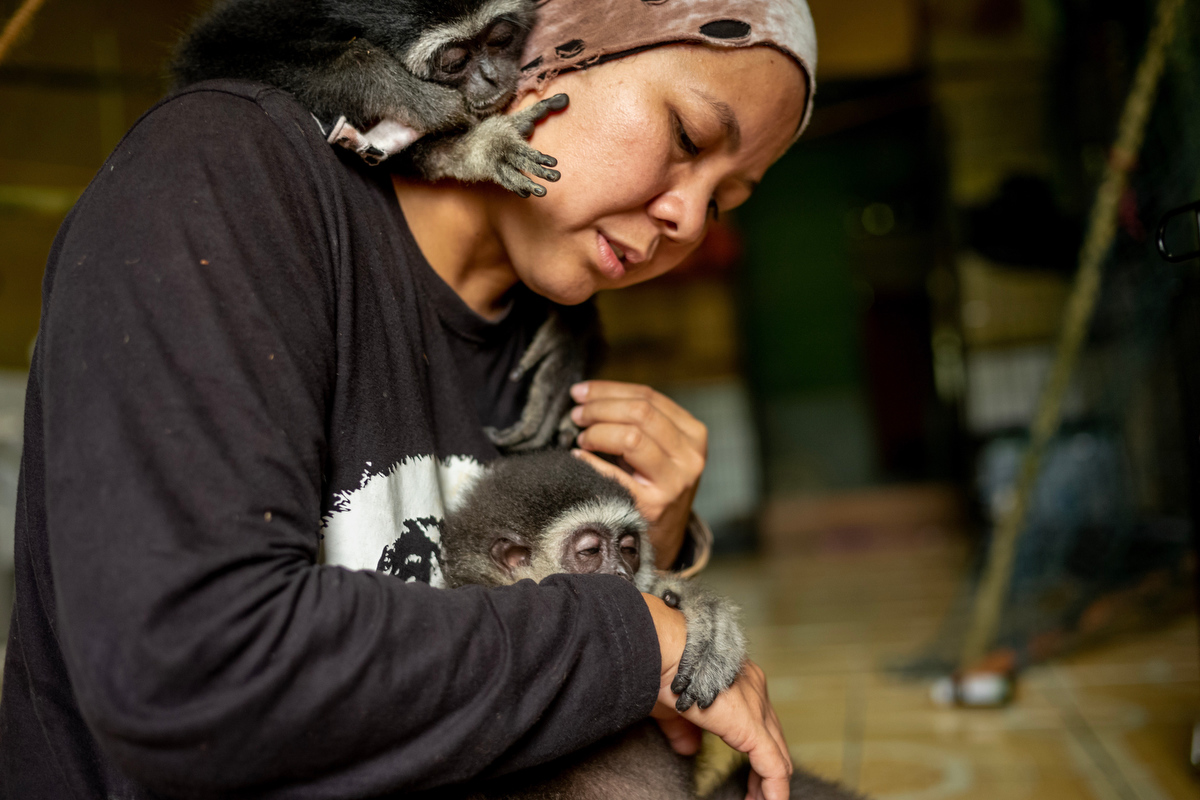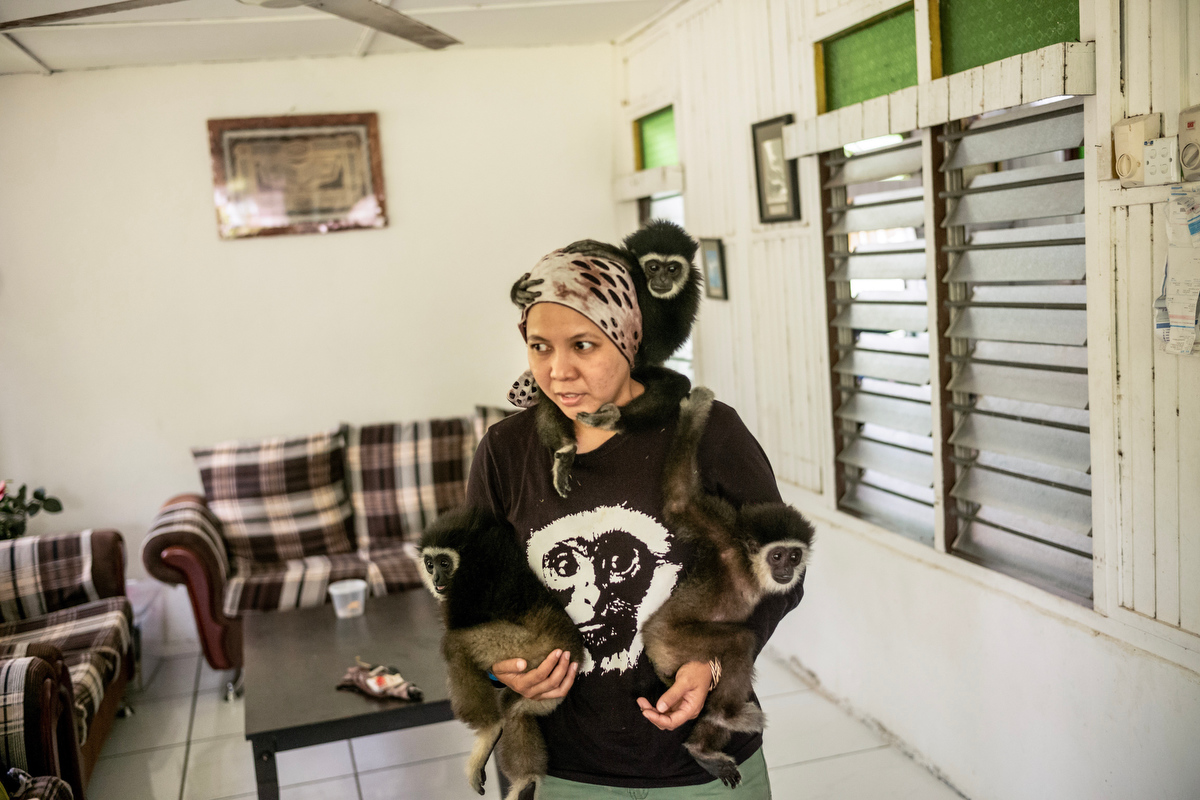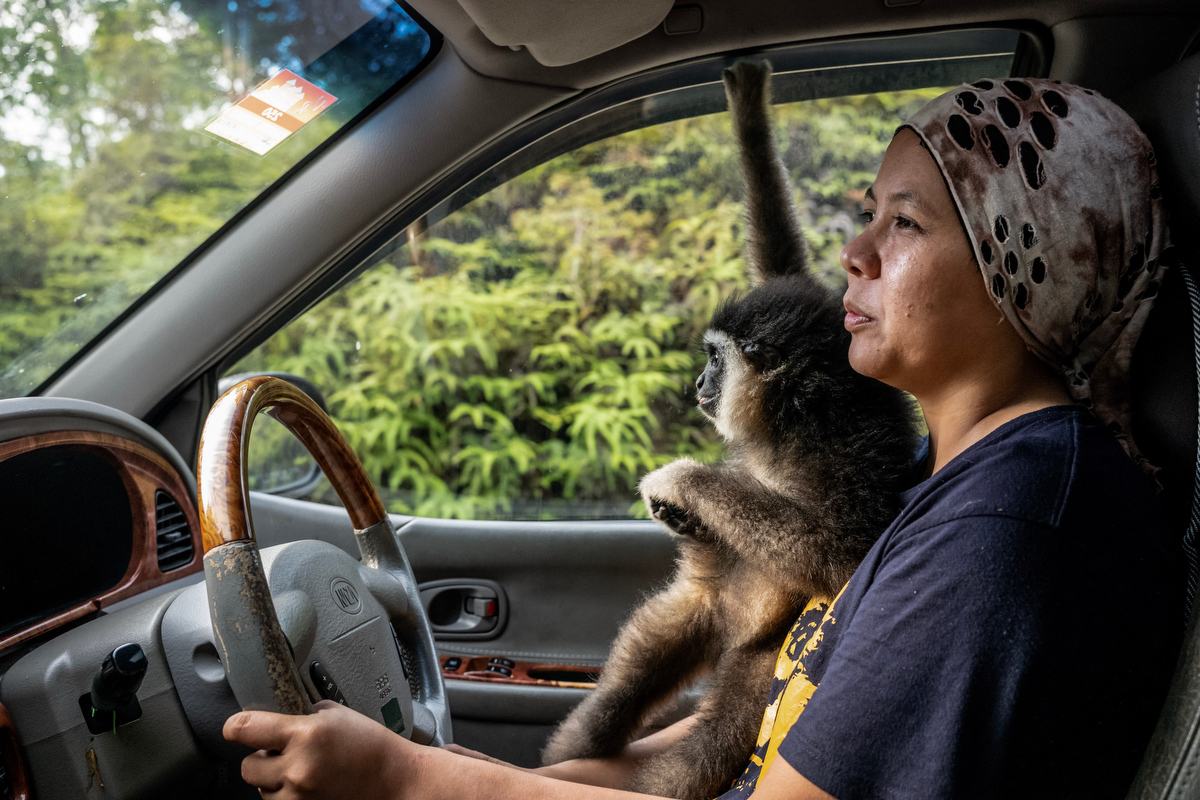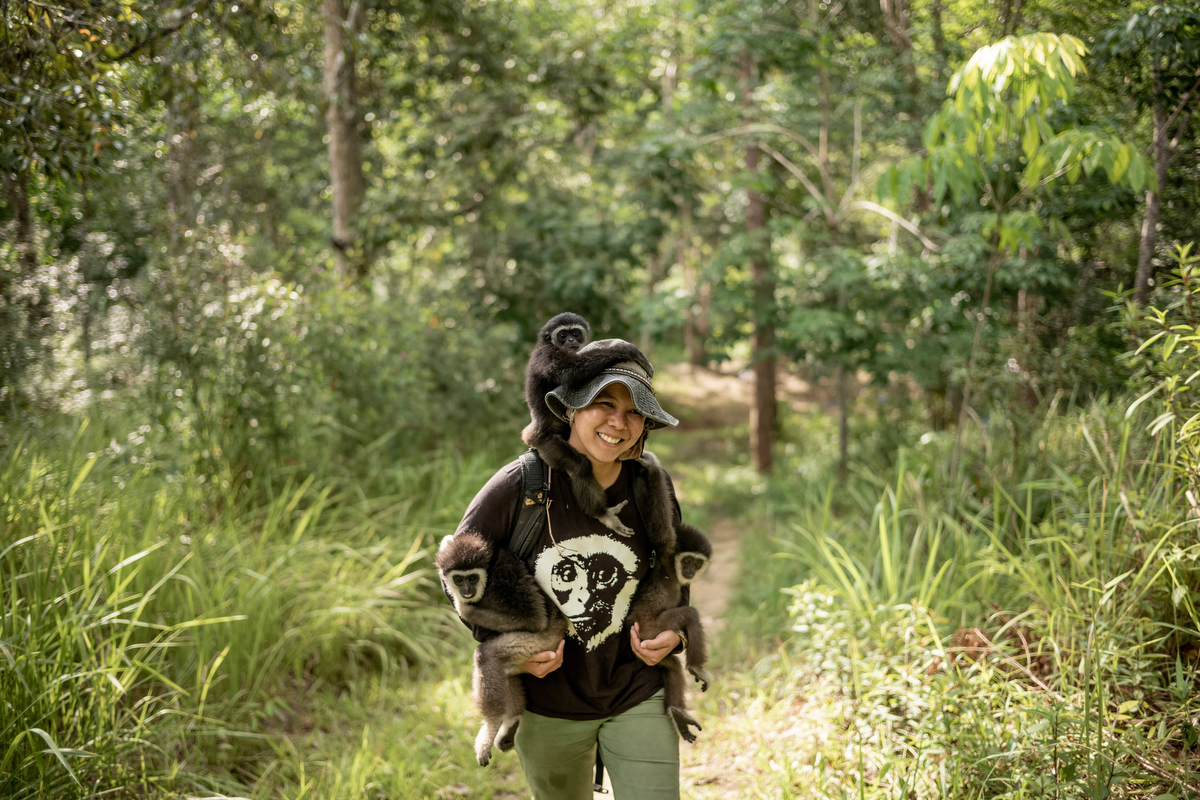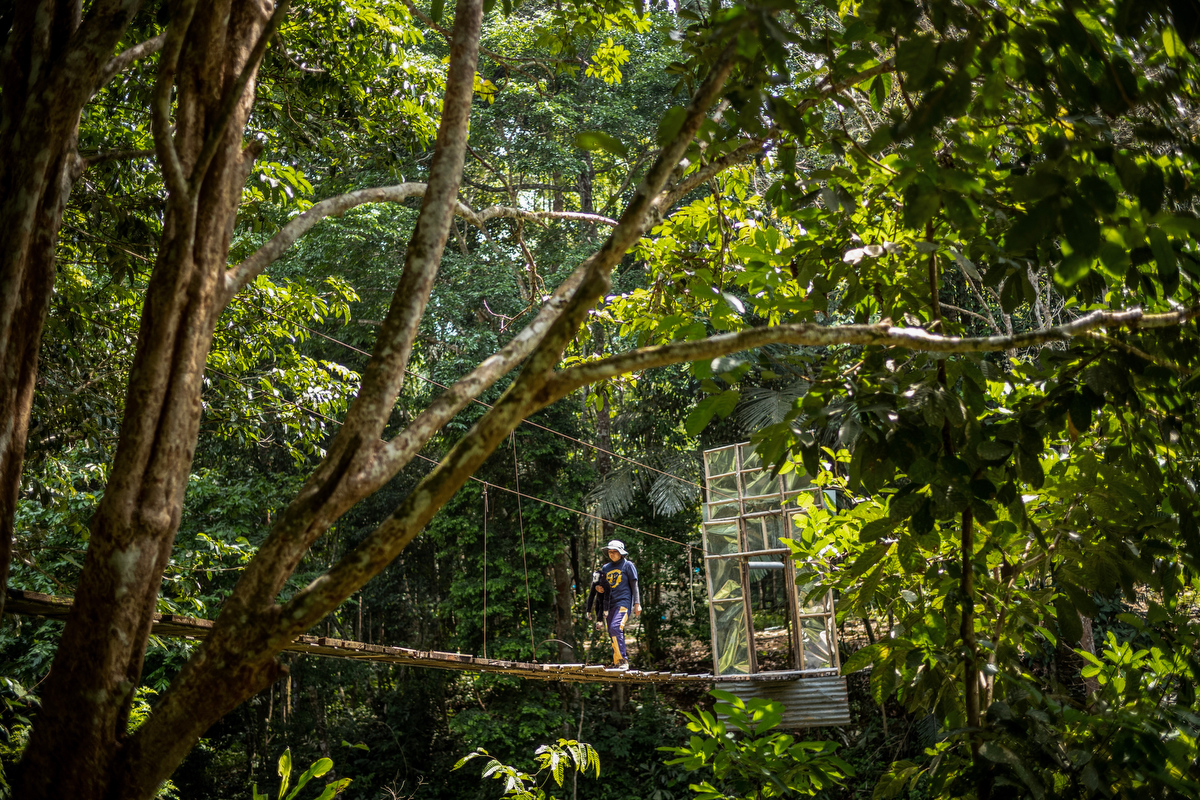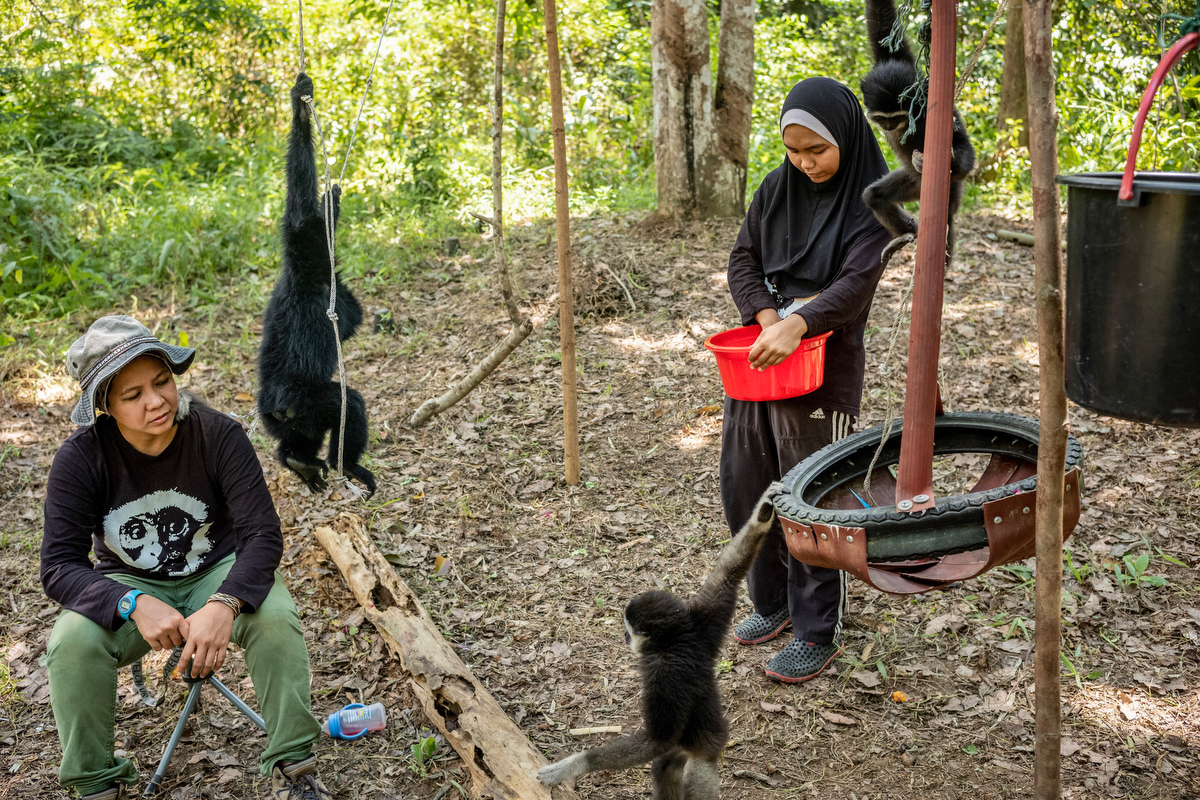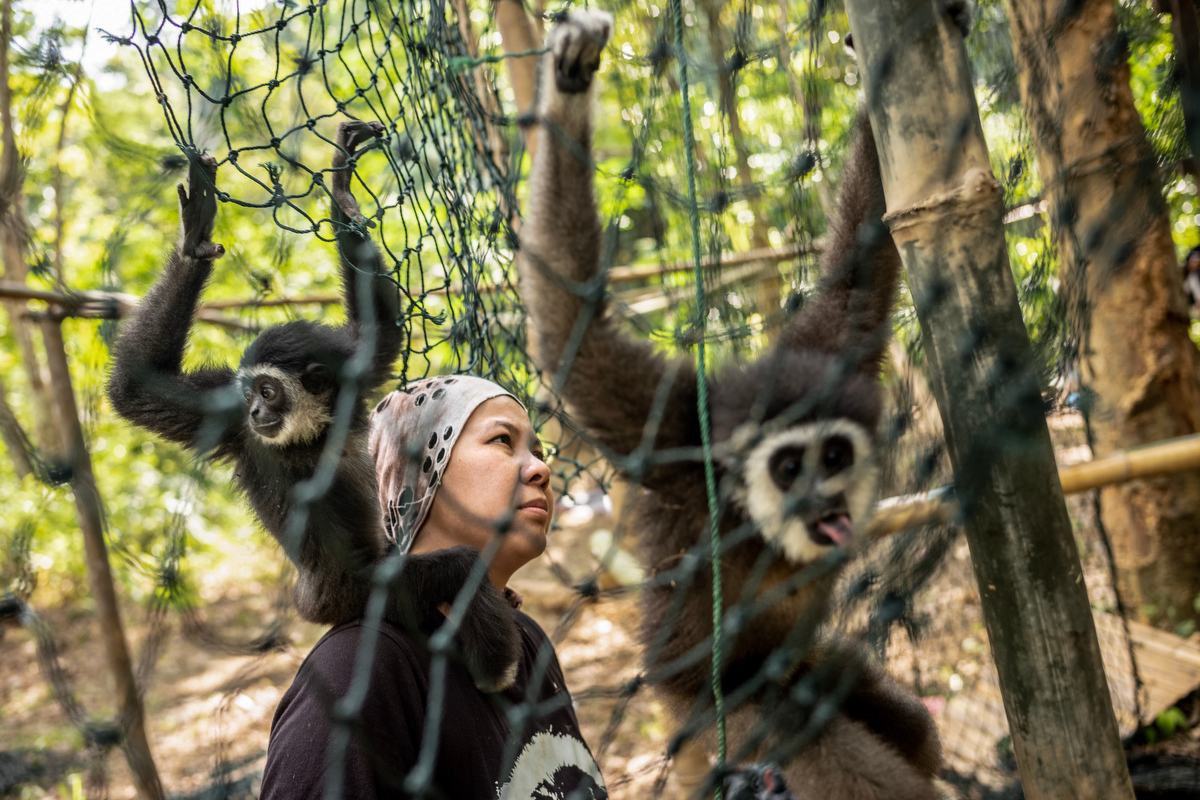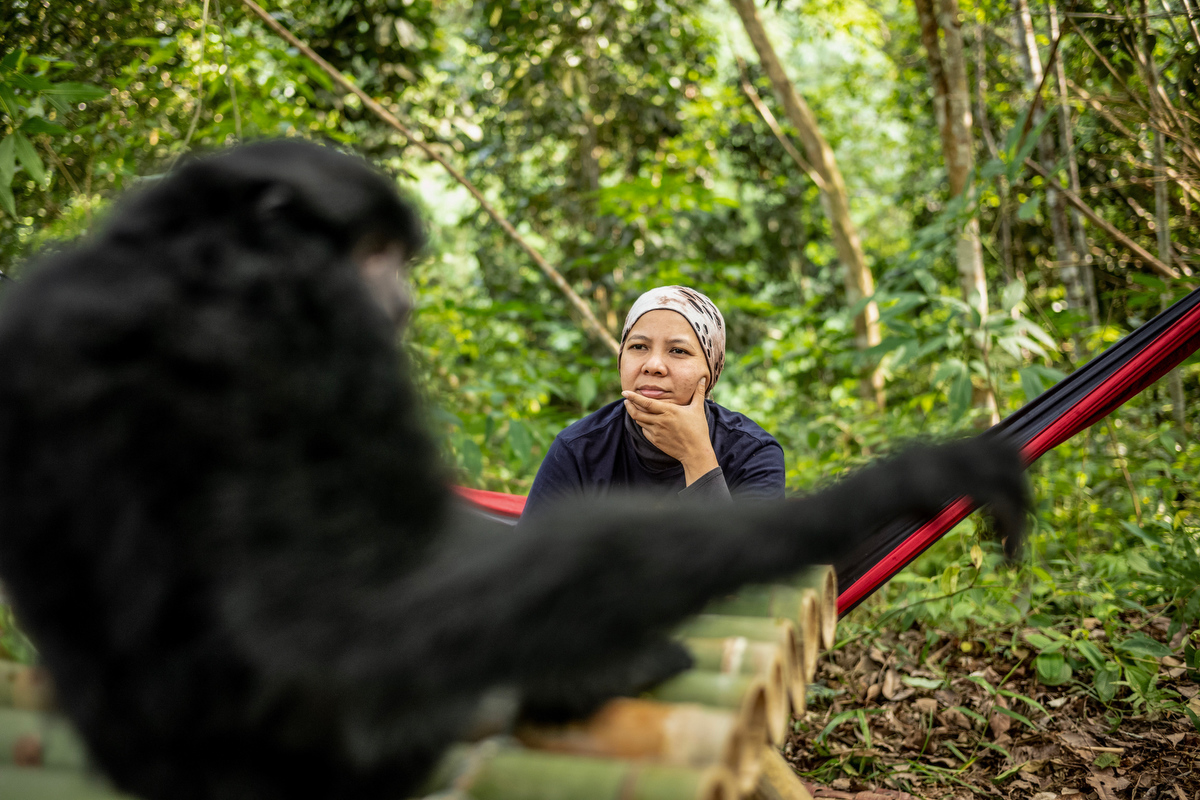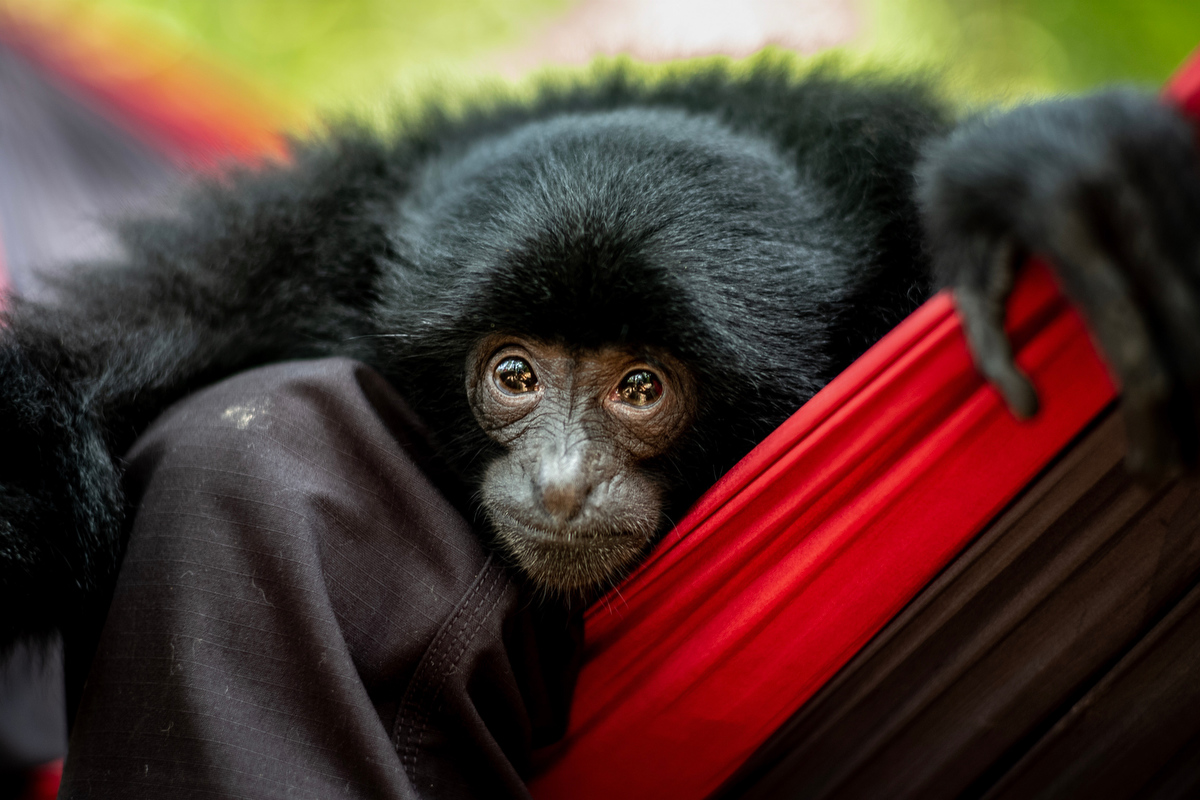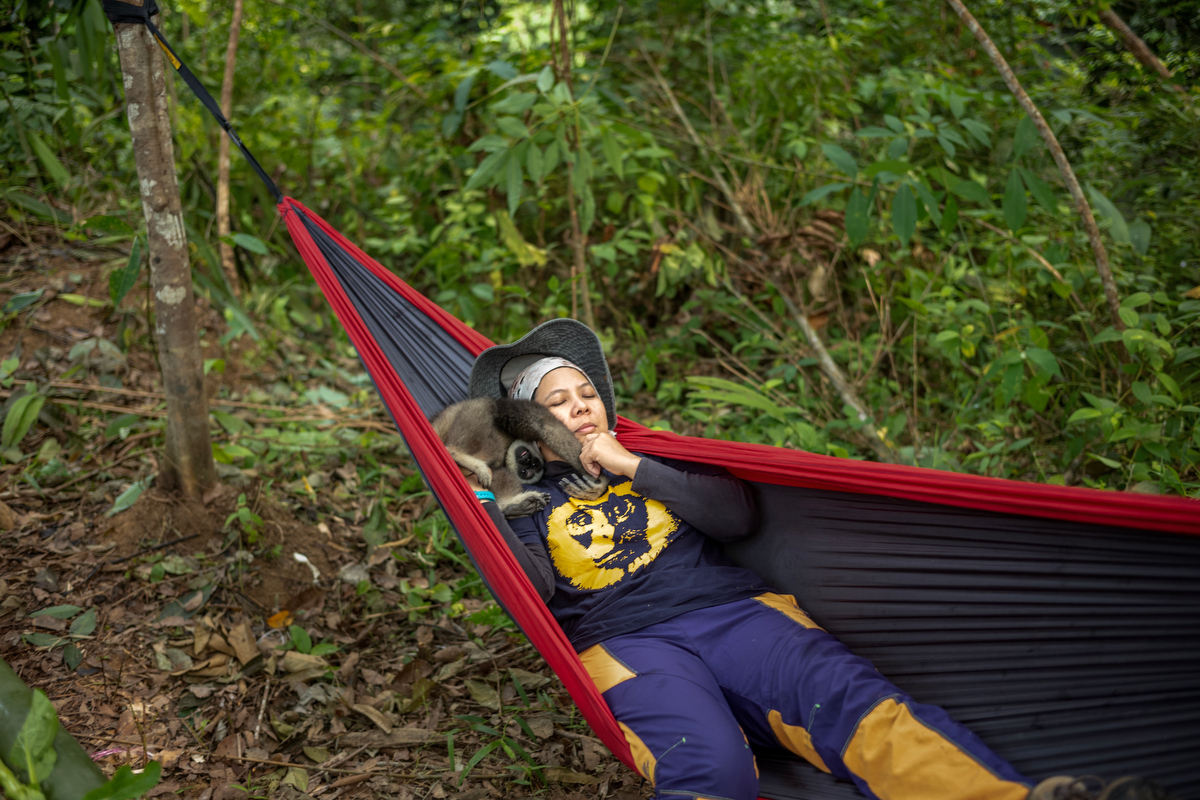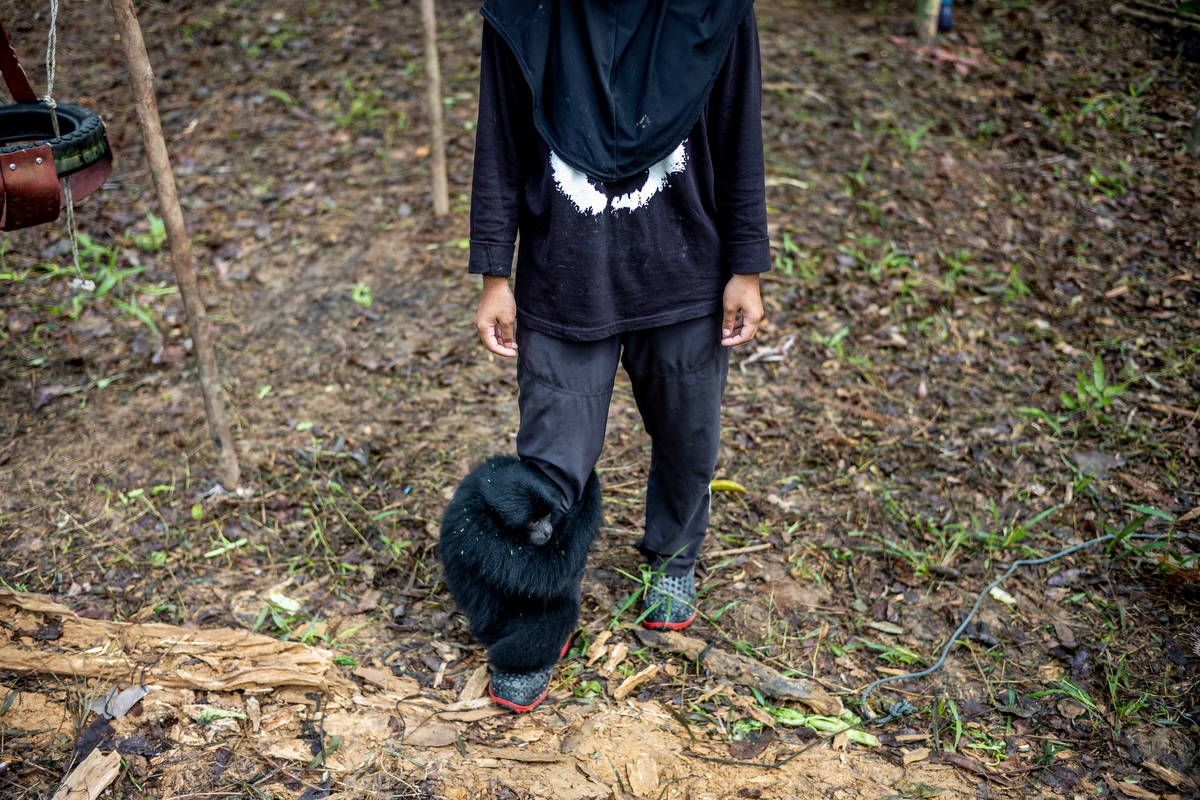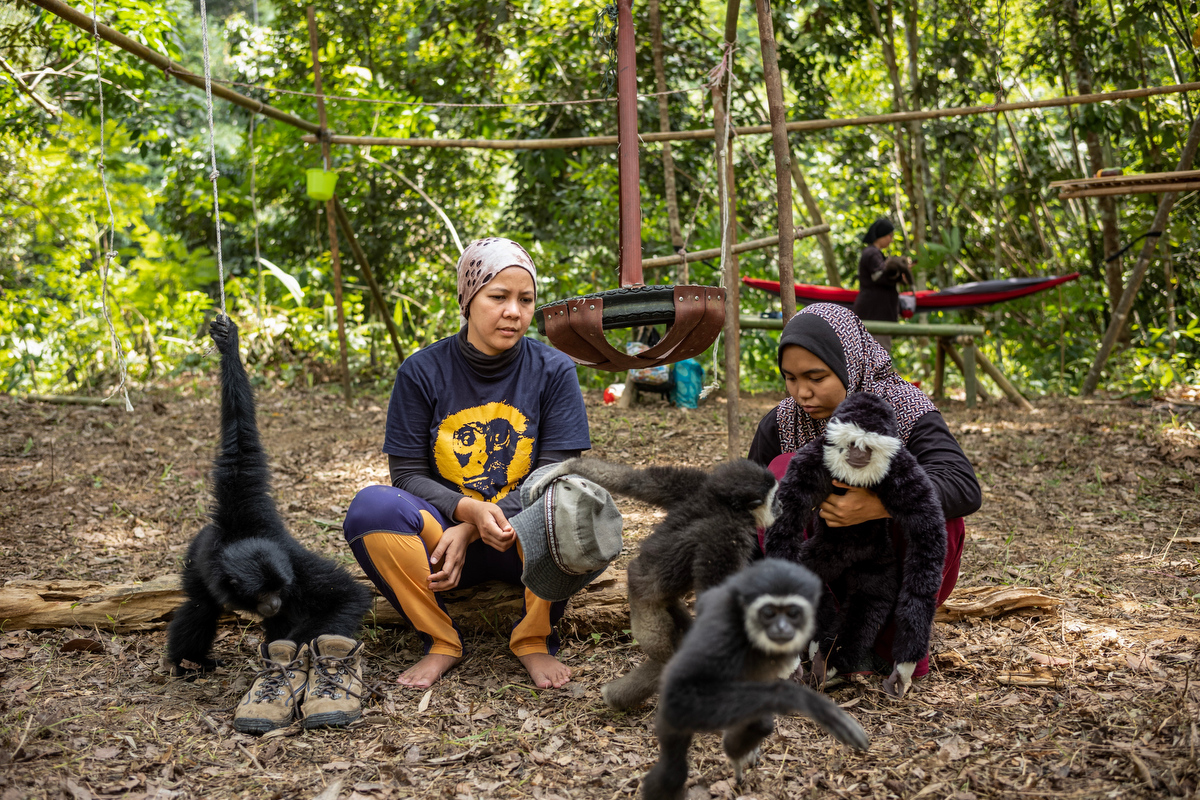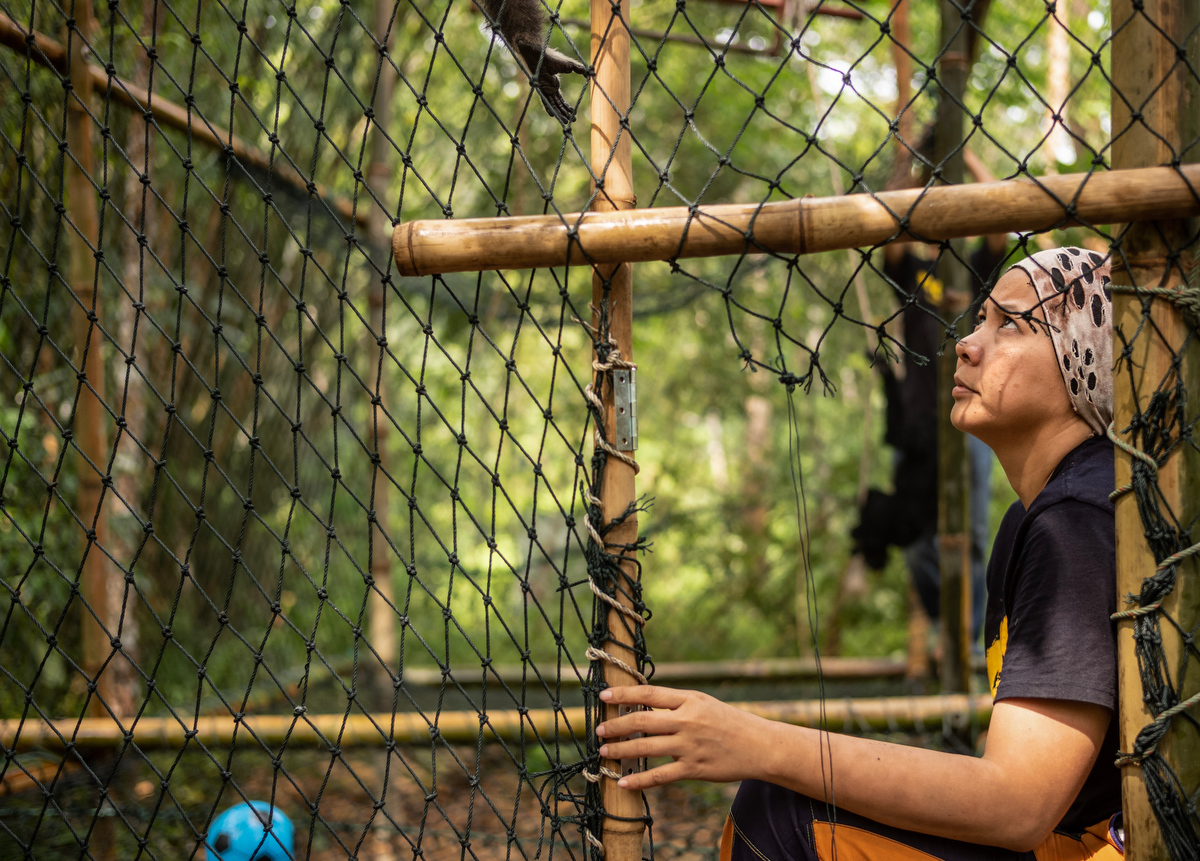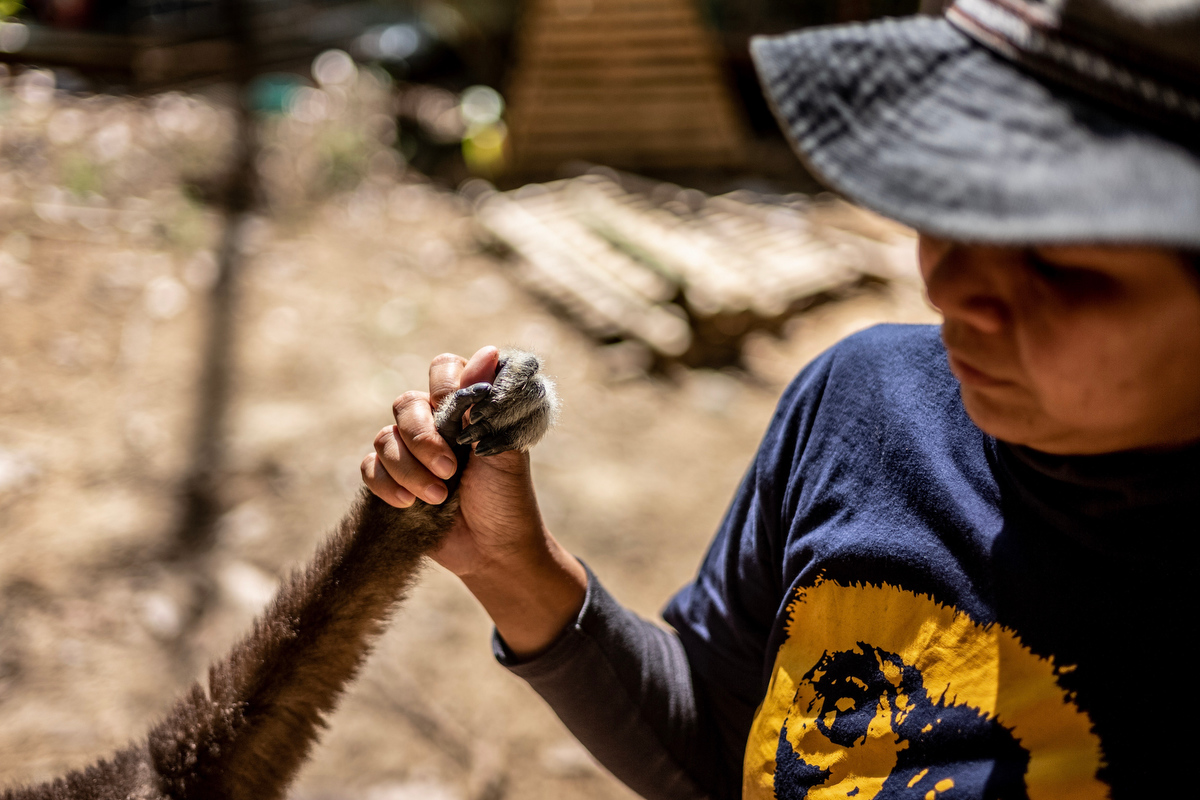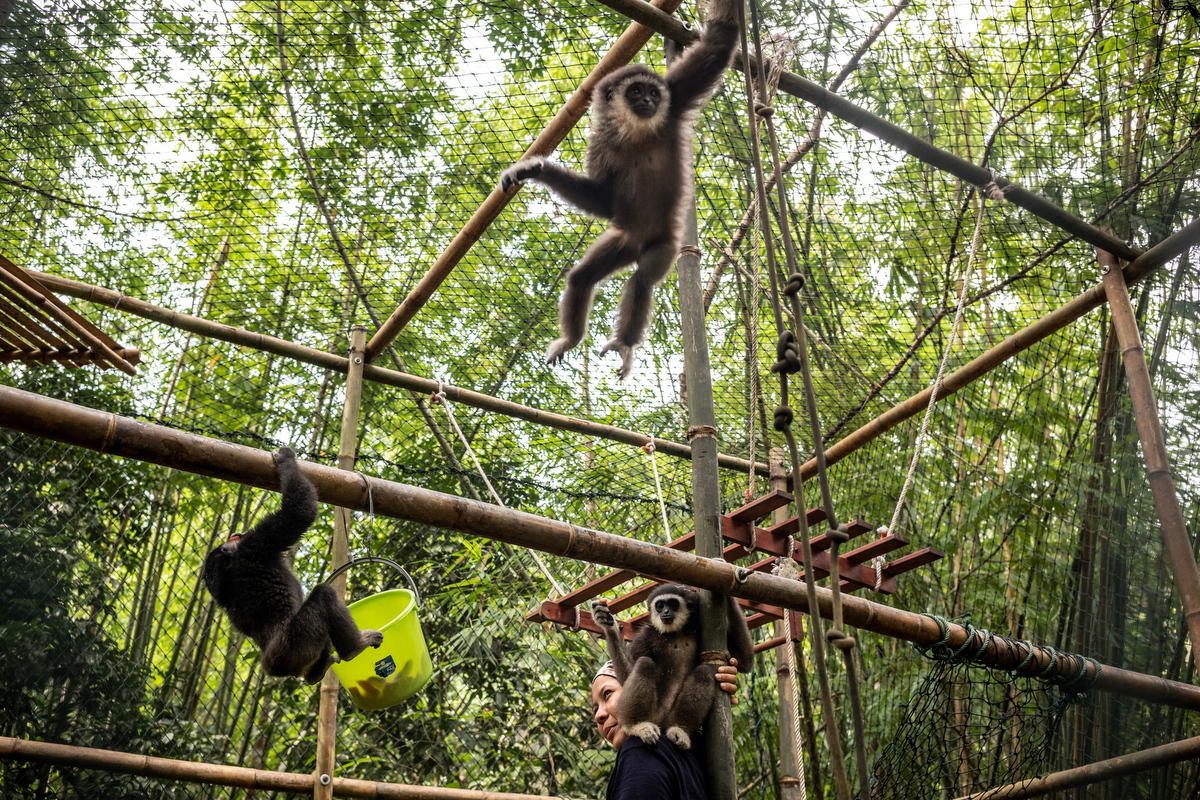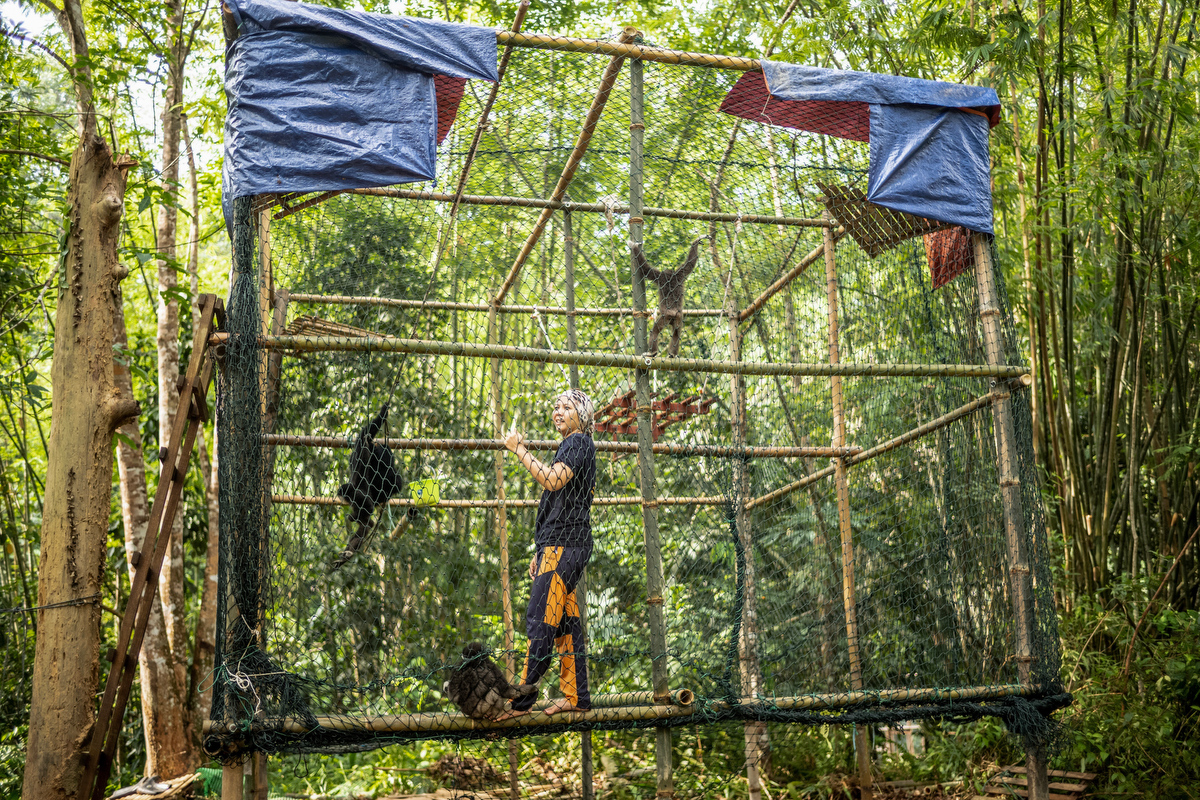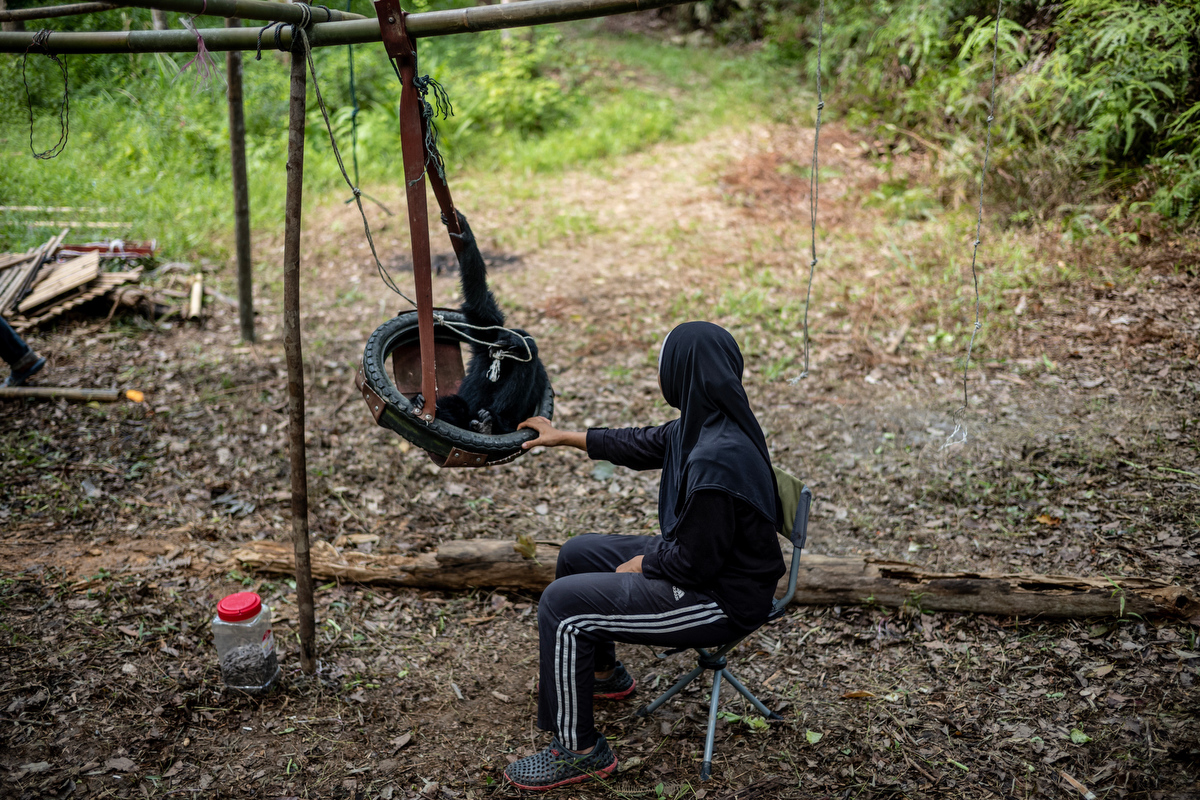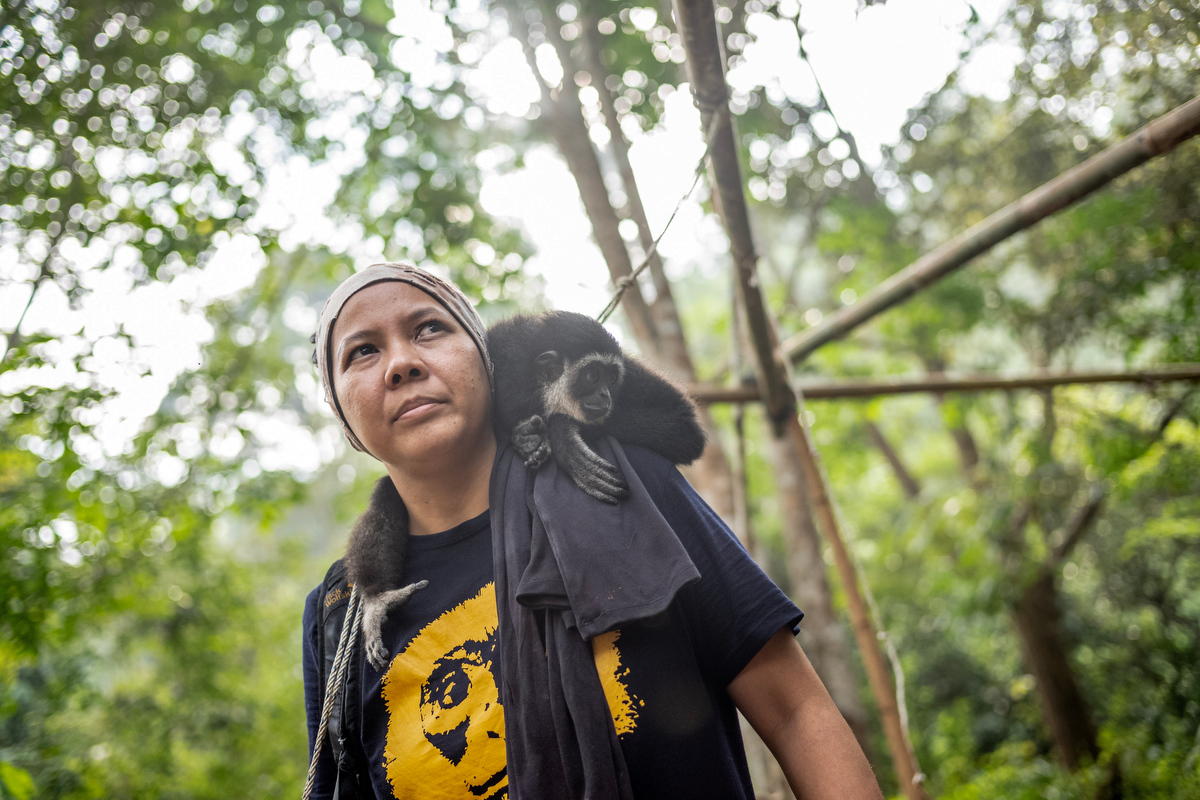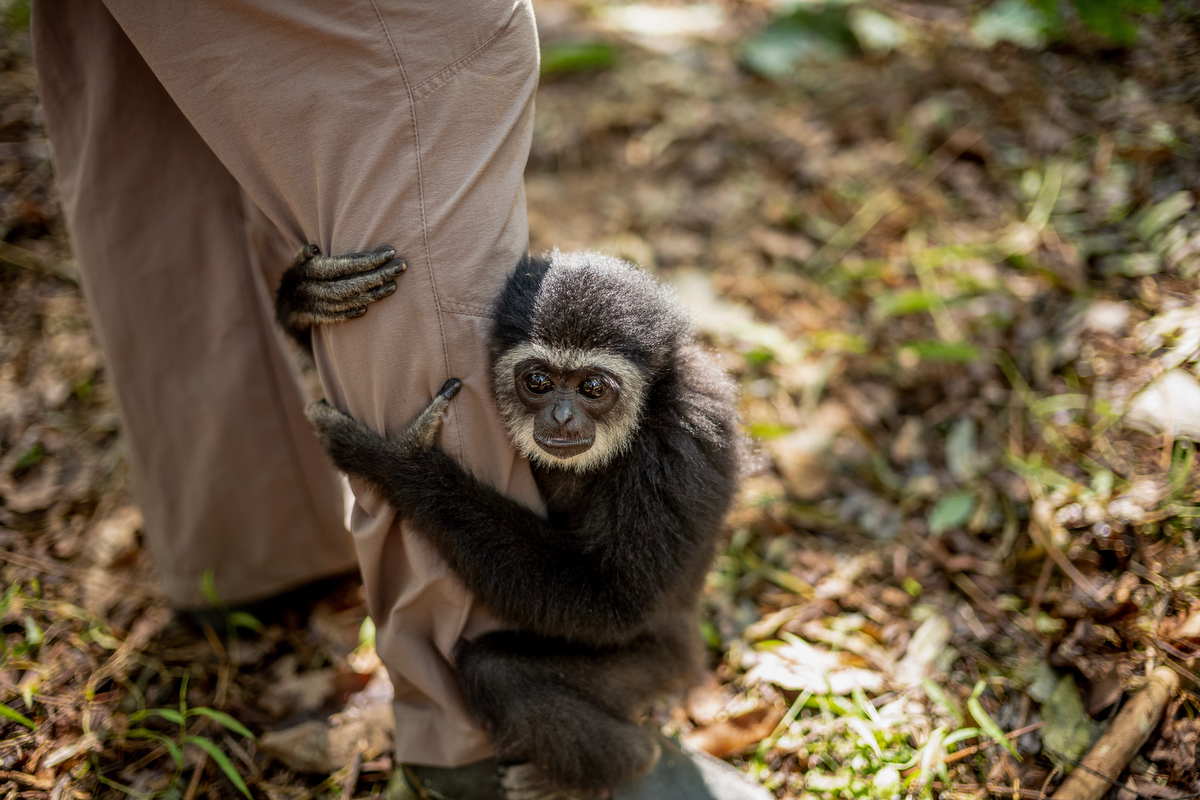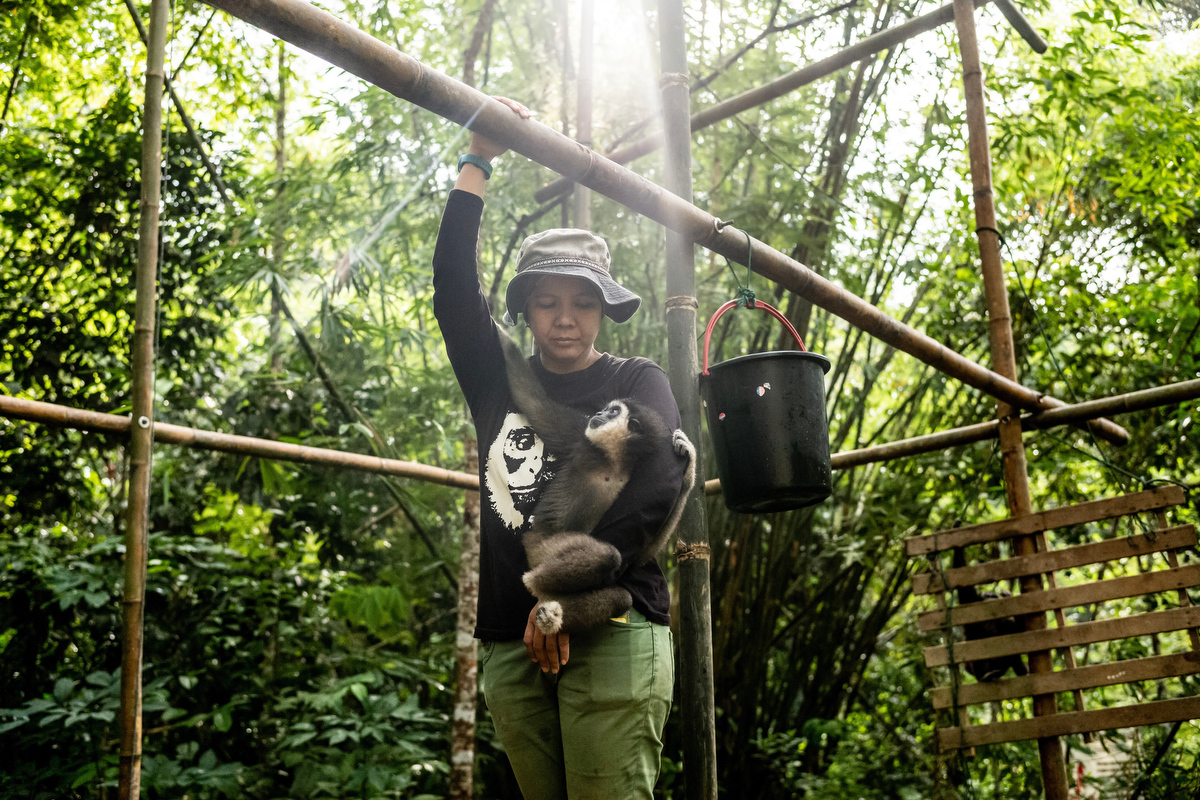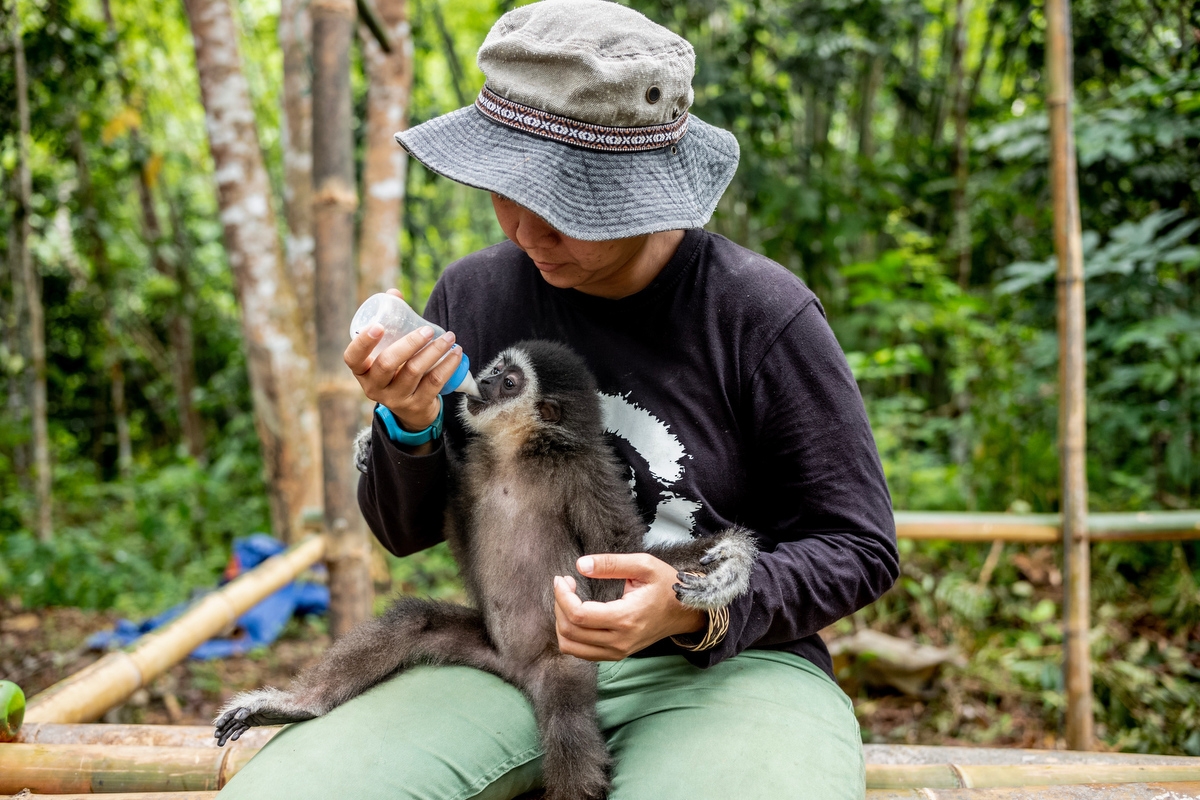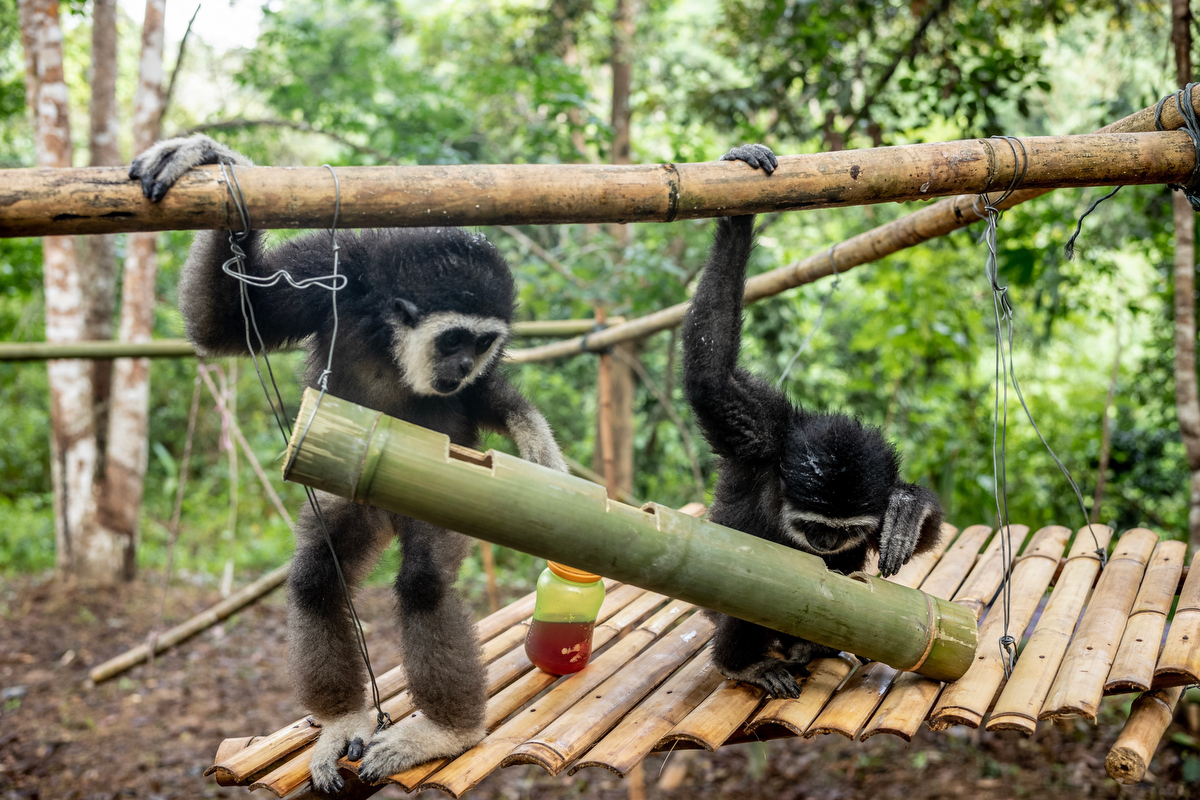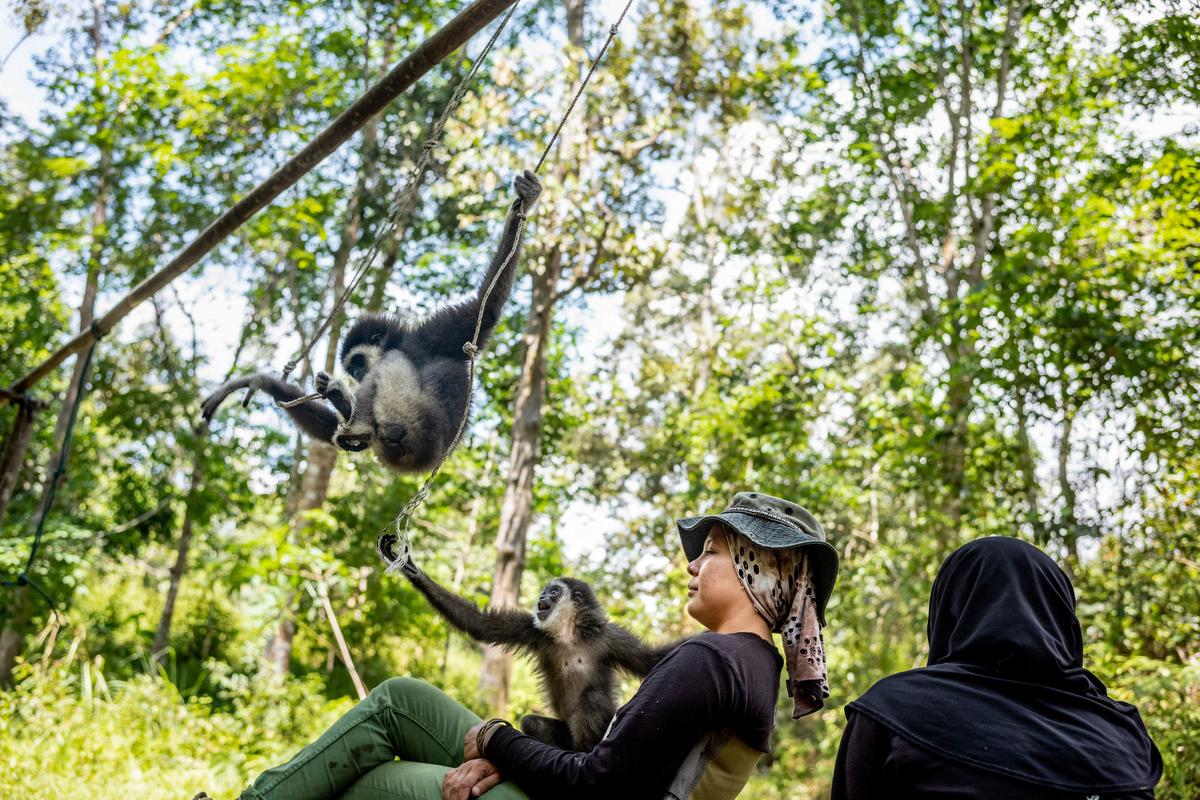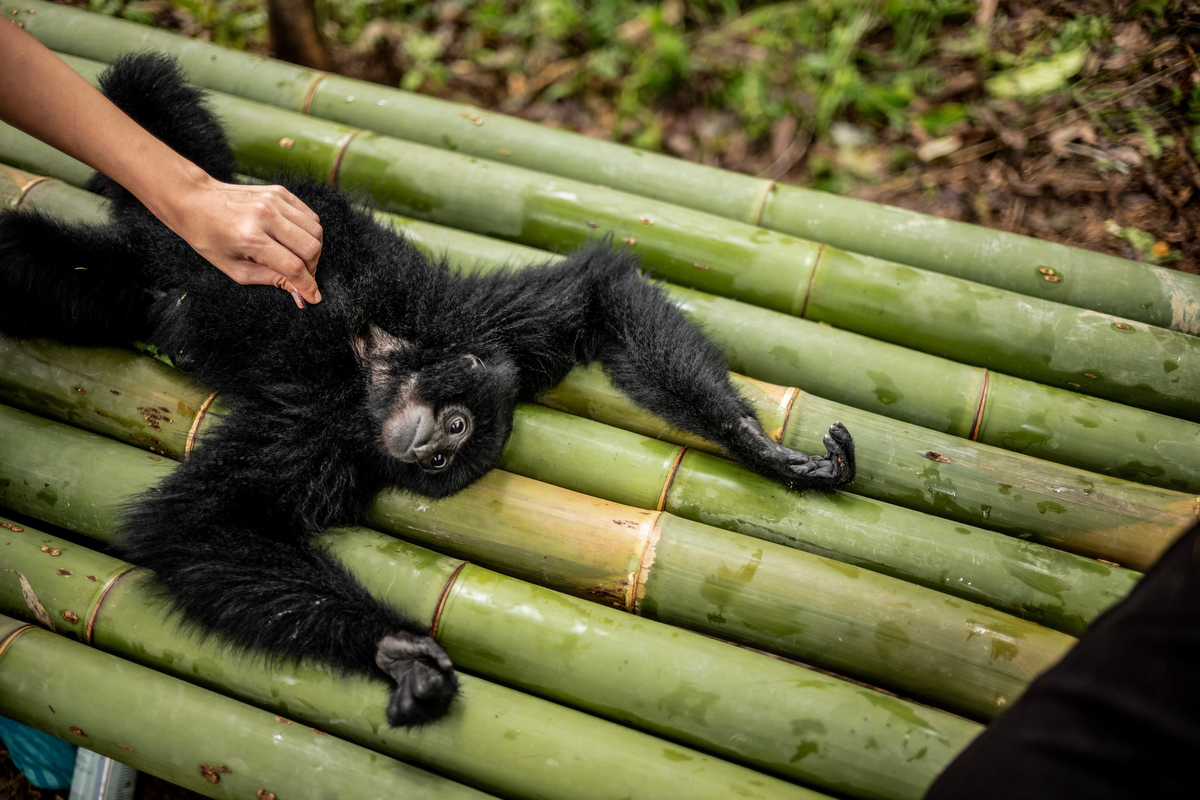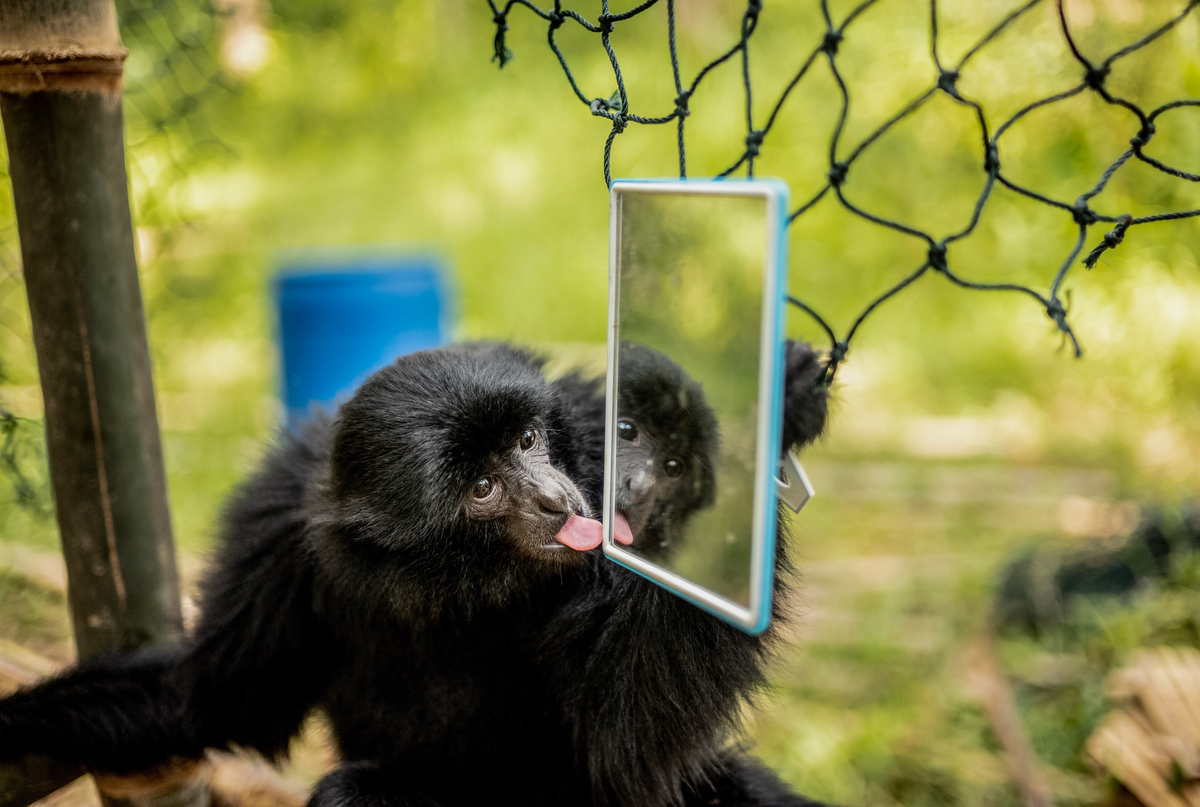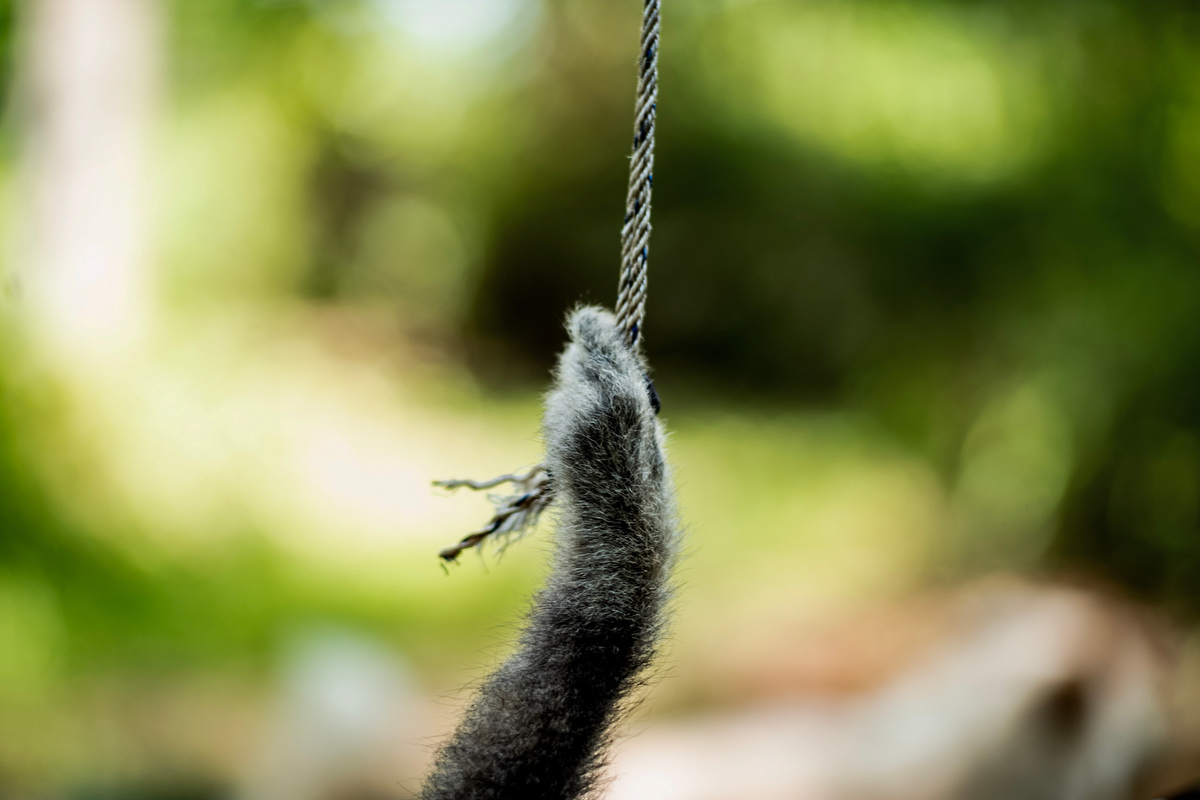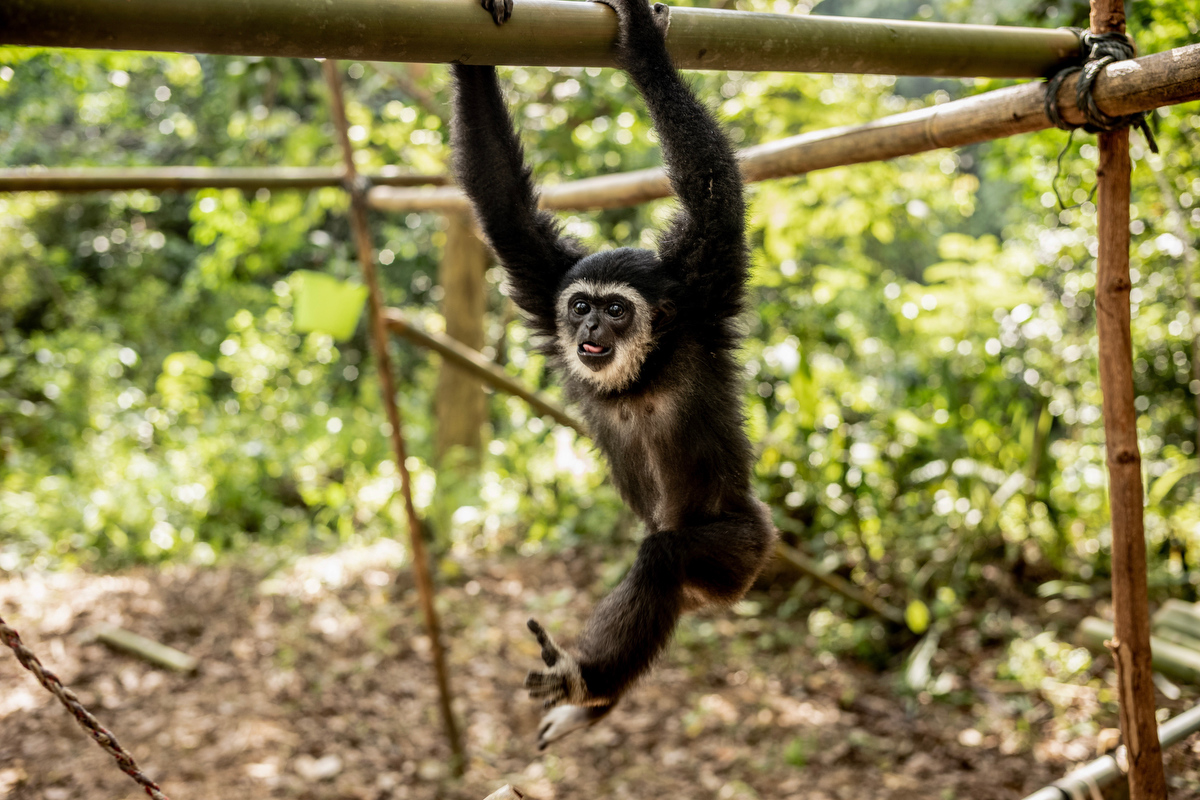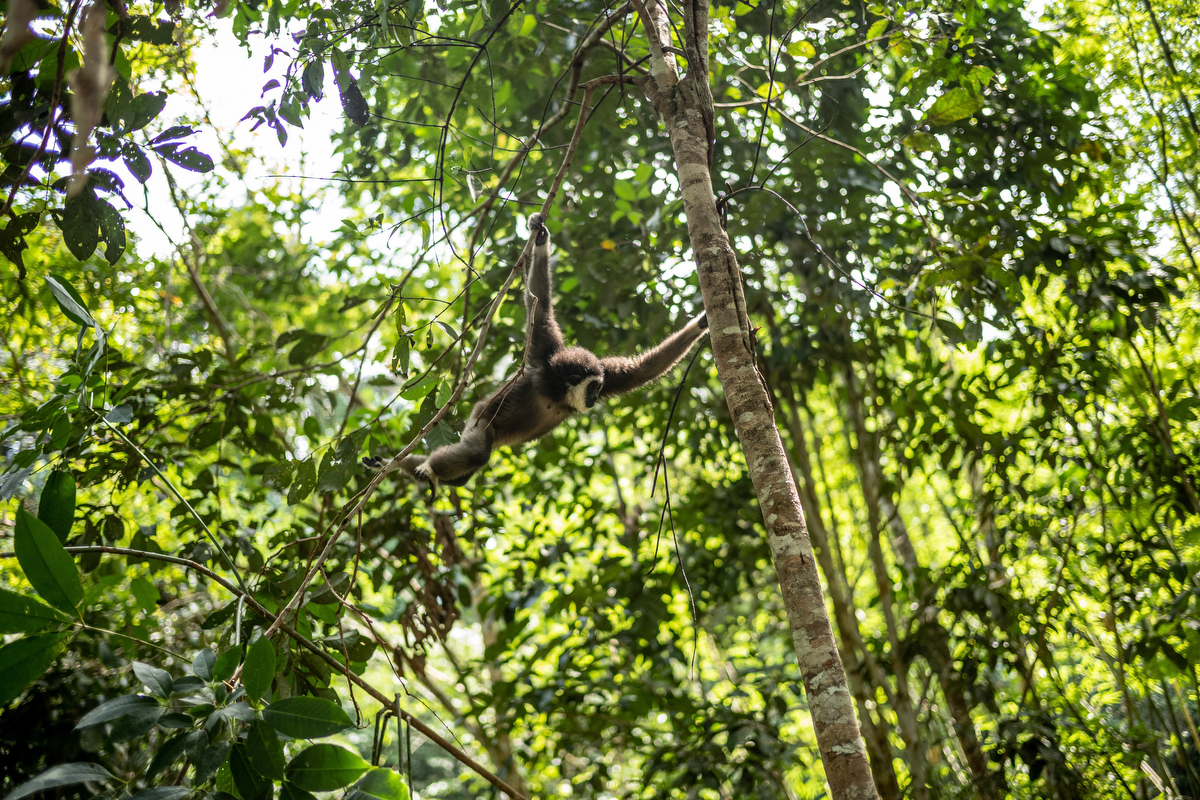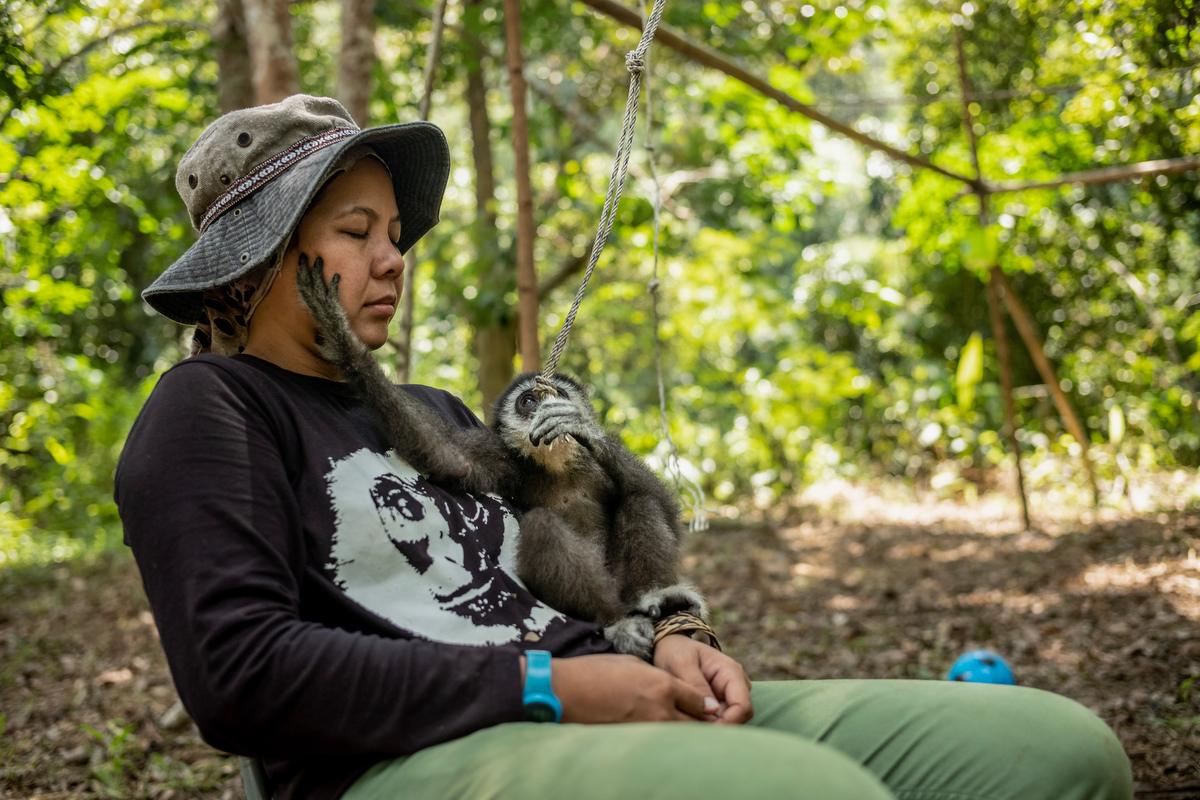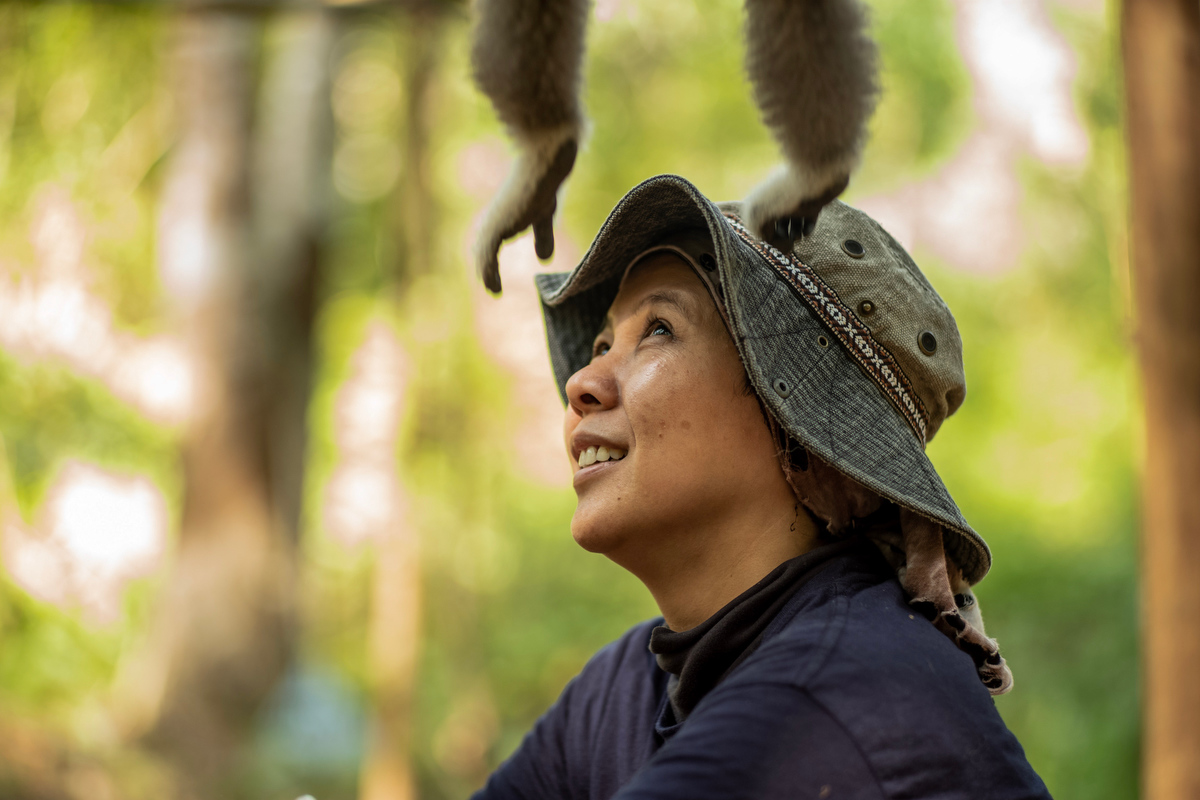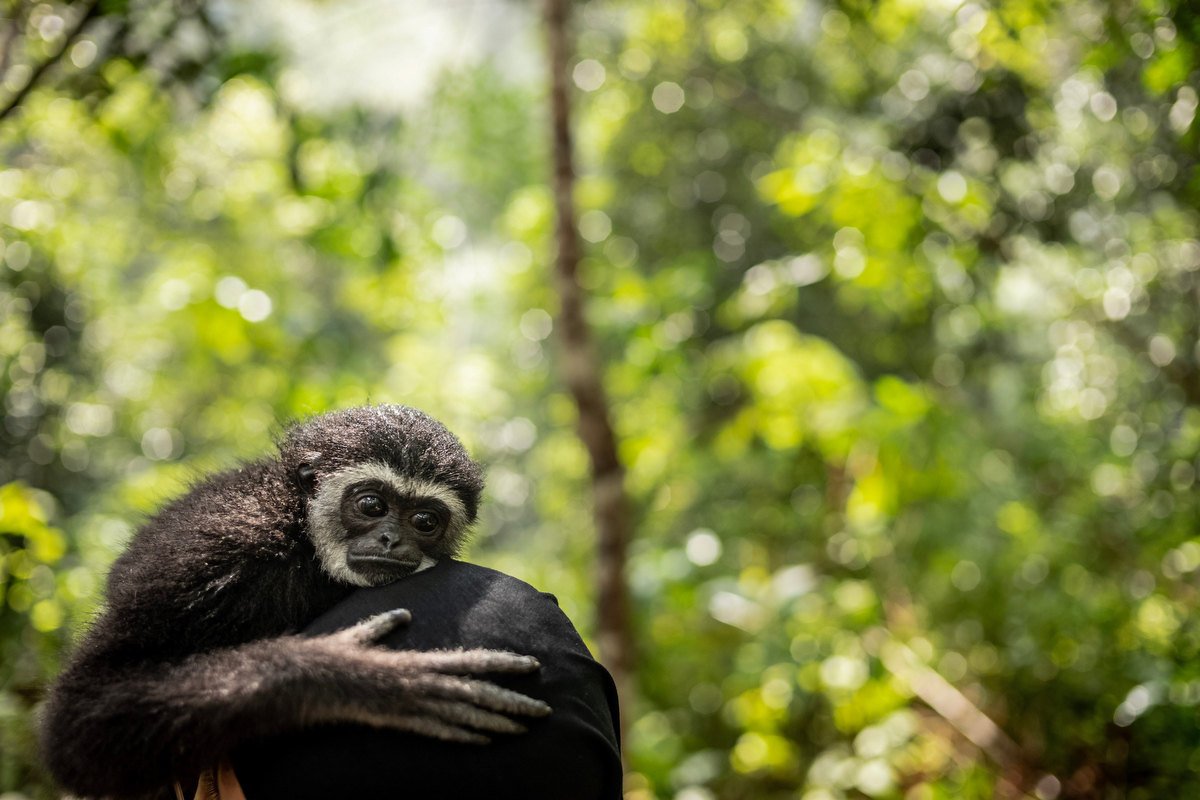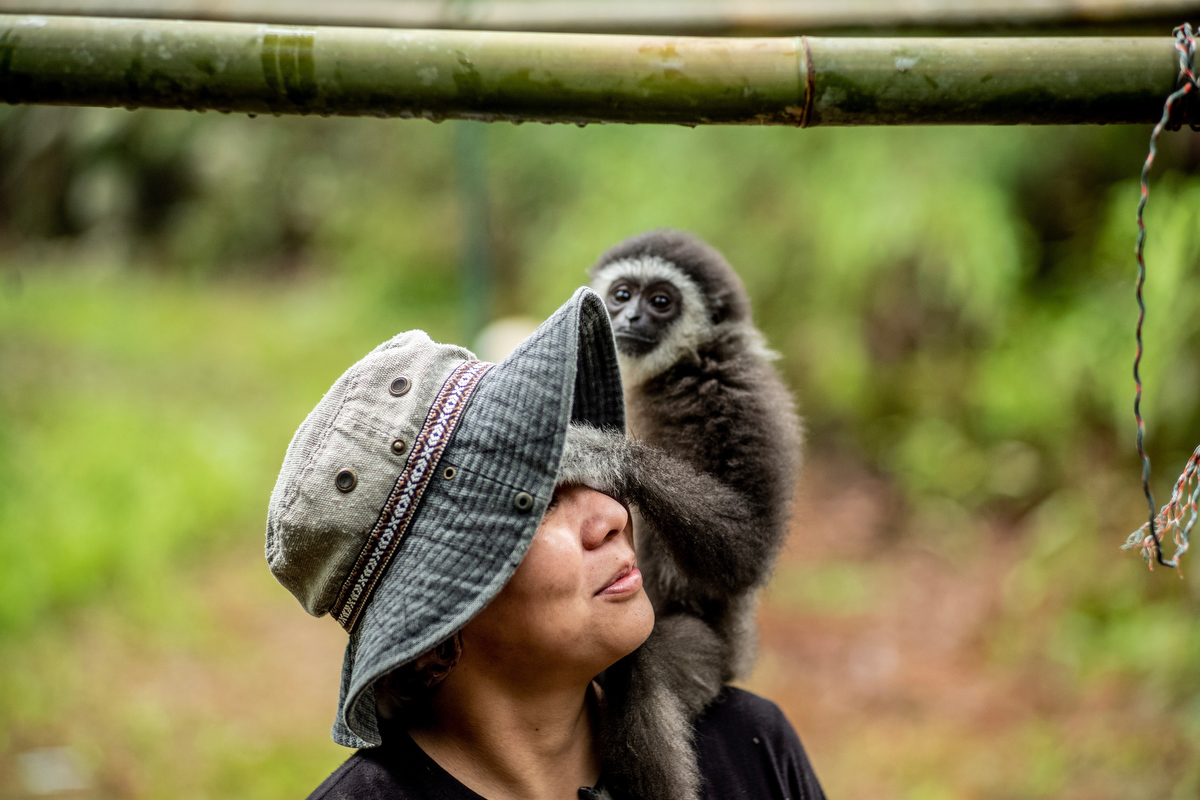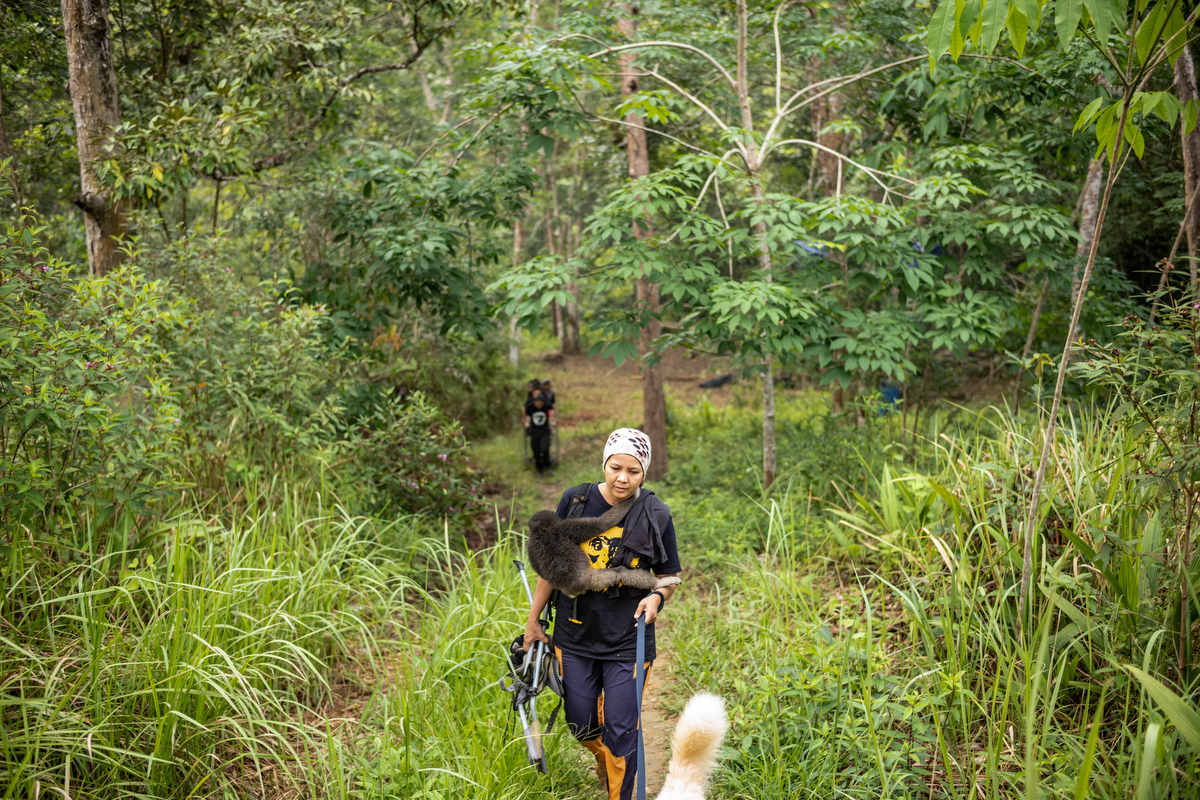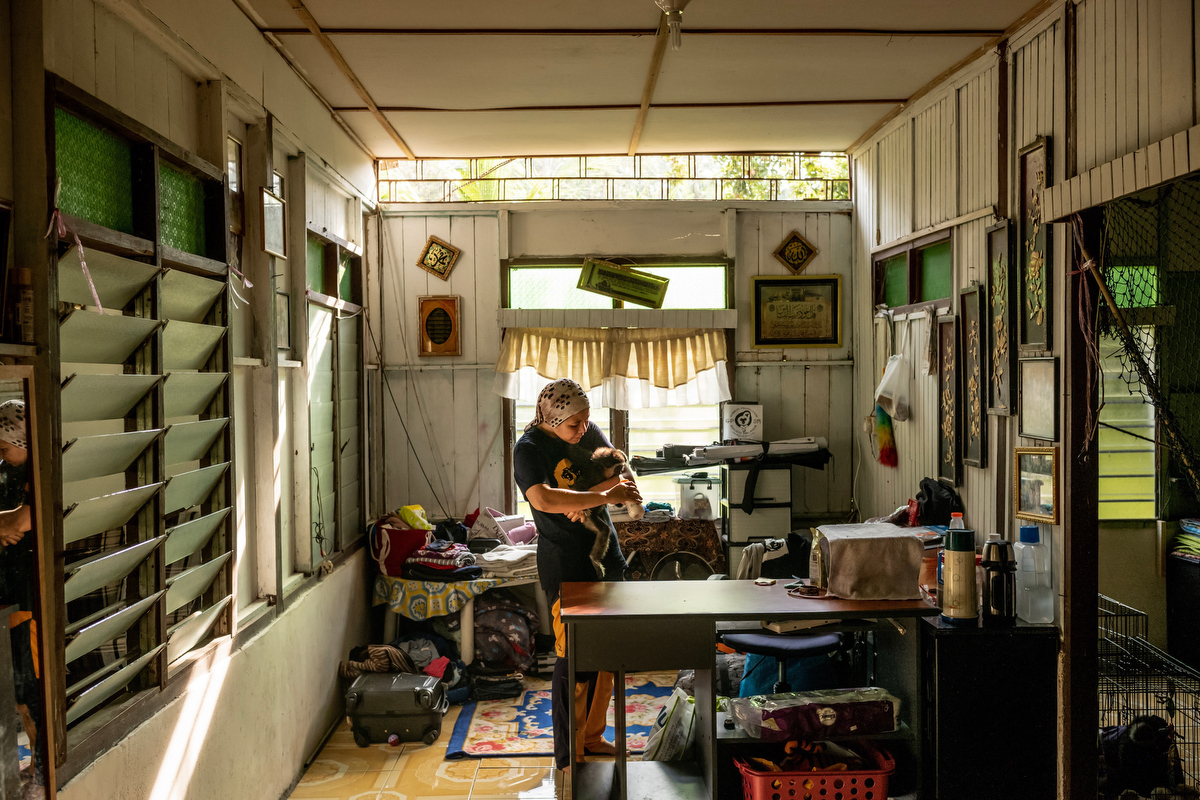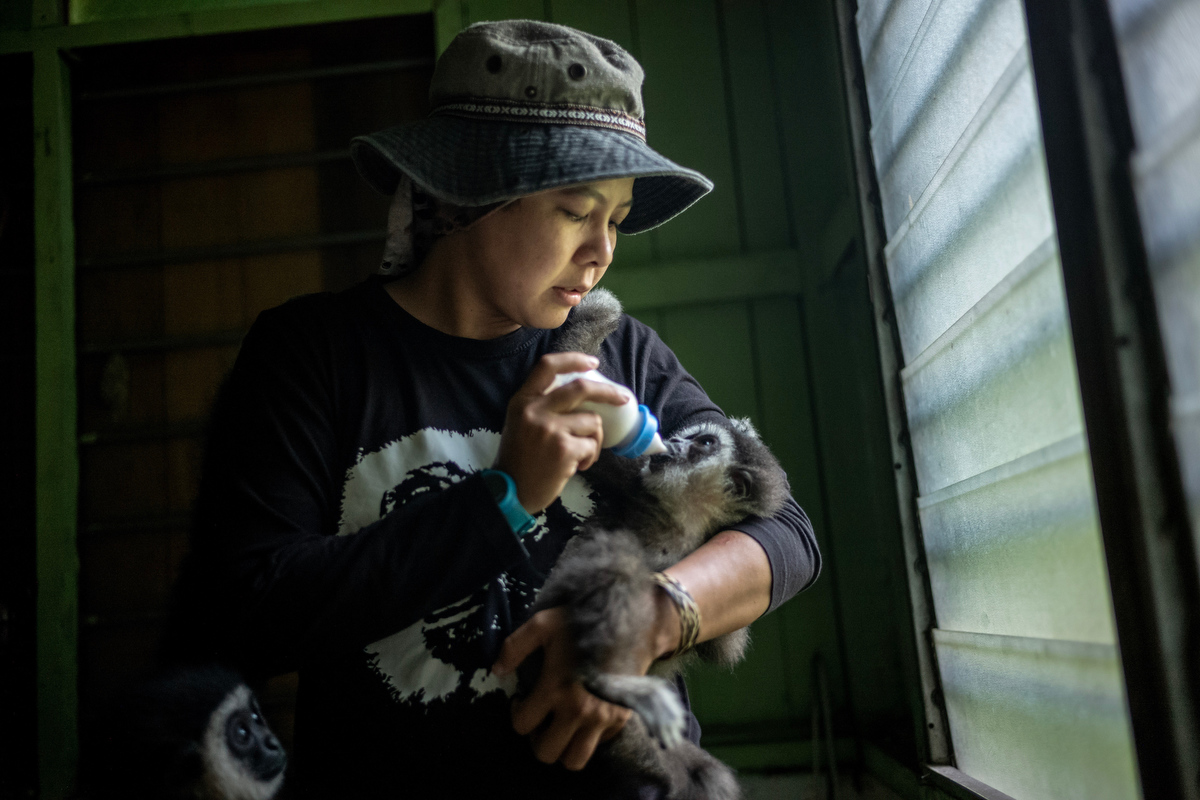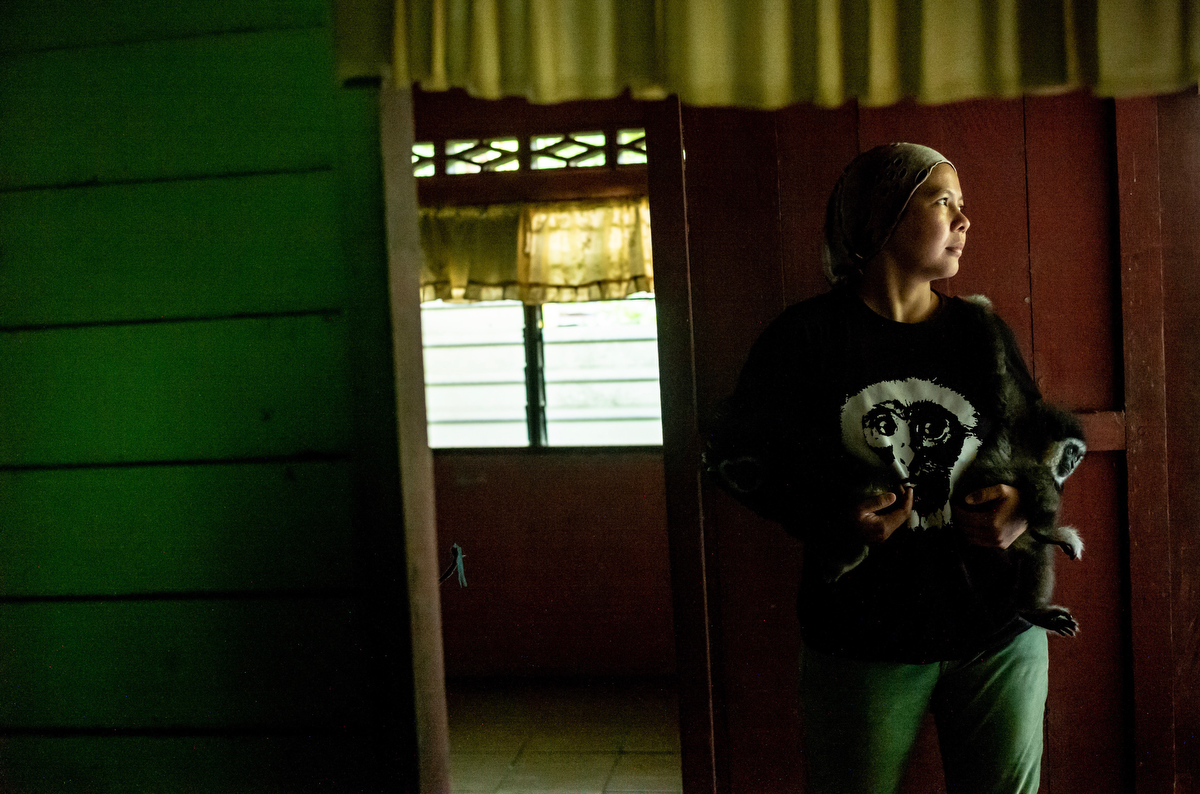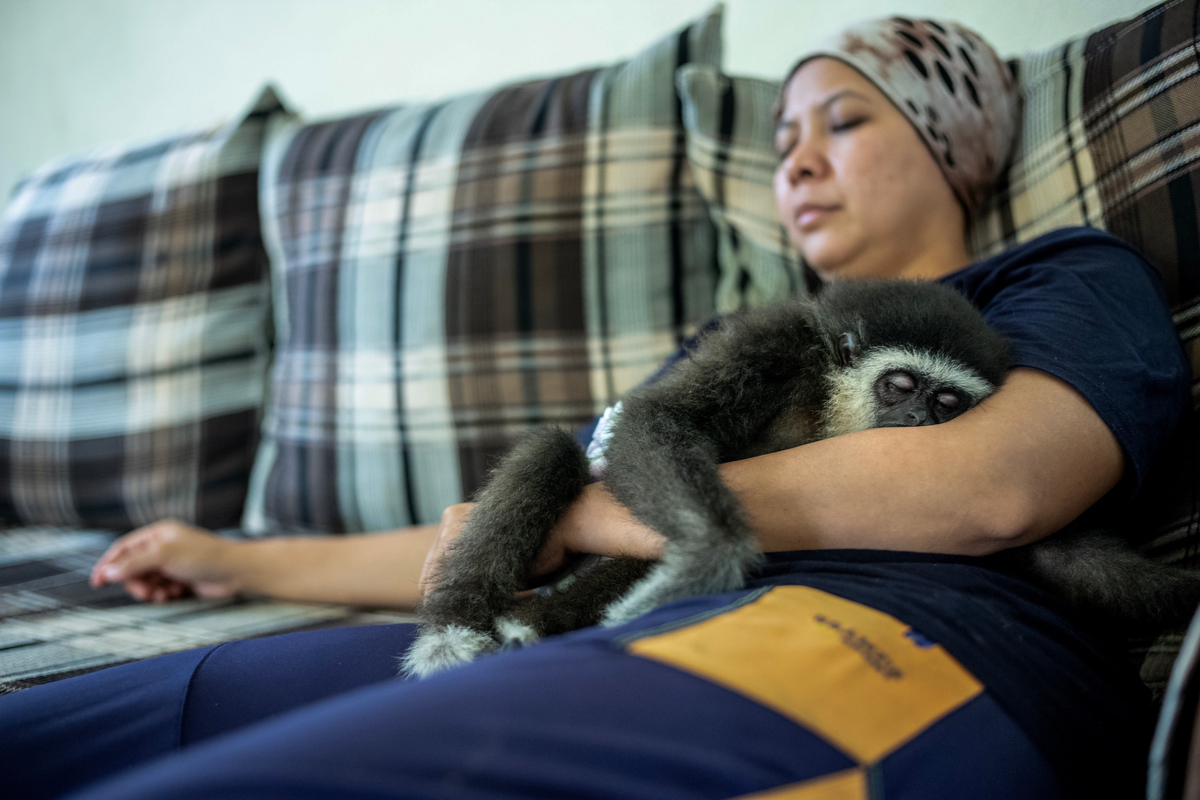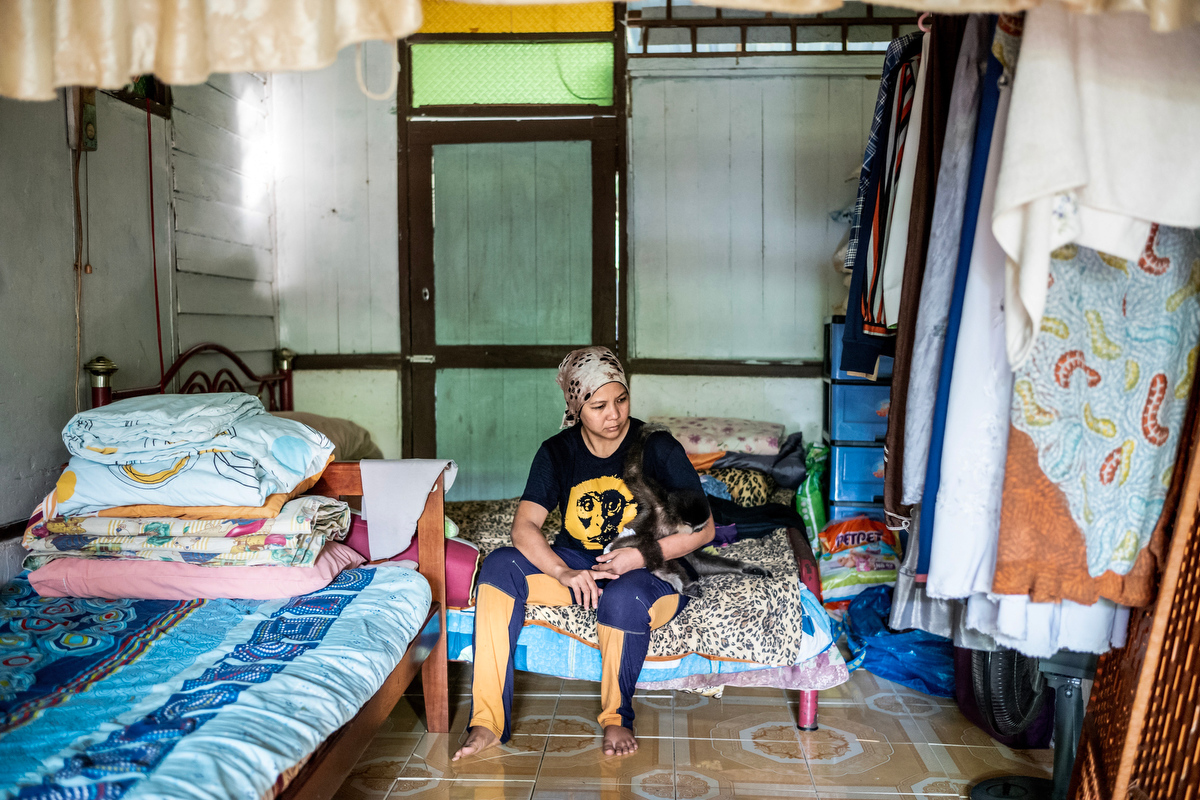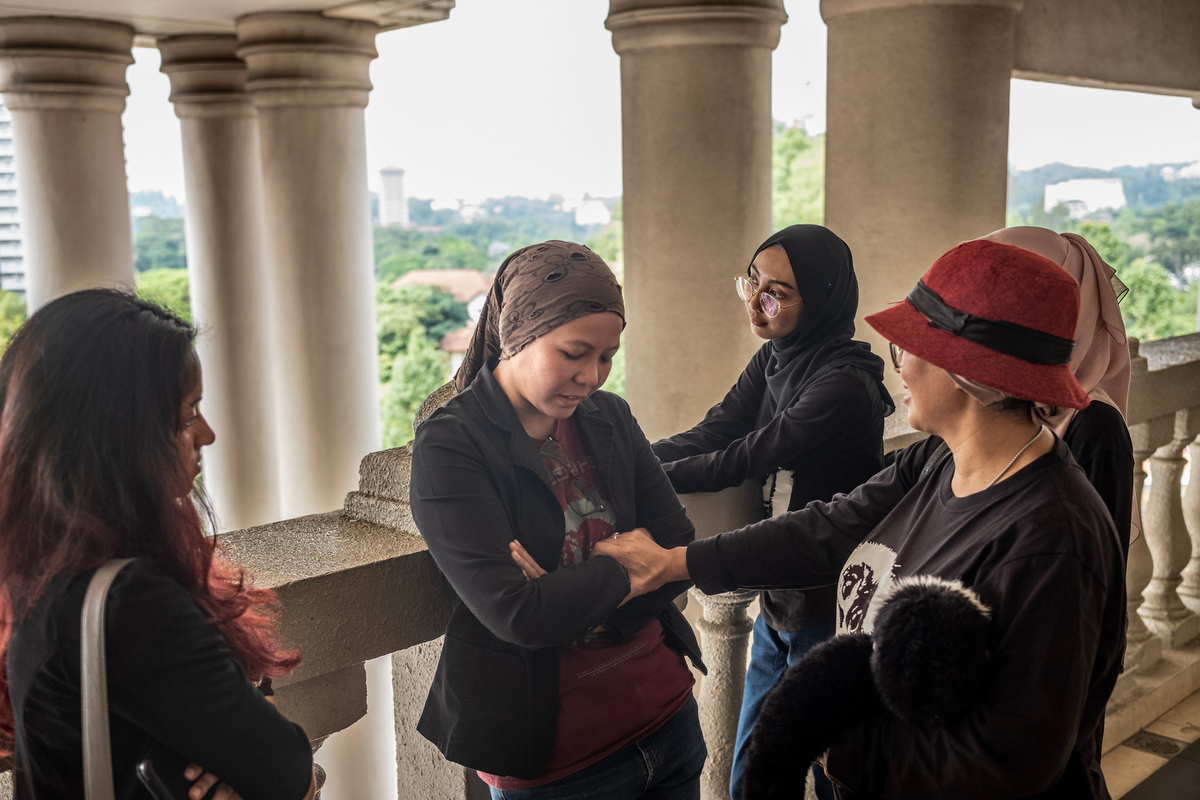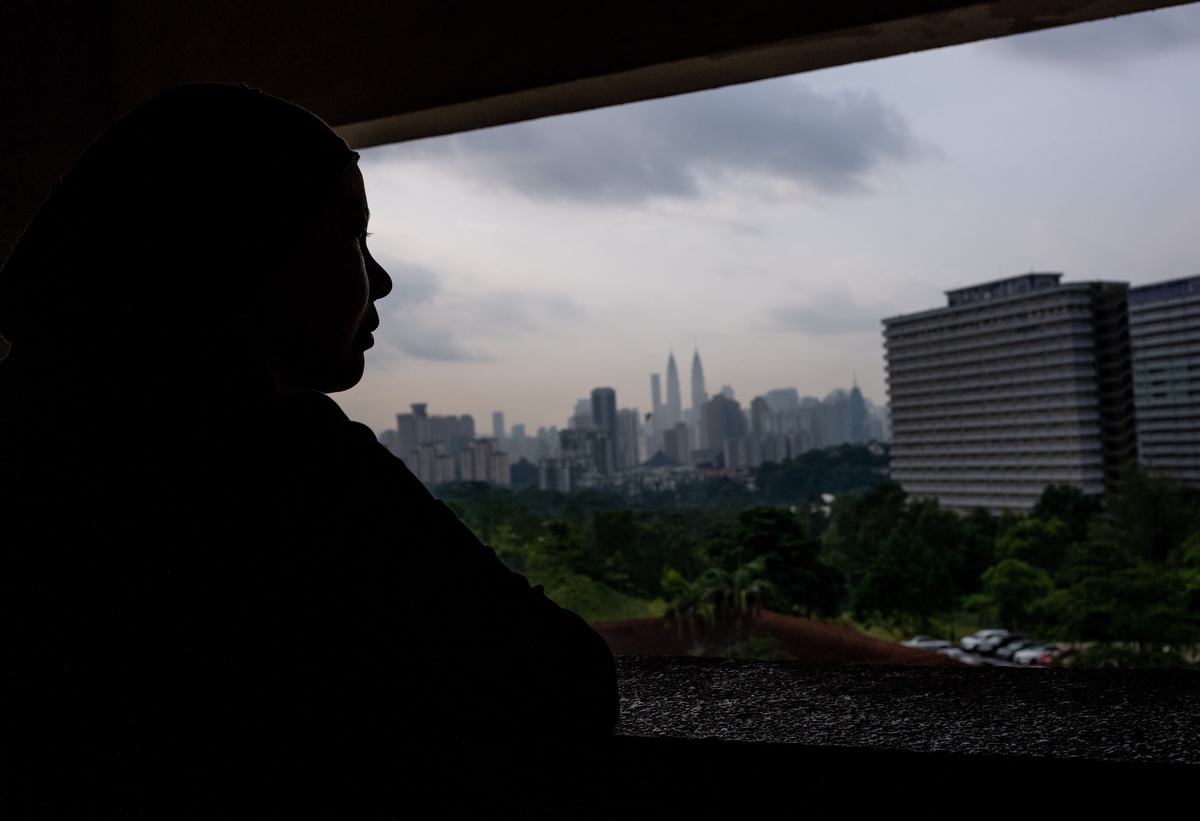 All is quiet as we pull off the main road and down a dirt driveway towards a non-descript shanty house in the Malaysian jungle far from the capital city of Kuala Lumpur. The structure isn't visible from the main road and more importantly, neither is what is tucked away behind the residence.
I get out of the truck and I'm guided down a small pathway over a small rickety footbridge. I focus on balancing myself over the shoulder-width swaying cable bridge surrounded by dense forest. The silence evaporates and their beautiful songs start to awaken the quiet jungle and delight my ears. Gibbons are famous for their songs, they sing to attract potential mates but research has shown they also sing to scare off potential predators, I'm hoping they don't consider me either.
Malaysia is home to 5 species of gibbons, all of them are endangered and on the IUCN's Red List of Threatened Species. Gibbons are considered "lesser apes", but don't them that and they are often confused with monkeys because of their similar size. Gibbon are apes in the family of Hylobatidae and the easiest way to tell them apart from monkeys is the absence of a tail.
Like many primates, their biggest threat is a loss of habitat from deforestation, but they are also threatened by illegal wildlife traders capturing and selling gibbons to people who want them as pets.
Across the bridge is the temporary home of the GPSM (Gibbon Protection Society Malaysia) founded by 33-year-old Malaysian Mariani Ramli, she goes by Bam. Bam earned a degree in Animal Biology from the University Kebangsaan Malaysia and is currently pursuing her master's in Wildlife Conservation and Health, focusing on gibbon rehabilitation and the primate pet trade. She is also a member of the International Union for Conservation of Nature's (IUCN) Species Survival Commission Section of Small Apes, a group of experts dedicated to gibbon conservation.
Bam worked with the government for 11 years as a wildlife ranger, six of those years specifically with gibbons. She was fired from her position in 2016 and is currently battling the government in court over wrongful termination. In addition to that court case, she is also tangled up in a drawn out 6-year custody battle for her gibbons while seeking a permit for her rehabilitation center, the only one of its kind in Malaysia.
Currently, her rehabilitation center operates illegally as she awaits the court's decision. Bam and her volunteers are raising 4 young gibbons rescued from the pet trade at her home. She hand-feeds them bottled milk and even slept with them in her bed when they were babies. Her daily routine consists of, as she says, "I drive my children to school" as the gibbons pile into her minivan on their way to her jungle school. A short distance away from her home she takes them to her rehabilitation center so they can learn to live in the wild. They learn how to swing, climb, and feed in the wild. She says her biggest reward is when she sees them starting to climb high in the trees and singing again.
Bam points out that gibbons aren't not meant to be pets, she says "they need to be in the wild, swinging from trees, amongst other gibbons." She only keeps them at her home for short periods of time while she slowly rehabilitates them and teaches them how to be back in the wild and away from human connection. She says it's challenging emotionally for her to get so close and then let them go, but she's knows it's what's best for them.
She cringes at Malaysian celebrities posting pictures of their gibbons as pets on social media and goes on to explain "to trap one baby gibbon, poachers often have to slaughter a family of upwards to 10" because they will fight to the death to save their family. Bam herself has also received multiple death threats from poachers and wildlife traders.
She has hopes to open the first rehabilitation center for gibbons in Malaysia by IUCN standards, she even showed me the full design with two way viewing glass so the gibbons can't see humans but humans can view and learn about the. She hopes people learn to appreciate and respect the Malaysian native that, oh by the way, studies show share approximately 96percent of the same genome make up of people.
The self-proclaimed "surrogate mother of the gibbons", Bam loves her children and works tirelessly to help them but she needs the support of the government if her and her team of volunteers is going to stand a chance and make an impact.
For now, the gibbons sing their beautiful songs to world that isn't listening. Bam and her team of volunteers hopes to change that and to be their voice, this is their story.
The GPSM (Gibbon Protection Society Malaysia) runs on a combination of private donations and Bam's own money, if you'd like to help, please donate here.
Subscribe and stay updated on my latest stories for Kindred Guardians